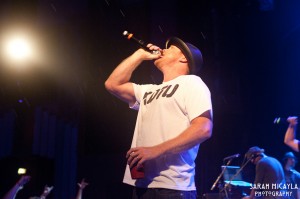 Photos by Sarah Henderson
Below is an excerpt from the Slightly Stoopid Interview at Wakarusa 2o12
Listen Up Denver!: We have seen some stuff about Karl Denson's Tiny Universe and Slightly Stoopid. Can you dive into that?
Slightly Stoopid (Kyle): It started about a year ago, we were just fucking around after a show on the bus with Karl and we were listening to License to Ill.  We were flowing on "Girls" and Karl said we should do a tribute. So he called us up about two or three months ago and we did two shows at the Belly-Up and  two more in San Francisco. I know I was really stoked to be doing the shows. MCA unfortunately passed, and it brought more importance to it.  It started out as fun and we were just trying to not take it to seriously, we were just having a good time and paying our respects; now it really is a tribute.
"Super props to Adam (MCA) Yauch. In light of our recent tribute and the attention to detail that it requires, I've grown even fonder of The Beastie Boys and MCA's work and genius. Our sincerest condolences go out to his family, friends and fans. RIP."       – Karl Denson
Rest in peace MCA (1964-2012)
The Scene: Arriving to a sold-out Boulder Theater Friday evening, we had no time for the customary drink at George's on the way in.  Working our way through security we could already hear the funk machine antics of Karl Denson's Tiny Universe ringing through the theater and out into the lobby.  We adeptly made our way through the packed house to the front of the theatre just in time to catch Slightly Stoopid's OG wandering out onto stage to break into The Beastie Boys classic "Paul Revere."
Karl Denson's Tiny Universe:  The building was electric; with a packed house of super fans singing along to a laundry list of Beastie bests, Kyle, OG, and DeLa of Slightly Stoopid handled their roles as MCA, Ad Rock, and Mike D perfectly.  Their showmanship undoubtedly outshined the stage lights as Karl Denson and the rest of his "Tiny Universe" provided the musical backdrop for the best tribute I've heard since MCA's tragic passing.
The energy and my blood alcohol content aligned at the perfect level as OG introduced "Sabotage" with the disclaimer, "You guys can get a little pit going for this one if you want," as he motioned for a circle pit in front of the stage.  I just about lost it, bouncing off others around me as I made my way to center stage where I assumed at least a few other maniacs would be ready to throw down.  I was instead met with a harsh reality: the vast majority of the middle aged Boulderites in attendance wanted nothing to with a silly "mosh pit" idea and could only be enticed into participation if I first ricocheted off them or their friends.  That wouldn't stop this thrill seeker though as it's easy to create your own fun when there are body builder size guys to rebound off of.  Thank you OG and KDTU for recreating this moment for those of us who still need a little "Sabotage" and thank you to LUD! photographer Sarah Micayla for talking security out of their decision to remove me from the theatre for starting said pit.
There would be "No Sleep till Brooklyn" as the crowd sang along sipping on "Brass Monkey."  And KDTU even broke into a couple Beastrimentals found on "The Insound from Way Out."  But what other treats could the evening have in store?  How about an out of this world performance of "Intergalactic" with Kyle, OG, and DeLa decked out in full "Intergalactic" attire?  Oh yeah, that happened.  As Kyle sprayed the crowd with the other half of my Budweiser I made the conscious decision that this was easily one of the best performances all summer (and I just got back from Wakarusa.)  The robot music that is "Intergalactic" took us into an intermission that would clear the theater and lower the temperature in the building by at least ten degrees.
Karl Denson would return to share hits from KDTU's 2009 release Brother's Keeper among other KDTU classics.  Sprinkle in a few more tribute tracks with the Stoopid boys (including "So What'cha Want") and run the groovetastic boogaloo to last call and there you have it – the KDTU experience, and then some.
Energy: A+
Sound: A-
Musicianship: A
Stage Presence: A
Set/Light Show: A
Overall: A
In a day and age where music plays as big of a role in shaping who we are as our parents do, I have my parents to thank for how I turned out – musically inclined at least. Growing up in a house with music literally stacked to the ceiling, I remember swiping an array of albums from my parent's collection, only to be called out on it once they wanted to listen to one. As I grew so did my taste in music, which now encompasses everything but pop-country (I just can't do it). So whether its electro-funk or dub-step, punk rock or hip-hop, jam-grass or reggae, you can catch me there, loving life and the beautiful sounds that surround us in it.