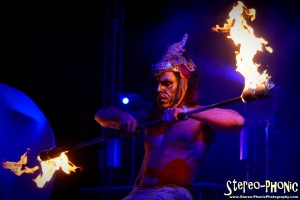 Photos by Johne Edge
Nothing like a quick stop home to do some laundry and unload all your camping and photo gear, just to turn around and pack it back up less than 24 hours later.  Listen Up Denver! is, after all, a Colorado music resource and with Colorado bands Elephant Revival, MTHDS, Euforquestra, Octopus Nebula, Tatanka, Atomga, James and The Devil, and more playing the Desert Rocks 2012 music festival, how could we not follow the setting sun and stream of band busses heading west?  The five and a half hour drive to Jenk Star Ranch outside of Green River was easy when compared to the fifteen hour journey back home from, Wakarusa on Mulberry Mountain in the Ozark Mountains of Arkansas.
The little town of Green River, Utah swelled to three times its population as folks descended onto Jenk Star Ranch for the eighth annual Desert Rocks Festival.  2012 marks the first year at a new location, and our first at this festival, so I have little to compare the new setting with.  However, I will say that the 40 acres of private land are surrounded by  landscapes that left me wondering if we accidentally took a right turn at the exit for the moon.  We arrived well after three in the morning, set up camp in a layer of powder soft dust, and closed our eyes just as the dawn began to glow on the horizon.
Nederland sweethearts, Elephant Revival, played two sets at the festival and we were lucky enough to catch Friday evening's.  Their unique transcendental folk sound paired well with the waning sun and the dust filled air that was ever present anywhere that folks kicked up their heels.  Brother Ali's fresh hip-hop flow kept the energy at the Earth Stage high, and then we detoured around a mountain (or at least, a really big pile of sand) to the Cosmic Stage to check out the live sampling of the tireless touring Italian madman, composer  and producer, Gaudi.  Then the Consciousness Ceremony had everyone on their knees, holding the hands of their neighbor, howling at the moon,and hugging random strangers by the time it ended.  It left most of the crowd in a blissful state, despite the interruption from a couple of BLM agents that rudely pushed through the audience during closing thanks and statements from the organizers.
A bigger disappointment, however, was that media were not permitted to photograph headliner, Beats Antique.  It was impossible to fight the swelling crowd that had formed at the front of the stage, and so we reluctantly watched the beginning of the set from the outskirts.  Zoe Jakes' mesmerizing belly dancing was no match, however, for the cloud of dust that developed under everyone dancing feet and we eventually found ourselves retreating to the comfort of our campsite and the blanket of stars that enveloped it.  Fortunately, the sound from main stage carried well enough for us to enjoy the remainder of their set, as well as Octopus Nebula.
Doomsday prophesiers were out Saturday morning in full force, warning campers of the evening's impending wind storms.  We battened  down the hatches on our tent and shade structure and decided that a trip to the river was in order.  Green River, a true oasis in this hostile land, is only a few miles down the road so we loaded the cooler, the dogs, and our crew into my truck and earnestly headed in that direction.  With plenty of shade to tuck into, as well as an exhilarating (yet safe enough for tubing) set of rapids, it was the ideal location to cool off.  Hundreds of other festival goers were of a similar mind and they descended onto the beach as well.  At some point a heady drum circle broke out, and while the contributing players ebbed and flowed, the music was non-stop for hours.
The promise of a twelve piece afro-beat throw-down, courtesy of Denver's very own ATOMGA, eventually tore us away from the spring-break-in-the-desert atmosphere. And throw-down they did, despite the fact that gusts of dust blew directly towards the stage for the greater portion of their set.  I have no doubt that they are still cleaning the desert out of their brass today.  Rapper Chali 2na, of Jurassic 5 fame, continued to battle the storm with his signature rapid-fire flow and then DJ I Am took to the stage.  It was an unscheduled appearance, since a performance from Lucent Dossier's aerialists was out of the question at this point due to the growing gales.  Outfitted in a head to toe cat suit, and flanked by two gorgeous dancers, he kept at least a hundred of the most hard-core and optimistic fans, myself included, dancing like dervishes.  Finally the lack of proper protection (i.e. goggles and a respirator) sent us packing back to our camp.  It was evident that the likes of the Polish Ambassador, RJD2, and MTHDS would not be appearing anytime soon.
As we headed away from the stage scaffolding and other high profile structures, the real chaos began.  Down were tents, EZ ups, port-a-potties, and our crew's beloved and Burning Man winds resistant monkey-hut.  The masses took cover where they could, some in their cars and campers, and others at the Sol Lun; a solar powered, western saloon and interactive dance space.  Afraid that our two room cabin-style tent might parachute away into the night, we removed the fly and hunkered down inside for a sandblasting slumber.
At daybreak we awoke to the caribbean flavors of Euforquestra's "Soup."  The Fort Collins collective was originally scheduled to play at four in the morning, and despite the delays, they performed for folks that braved it through the night as well as those that were just digging the sand from their eyes. After peeling our eyes open, we made a dash to the Earth Stage to try to catch the last bit of their set, but the final notes were fading as we entered the grounds.  I was, however, rewarded for rising early with two groundscores: my own lost hairpin and a dear friend's missing ring.  As we circled camp and surveyed the damage, we considered packing up the remains of our tent, tucking our tails, and heading home as many others before us had already done.  However, a quick visit to town for a warm breakfast, and a campsite appearance from the Polish Ambassador and the Solar Saucer (a solar powered whomp truck) renewed our spirits.  We rebuilt camp, scooping and shaking copious amounts of sand from all of our possessions, and soothed ourselves in the river once more before  our final evening of music.
The storm wrecked havoc on more than just camps though, as the scheduled sets for JGB and DeadPhish Orchestra were shortened.  The upside to this, however, was the rescheduled addition of the highly anticipated Lucent Dossier Experience.    They hypnotized the crowd with their avant-garde hair, make-up, and costuming and left everyone's necks craning upward towards their aerialists' custom made  apparatus.  A surreal soundtrack led us all deeper down their rabbit hole, and for an hour the trials and tribulations of the weekend were completely forgotten.  If that were not reward enough for staying on Sunday, Hot Buttered Rum's delicious and instantly likable brand of progressive bluegrass stirred up a satisfying swill that anyone within earshot couldn't help but swallow up.  Headlining the night, The Wailers soothed and satisfied everyone's weary souls as only iconic reggae legends can.  The cherry on top for me, however, was getting to experience Phadroid.  Android and Phaedra Jones have collaborated to create a fusion of dance and digital art expression that left me wondering who is cuing whom, as her graceful movements and his spiral-graph of butterfly wings, growing plants, and whirling snowflakes fed off each other.  It was a breathtaking moment that I will cherish forever.
They say that whatever doesn't kill you, makes you stronger.  Desert Rocks is certainly a testament to this belief.  My fingertips and toes peeled for a week afterwards, courtesy of the alkaline in the sand.  Our tent, two chairs, a camp shower and an air mattress pump all had to be laid to rest.  I'm still finding sand in the crevices of my camping bins, despite my best efforts to wash them.  But the fact is, I survived and I'm wiser for it.  Next year I'll pack those damn goggles!