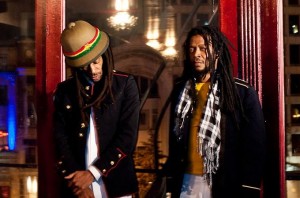 Why You Should Go: See-I has become one of the east coast's premier party bands because they know how to get people dancing all night with a smile on their face. Veteran Reggae singers Rootz and Zeebo Steele front an All-Star band made up of members of Thievery Corporation, Fort Knox Five and other internationally known bands.  See-I's unique blend of classic roots reggae with a heavy dose of funk and soul has rocked dance floors across the country. The deep experiences & influences of this 8 piece group have created a sound popular at ski resorts, beach towns & concert halls alike. Eric Hilton of Thievery Corporation even said "They're unique musically and I think that's why people gravitate to them so much". See-I is original roots, rock reggae from the nation's capital!
Chali 2na was a member of "Jurassic 5" the rap group as well as original member of "Ozomatli" the band. Bearing an identifiably deep baritone voice, Chali 2na (born Charles Stewart, Jr.) became the unofficial point man for West Coast underground favorite Jurassic 5. Originally from southside Chicago, Stewart first gained an interest in graffiti writing before getting into music. Both activities were his way of steering clear of drugs and gang life, and also influenced his decision to move to Los Angeles with his grandmother in his mid-teens. The developing MC quickly associated himself with rap collective the Unity Committee, which also included turntablist the Cut Chemist and rhymesayer Marc 7even. The group used to frequent the open mic sessions at the famed Good Life Café venue. There the three met Akil, Zaakir, and DJ Nu-Mark of an opposing crew, and later all six formed Jurassic 5 in 1993. Before Jurassic 5 fully took off, Chali 2na and Cut Chemist also helped found the band Ozomatli, whose music was a fusion of worldbeat, rock, hip-hop, and Latin dance/funk. As part of two critically acclaimed ensembles, Chali 2na sent waves in the music world with each of their debuts; Jurassic 5's major-label debut, Quality Control (2000), has been deemed a benchmark for alternative West Coast hip-hop. Chali emerged as J5's most popular member and was frequently tapped for guest appearances on many other artists' material over the years, like that of Swollen Members, Linkin Park, Blackalicious, Kardinal Offishal, and Roots Manuva.
Also on the bill is Dubskin, Air Dubai, and Members Of The Congress.
Venue:
Cervantes Masterpiece Ballroom, 2635 Welton Street, Denver, CO 80205 – 303/297-1772
Doors:
8:00 PM
*Price:
ADV – $24.00 – Buy Tix
DOS – $24.00 – If Tickets Remain "This is a Private Party to show appreciation for Humboldt Wholesale's customer base, there are a limited amount of tickets that will be available to the general public until they are sold out."
*All times and prices are gathered from other sources and I am not responsible for mistakes or inconsistencies. They are intended only as guidelines. Please, always call the venue if you desire the most accurate information possible.

Music has always been a part of my life. It probably all started listening to old Grateful Dead, Peter Paul & Mary, and Simon & Garfunkel records that my parents had, but it wasn't long before they were taking me to concerts like Starship, Crosby, Stills & Nash, and Huey Lewis & The News. I got the bug to write about music after reviewing an Eric Clapton concert for a creative writing project in high school but didn't really take it up seriously until 2002. Since then I have published countless articles in The Marquee Magazine and done some work for Jambase.com, SPIN Magazine, and various other outlets. I started Listen Up Denver! as a way to share the music information that is constantly spilling out of my head with people who care. Please enjoy!