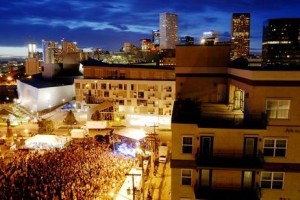 The Scene: The 18th annual Westword Music Showcase took over Denver's Golden Triangle on the 23rd as 15 venues hosted hundreds of bands in the 104 degree heat.  The music kicked off at noon, but I didn't arrive until Black Joe Lewis and the Honeybears took the main stage at 3:15. Standing on the blacktopped area in front of the main stage, I swore I smelled the rubber on people's shoes sizzling in the sun. It didn't smell like burning rubber, but more like an old school pink eraser combined with new Chuck Taylor's.
The music was as hot as the pavement, and I sweated, smiled and danced to a wide array of sounds. If you want to see a great snapshot of Denver's local music scene, the Westword Music Showcase is where it's at. The nationally touring acts on the main stage added power to the event, and the energy Girl Talk put out at the end of the night nearly surged the grid.
The Bands: Black Joe Lewis and the Honeybears brought their rough, raw and vintage sound from Austin, and the heat didn't seem to bother them a bit. The main stage area felt like a sweaty Texas juke joint as tones from decades past melded under the hot sun. It almost felt illegal, like a gang of good old boy southern cops were going to bust up the party because the "races were mixing." It was that authentic. Sweaty, aggressive, soulful, and grimy, this was true Rock and Roll, played in the spirit of the early pioneers of the genre.
Lewis brought along a horn section to add some brassy brightness to the mix, and when they blared into "Ballad of Jimmy Tanks," the crowd couldn't stay still. It was hot, and small groups of people were scattered in the shadows of trees, tents and anything else that would create a patch of shade, but people were getting down no matter where they were. When Lewis wrapped up the set with "Sugarfoot," I realized just how much this band reminded me of the past. I could have sworn this song was a cover of soul song from the 60s, and I even searched one line to make sure it wasn't a cover. Lewis literally made me think I was listening to something created during the early days of Rock and Roll.
After grabbing four bottles of water at a reasonable $2 a piece, I ran into some friends, and we found our own patch of shade for Karl Denson's Tiny Universe and their tribute to the late MCA of The Beastie Boys. Kyle McDonald, OG and Dela from Slightly Stoopid added the Hip-Hop and Reggae vibe to KDTU's funky soul, and since both bands hail from San Diego, the SoCal rock reggae feel was ever present.
The Beastie Boys have been blasted at parties for generations, and the crowd reflected that fact. Folks from 14-50 spit the lyrics to every song like they had written them. Starting the set off "Paul Revere," a song I remember learning the words to at my 5th grade lunch table, and we all shouted "I did it with a Wiffle Ball Bat" at the appropriate time. The whole set kept the crowd moving their feet and mouths as they played songs from the Beasties entire catalogue, in memory of MCA we all rocked the "Sureshot."
If you hadn't caught on by now, it was pretty freakin hot out, so we headed over to LaRumba to listen to some of the areas natives. I can't say it was cool in there, but the 48" industrial fan we became friends with sure made our day. We got there in time for the last half of The Foot, and although the crowd was small, the music was big. I had just seen these guys open up for Fox Street Allstars at Cervantes' Other Side, and both times found me picking up what they were putting down. If you like funky rock and soul music with a bit of a pop twist, put The Foot in your ear.
You can't go to Westword Music Showcase without running into people you know, especially if you see or play a lot of music, and La Rumba gave me the opportunity to run into a band I hadn't heard in a while, Whiskey Tango. I have loved these guys since I first heard them a couple of years ago, and they have been steadily gaining steam ever since. Colorado sure loves its bluegrass, and Whiskey Tango's "Foot Stomping Jam Grass" pleases traditionalists as well as barefoot hula-hoopers. The Grateful Dead is one of the bands the members bond over, and their jams are as psychedelic as they are grass-o-centric.
The music was done at LaRumba, but that 36" fan was still going strong, so as the people I was with headed other directions, I stayed behind with the breeze. Had I not, I never would have had my most pleasing run-in of the day. As I sat alone by the fan, I ran into "the one that got away" a couple of years ago, and after a long overdue chat, I headed over to Girl Talk totally confident in my decision to stay behind.
I had been looking forward to Girl Talk the entire week, and I was afraid I might have been expecting too much. The mashed and cut-up creations that Greg Gillis creates have been the soundtrack to many a solo dance party in my apartment, but I didn't know what he was going to do in front of almost 15,000 people. Well, he lived up to the hype, and surpassed my expectations tenfold. The stage was packed with audience members as an intense light show blasted rays into a bouncing crowd of sweaty smiles and Girl Talk blasted beats that turned the Golden Triangle into the most amazing dance party I have ever been to. Looking up to the rooftops, you could see people looking down on this pulsating mob of music freaks going absolutely ape-shit for a guy and his computer. I have seen a lot of amazing shows, but what Girl Talk brought to Denver was a dance revolution that freed a city, and lit up a night.
There was no way my party switch was being turned off after Girl Talk, so I headed over to Stoney's to catch the after party Kinetix was playing. One of my favorite local bands, the chaos that Kinetix brings never disappoints. I obviously wasn't the only one with some dancing left in my feet, and the place was backed for the late night shenanigans. It actually wasn't that late, but considering most of us had been going for a while, it felt like it. After dancing to explosive convers of Sublime, Red Hot Chili Peppers, Rage Against The Machine and other rowdy bands for a couple of hours, I finally threw in the towel and hopped in a cab.
Returning home with a thick layer of sweat on sunscreen on my skin, I greeted my shower with almost as much joy as the lost love I had encountered at La Rumba. Since then I've had this reoccurring image of thousands of people going bananas for Girl Talk as heat rose off the blacktop and confetti and hands shot in the air. It brings a smile every time. Denver, you sure can get down, even when the temperature is rising!

Brian Turk grew up in the shadow of the Catskill Mountains, near Woodstock, NY. He comes from a family of music lovers, audiopliles, Dead Heads and avid concert goers.The musical magic that can only be created in the Catsklills, both past and present, is what Brian cosiders the epicenter of his music addiction. The music of The Band, and most recently The Levon Helm Band, is the soundtrack of home for him. Brian's mother took him to his first concert at 5years old...it was Johnny Cash and Roseanne Cash at Jones Beach Amphitheatre. For Brian, music is a family affair. He feels the same way about live music...we all convene to celebrate together. Brian's writing life started when he wrote his favorite author, southern fiction writer Clyde Edgerton, a fan letter at age 13. When most kids were idolizing baseball players and television, he was worshipping writers and musicians. The two became friends and Clyde shared his craft with Brian. The next year Brian attended Duke University's Young Writers Camp. This is the extent, of what Brian considers, his "formal" training in writing. From then on his goal was to capture snapshots of life through words. Brian has been involved with live music in various facets over the years, and combined with his enthusiasm and love for Denver's music scene, he creates a vivid description of what he sees and hears. If you see him out at a show, dancing with a notebook in hand, say hello.