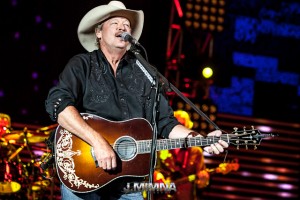 Photos by Jim Mimna
The Scene: Red Rocks Amphitheatre is always a place that brings a smile to the face of a concert-goer and last Thursday was no exception.  Alan Jackson's fan base was out in force, decked out in ten gallon hats, belt buckles big enough to double as body armor, some of the most diverse cowboy boots known to man, and smiles the size of Texas.  The audience had a great mix of old and new fans and everyone was ready to stomp their boots and get the hoedown started.   As The Rocks filled in, the excitement began to grow.  You could feel the energy in the air.
Gloriana: Supporting Jackson was Nashville's own Gloriana who are riding the recent wave of momentum created by their fastest rising single on the charts to date, "(Kissed You) Good Night."  They came out to the intro music of Aerosmith's "Sweet Emotion" and took that theme right through the set, playing originals tunes alongside covers of, ironically, more rock tunes spun to country flavor.   They were well-received by the crowd as they got Jackson's fans ready for the main event.
Alan Jackson:  Alan Jackson is one of Country music's biggest stars of the last two decades.  With his long list of hits and mind-blowing record sales, he is a titan on many levels.  Jackson's resume is quite impressive with his singles topping the country charts 35 times, and his songs scoring more than 50 Top 10 hits, it's no wonder he has sold nearly 60 million albums worldwide.
Jackson's song-writing accomplishments allow him to be counted among the elite company of the likes of Lennon and McCartney as he has written more than 20 songs that topped the charts.  His longevity is a testament to those song-writing chops and from songs like his first hit "I'd Love You All Over Again," to his newest single "So You Don't Have to Love Me Anymore," Jackson brings a down home feel to his music as he touches on real life subjects that speak to real people.  His music blends Honky-Tonk with contemporary Country to create a crossover sound that music fans far and wide can sing-along to.  He found that magic recipe years ago and hasn't stopped cooking since.
At Red Rocks, he proved that his prowess for live performance is right up there with his song-writing skills, and his fans loved every minute of it!  As he took the stage, the audience almost drowned out the intro music with mad applause.  It was quite the site.   He opened the show with the hit "Gone Country" and we were off to the races.  His storytelling skills captivated listeners as he played songs like "Small Town Southern Man" and "Here In The Real World," while other songs just brought out smiles and sing-alongs to songs like " Livin On Love" and "A Lot About Livin' (And a Little 'bout Love)."
The production value was every bit as big as the hits; the stage was surrounded by a wall of LED panels that ran the gamut in visual sensory stimulus.  From giant splashes of  tie-dye color, to a 30 feet tall projection of Jackson's head, no seat on the rocks had a bad sight line.  My only complaint was of the cameraman that would stand on stage for the close-ups.  In my opinion he needed to be less a part of the show.  He blocked my view on occasion and was a detractor from the overall entertainment value…but I digress.
As Jackson worked through his set, he made sure his high caliber band got their props as he called on members to show off their chops and solo often.  At no point did he forget that none of this would be possible without everyone involved, be it band or audience, and thanked us both…often.   Jackson would frequently pull the entire strip of guitar picks off his mic stand and throw them out into the audience, almost drawing them in closer and creating a more intimate experience for all.  As he played the "Mercury Blues" encore to the full house, it seemed every single person was singing along.  When all was said and done and fans with ear to ear smiles flooded out of the rocks, it was obvious why this contemporary cowboy has had such a long and storied career.
Energy: A
Sound: A-
Musicianship: A-
Stage Presence: A
Set/Light show: A
Overall: A
Capturing life in various forms is what I do. I consider myself an archivist by nature. It is not a career choice that I consciously made, but it is something that has called me. I strive to freeze a moment in time with every frame, a moment that can retell its story with each viewing, forever. I also have a deep passion for music and have been photographing and recording live music for years. Capturing the energy and magic of a live performance in a photograph is one of my passions. In addition, I enjoy photographing in a wide variety of settings, from wildlife scenes to family portraits and everything in between. I am a lover of the earthscapes that we see all around us every day, both natural and manmade, and aim to make unique images that do justice to their beauty. Where others see darkness, I see streaks of light through long exposures. I shoot a very wide variety of subject matter including individual/family portraits, event coverage, landscapes, live concert/performance, HDR, product and commercial photography, architectural, weddings, food, and editorial photo journalism. With artistic expression, I aspire to create visual art that speaks volumes.