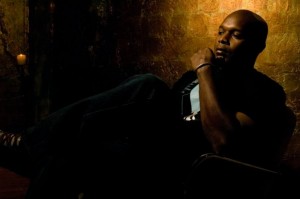 The Scene: The DJ Logic show at The Bluebird Theatre last Friday had all the elements of a near perfect night in the Denver music scene. Come to think of it, my best nights always seem to happen at The Bluebird. First off, there was plenty of room to dance, but enough people to create an insane amount of energy. Second was the energy. Logic picked up on the electricity in the room, and threw it right back. A big part of that explosive feel was on account of opener Ableminds, who jammed with Logic for a portion of the night….but more about that later. Well, some of it now, because it leads into the third element, spontaneity. The fact that Ableminds and Logic jammed as hard and as tightly as they did, totally unplanned an unrehearsed, for as long as they did, was mind boggling. The creative juices flowing from the stage soaked the audience as the room pulsated with beats straight from the turntable and improvisational sounds straight from the gut. What would have made this near perfect night perfect? If they had played till the break of day.
Opener: DJ Space Panda. When the band walked on stage and the keyboard player was in a panda suit. I first thought "that must be hot," then "and smelly," and finally wondered why the hell I showed up so early. My initial impression was the suit was thrown in to compensate for a lack of talent. But, they hadn't played a note yet.
Once that panda started banging on the keys, and the drums, bass and electronic elements joined in, I realized the they weren't making up for a lack of anything, and that the guy must just dig pandas and wearing costumes. Their sound was hard and haunting at times, almost Gregorian funk, and World music inspired others. The overall sound could be described as experimental electro-psychedelic funky soul. Now, there was no DJ per se, but there was a curly haired mastermind behind a central command station putting together some interesting shit. Looping live vocals, and using bongos and other small percussion tools, he manipulated both using doohickeys and gizmos, tweaking knobs and laying down the Funk. The set was great, and way better than I initially expected at first sight. I could see these guys really feeding off a large crowd and just killing it…as Ableminds was about to do.
Ableminds: I first came across these guys a few months ago, and have caught a few of their gigs since. Each time I see them they seem to add more to the set and draw a larger crowd. Their combination of live instrumentation, sampling, and pre-recorded tracks comes together nicely, but it is sometimes hard to distinguish what's live and what's being played off of a lap-top. This performance made it easier to distinguish. They stretched the songs out by extending jams and improvising a bit, showing how this newly formed band is quickly growing into itself. Putting all those pieces together isn't easy, there is a lot going on up there, but they consistently put out quality sound.
I appreciate the fact that they have slowly integrated more into the music, instead of rushing it and trying to do too much too soon. This band is made of up talented musicians, and they know a great thing just doesn't immediately happen, it grows. All graduates of DU's music program, with a focus in jazz, Ableminds is made up of extremely able minds. Seeing them play their material with new layers and more improvisation is what I have been waiting to see, and everyone seemed to take notice…including DJ Logic.
DJ Logic: Now, I wish I could tell you what racks Logic played, but I hadn't seen him in nearly a decade, and couldn't tell you what was off an album and what was created on stage. Anytime someone is spinning wax with the technical skill and flowing grace that Logic can, I just get lost in the groove. All I know is he did what he has been doing for a long time…completely threw down.
When Ableminds was still playing, Logic took his spot behind the tables, and joined right in. Jordan Linit (guitar), Charles Parker Mertens (bass) and George Horn (drums) all beamed with joy as they jammed with Logic for almost half an hour. They were on-point. Everyone took a break, and Logic came back on solo. Ripping through old school Hip-Hop beats and Funk grooves, Logic shook the soul out of every piece of vinyl he touched, and we shook our asses in thanks. Logic is a true master of the turntable, and his almost spiritual presence behind them proves he's a DJ with his mind tuned to the frequency of those around him.
It's Logic's ability to connect with a vibe that makes him so versatile, and so talented. The members of Ableminds joined Logic for what seemed like the last hour of his set, and together they took the night to a whole new level. This is when I saw just how talented the members of Ableminds are. I have heard Linit play with Kinetix and other projects, and I've also seen him sit in with other bands, so I was fully aware of how good he is, but Mertens and Horn are new to me, and they strutted their stuff! Mr. Merten's…you are an animal on that bass! Seriously folks, he stopped me dead in my tracks as I was walking away from the stage to the bar. I turned to Josh Fairman, the bass player from Kinetix, who also ran sound for the Ableminds set, and he just said, "yeah. he's no joke." I totally agree. I like my bass hard and funky, and Mertens got on his shit so hard I just turned around and walked back to the stage. Horn was keeping the groove on point, and he showed me things I haven't seen him do with Ableminds. I couldn't believe how well a newly formed band was keeping up with such a veteran performer, and there were times Logic might have been keeping up with them!
The night ended with me standing in the front of the room near 1am, as Logic was blending Lords of the Underground "Chief Rocka" with Biggie Smalls "Machine Gun Funk." I was sweating, smiling, and possibly glowing, and I was damn sure spitting lyrics along with two of my favorite Hip-Hop songs…because "I live for the funk. I die for the funk." Logic and Ablemids took the night to place I didn't expect, and I would love to see them play more together. Their mutually Jazz and Funk heavy backgrounds come together nicely, and they communicated with smiles the whole time they were on stage together. Impromptu Project Logic turned up the heat at the Bluebird, and sent me out the doors sizzling.
Energy: A+
Sound: A
Musicianship: A-
Stage Presence: B
Set/Light show: B
Overall: A-
Brian Turk grew up in the shadow of the Catskill Mountains, near Woodstock, NY. He comes from a family of music lovers, audiopliles, Dead Heads and avid concert goers.The musical magic that can only be created in the Catsklills, both past and present, is what Brian cosiders the epicenter of his music addiction. The music of The Band, and most recently The Levon Helm Band, is the soundtrack of home for him. Brian's mother took him to his first concert at 5years old...it was Johnny Cash and Roseanne Cash at Jones Beach Amphitheatre. For Brian, music is a family affair. He feels the same way about live music...we all convene to celebrate together. Brian's writing life started when he wrote his favorite author, southern fiction writer Clyde Edgerton, a fan letter at age 13. When most kids were idolizing baseball players and television, he was worshipping writers and musicians. The two became friends and Clyde shared his craft with Brian. The next year Brian attended Duke University's Young Writers Camp. This is the extent, of what Brian considers, his "formal" training in writing. From then on his goal was to capture snapshots of life through words. Brian has been involved with live music in various facets over the years, and combined with his enthusiasm and love for Denver's music scene, he creates a vivid description of what he sees and hears. If you see him out at a show, dancing with a notebook in hand, say hello.