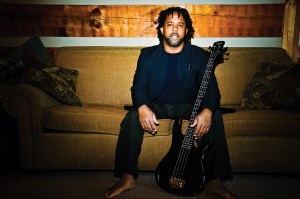 Photo by Steve Parker
Why You Should Go: Victor Wooten is an innovator, composer, arranger, lecturer, producer, vocalist, and multi-instrumentalist. He is a skilled naturalist and teacher, a published author, a magician, husband and father of four, and a five-time Grammy award winner. But those gifts only begin to tell the tale of this Tennessee titan.
Victor, known for his solo recordings and tours, and as a member of the Grammy-winning super group, Béla Fleck & The Flecktones, has won most every major award given to a bass guitarist. He was voted Bassist of the year by Bass Player Magazine three times and is the only person to have won the award more than once.
By the time he was 3, Victor was performing neighborhood concerts with his brothers in the front yard of their home in Hawaii. At age six, he was touring with his brothers as the opening band for soul legend Curtis Mayfield. After living in Sacramento, CA a few years, the family moved east where the Wooten Brothers continued to hone their skills playing countless clubs and concerts along the east coast.  Victor was influenced by bass mentors, Stanley Clarke, Larry Graham and Bootsy Collins, but sites his brothers and parents as his main influences.
Venue:
Cervantes' Masterpiece Ballroom, 2637 Welton Street, Denver, CO 80205 – 303/297-1772
Doors:
8:00 PM
*Price:
$20.00 ADV, $25.00 DoS
Buy Tix
*All times and prices are gathered from other sources and we are not responsible for mistakes or inconsistencies. They are intended only as guidelines. Please, always call the venue if you desire the most accurate information possible.