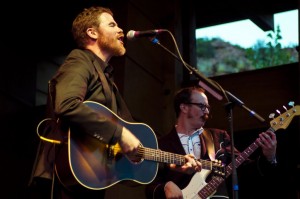 Photo by Tim Dwenger
The exceptionally talented folk singer/songwriter Josh Ritter will be making two Colorado stops next week – a stop at historic Chautauqua Auditorium next Monday night and the recently saved Mishawaka on Wednesday.  Ritter's shows are always special due to his ability to convey timeless poetic narratives with warm genuine vocals and a smile.  We had the pleasure to speak with Josh recently about a handful of topics and were left more excited for the show and a new album.
Listen Up Denver!: So how does it feel to be out on the road again?
Josh Ritter: It's fantastic.  You forget how much you miss it every time. I need it; I don't know what I did before. It's something I feel like I need all the time.
LUD!: I love your incorporation of Blues standards like "Make Me a Pallet on Your Floor" and "Louis Collins" on your albums.  What effect has Mississippi John Hurt and Folk-Blues in general had on you as a musician?
JR: It's huge. There's a debt there. I see it as you're grabbed by something and you wanna learn how to play it and the way you play it is different and that leads on to other things which I really love, you know? Mostly when I'm playing songs or writing songs, I'm trying to pay honor to the way another song once made me feel and those two songs are both so important to me.
LUD!: Along that line, a lot of your music tells stories that romanticize the past. I was wondering what draws you into those scenes?
JR: Well, I guess the past or the future or whatever they should be, they're a setting, a timeframe. The timeframe is so important to a song or a story, whether it's just a couple of minutes, or an era. Being somebody who just reads and reads a lot and a big reader of history. The whole time period should feel like music, and infuse a story with the music. "The Curse" felt very waltzy, and I like the kind of glamour of 1880's New York, you know?  It could have been set in any time period but it felt the most romantic at that moment.
LUD!: If you could choose to live now or in a certain time period, what would you pick?
JR: I would absolutely live now, no other time. Sorry for the excitement, there's never been a better time in history to be an artist.
LUD!: What contributes to that excitement?
JR: There's the chance to share your stuff with people almost instantly if you want and the opportunities to be able to work with people you want to work with anywhere in the world. There's nothing you can envision that you can't make happen. It's an amazing time.
LUD!: The song "Why" seems to be a call to follow your dreams.  You've become an accomplished songwriter, musician, author, and even a marathon runner. What's your next calling, be it in your music or in your life?
JR: I think just staying open to what will come down the pike and staying ready and just trying to keep a curious mind.  I think that becomes a more and more like a real challenge and a need to keep a curious and hungry mind. And I think that whatever should happen down the road I hope that that much stays intact.
LUD!: Do you find yourself pushing yourself towards places that are unfamiliar or uncomfortable?
JR: Yeah, relentlessly. [chuckles]
LUD!: A few years back I saw you did a songwriting class in conjunction with the Folks Festival in Lyons.  That must have been a dream come true for the people that got to do it. So I was curious, if you were given the opportunity to take a songwriting class from any artist, living or dead, who would that be that be?
JR: Wow, a songwriting class. That's really cool. Boy, living or dead…that's sort of one of those heaven for climate, hell for society situations. I think for the structure, Cole Porter.  For a bit of a wink, Johnny Mercer. Just for the hang, I'd say Tom Waits, and to go fishing, I'd love to go out with Tom Petty.
LUD!: On To The Yet Unknowing World the "The Remnant" remix made me wonder if there are any surprising genres that you listen to or have dabbled in musically that people might be shocked about?
JR: When I'm working on music I think I never really notice the genres.  I think it comes down to whatever sounds interesting, and at that moment it's like "why can't I do it?" You know I'd say in terms of genres, I wrote most of  Bright's Passage listening to Aphex Twin and Kid-A by Radiohead.  I do most of writing and working out to a pretty wide range of stuff.  I don't know if there's too much music that I don't find something in.  I really love it.
LUD!: I'm kind of surprised you write with music in the background.
JR: A lot of time when I'm writing to the music it really helps me set a scene or get my brain into a spot. Not usually to lyrical stuff though.
LUD!: Does anything else in the music world have you excited right now as far as albums, mediums, etc?
JR: I love Thieving Irons, I think they're great.  I really love the Punch Brothers' new record. It's badass, they're great.  In terms of mediums, I think more and more in terms of soundtracks and am drawn to those and the kind of sonic narrative that can happen without saying a word.  I'm really interested in that stuff right now.
LUD!: Would you say any of that would come out on anything you're currently working on?
JR: I'm kind of deep in my new book.  I'm noticing music a lot more, and the kind of rise and fall within a scene and how that works with music.  Mostly I'm just really interested in it, it's fun.
LUD!:  I saw towards the end of the tour you're touring just as the trio.  I was wondering what's different for you as the artist between the trio, the full band, and solo.
JR: There's a kind of camaraderie on stage. The trio is a lot of fun and you get these great harmonies.  I find that with each one whatever happens you're working towards the spot where the show is just the same kind of fun every time, whether it's the band, solo, or the trio. You just wanna play it so you can have the most fun.
LUD!: As a performer, based off other musicians I've spoken to, I assume you have a bit of nervousness that goes along with shows.  Do you feel more or less of that when it's just you and the guitar doing the solo stuff?
JR: So playing solo you're sitting or standing up on stage like sharpening a knife, you know, and it's just a moment of quiet.  Inside the performance there's this quiet core that's really comforting and I really love it.  I always feel like I was made to be on stage, and when I feel it, I feel it most intensely when I'm playing solo.
LUD!: Do you still call Idaho home when you're not on the road?
JR: No, I live in Brooklyn now.
LUD!: Brooklyn has a cool scene, do you get to see a lot of the music in Brooklyn?
JR: I do. I have a lot of friends that live here. It's a little bit like a festival. You're traveling a lot of the time and you see your friends when they're on stage. I feel that way a little bit with Brooklyn. There's folks everywhere, it's fun to hangout.
LUD!: Back to a subject I mentioned earlier, I used to be a cross-country runner and when I read that you were a runner I thought of how I used to get melodies and phrases stuck in my head when I'd run and wondered if that is ever a part of your writing.
JR: Absolutely, I get tons of ideas from running.  I have a little note that I keep and I'm not afraid to stop in the middle of my run and write a bunch of stuff down if I feel it.  It's great. Kind of like the shower.  Running, and on the road too it just gives you this place, this land you stake out for our own soul to live on.  There's no other things. There's no phone and email.  That stuff has its place but it encroaches on your life and running just makes a quiet space where all those songs can start.
LUD!: Where do you enjoy running?
JR: Recently I've been ill and haven't been able to run for the last three months, but I really enjoy the bridges.  Running up the Manhattan, Brooklyn, and Williamsburg. Running up and down those is a really nice full day.  On the road I run wherever.  I find a lot out about towns that way, and I get lost easy too.
LUD!: I really love the Bringing in the Darlings EP. As far as a full length record down the road, have you started working on that or are you just deep in your book?
JR: Yeah, I'm recording and working hard on the next one. It's going really well. We've got a lot of the major recording done. So we're working in the summer months to kind of tighten that stuff and mix it around a little bit and see how it feels. Yeah it's really going great. It's going just great.
LUD!: Waiting anxiously for that, where are you recording it?
JR: Recording it up at Great North where I made my last couple. Just trying out a few new things, a few new people. It's gonna be great.
LUD!: That's about all I have.  Really looking forward to seeing you in Boulder.
JR: Thanks! That's gonna be badass. I love that venue! I'll see ya there!