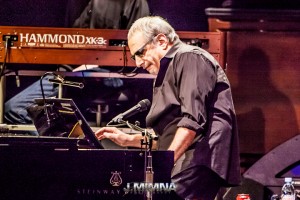 Photos by Jim Mimna
The Scene:  Last week, the Paramount Theatre was the setting for a musical convergence known as The Dukes of September.  The Paramount has to be one of the nicest theaters in Denver with it's old school design and a large open chamber it's the perfect place to see top rate music, as was the case on this evening.  Unlike most of the theaters in Denver, the Paramount has not been remodeled and still boasts all the glamour and glitz of its original 1930s Art Deco design.  Everywhere I went I found interesting craftsmanship in the original decor of the building.  The Paramount has soul that is still as vibrant today as I imagine it was nearly a century ago.  I could not think of a more fitting venue for such a classic hodgepodge of musicianship that was about to take the stage.
The Dukes of September (Rhythm Revue): This super-group formed in 2010 and features Donald Fagen, Michael McDonald, and Boz Scaggs.  The project is a spinoff of their previous endeavor, New York Rock and Soul Revue, which had a short life, but from the ashes arose the Dukes.  The trio is backed by a polished group of performers anchored by Jon Herington on guitar, Freddie Washington on bass, Shannon Forrest on drums, Jim Beard on organ, Jay Collins, Michael Leonhart, and Walt Weiskopf on horns, and Carolyn Escoffery and Catherine Russell on vocals.   The Dukes material is a mix of each of the three stars' hits and covers that they obviously love to play.
Donald Fagen is one of my all-time favorite artists.  His additions to the musical gene pool are nothing short of incredible, so I will admit my bias now.  As the evening's emcee, and apparent band leader for the show, he kept the train moving along and added his own personal touch with brief asides about the next song or anecdotes of appreciation for the performers he was sharing the stage with.  He took the lead and played his hits like "Trouble Man" and "Kid Charlemagne" early on, and played a rousing rendition of Lovin' Spoonful's "Summer in the City," which really showcased the band around him, too.  His playing on "Hey Nineteen," "Peg," and "Pretzel Logic" were outstanding, but much credit needs to go to Jon Herington for filling the big shoes of Walter Becker's guitar licks, and he did it well!
As the song selection moved to Michael McDonald on lead vocals, I was disappointed.  I was surprised to find his singing lackluster.  He seemed to have trouble holding the range we have come to expect from him and relied on the backing vocals to fill in his missing upper register a lot.  The covers he chose were well-picked to keep his singing in check, and so his parts weren't all bad.  Although I have to admit I cringed the whole way through the end of "If You Don't Know Me By Now."  To his credit, his backing vocals on the Steely Dan tunes were as refreshing to hear live as they were recorded on the original cuts, and I am sure they were missed on the last Steely Dan tour.   But, when he sang his biggest hit "Takin' it to the Streets," it again outlined his loss of range vocally, and the song relied on the energy created by the band to make it to the finish.
When Boz Scaggs took the spotlight, it was a different story altogether.  His vocals were strong and carried a lot of gusto, all while being silky smooth in the vein of Barry White.  I felt seduced.   He was the sleeper for me.   I didn't know much of his material and had never seen him live before but  I was blown away by his contribution.   He not only hypnotized me with his skills at the microphone, he also made the hair on the back of my neck rise with his masterful guitar playing.   I have heard "The Same Thing" played by a plethora of the best artists over the years, yet his rendition was absolutely noteworthy on my list.   Another pleasure provided by Scaggs was when he had Catherine Russell join him on vocals while he made his guitar sing scat with her, tit for tat.  It was a terrific treat of a slowly dying skill not many artists today can, or do, try.
Although the group is anchored by the core superstars, the entire band was very much a part of the show.  The lead vocals were given to Carolyn Escoffery and Catherine Russell at times, and all instrumentalists had their moment in the sun to shine on a solo at some point.  This is a band, not just a trio of stars and back line support, and that cohesiveness was evident.  As they played the long and rewarding encore, I realized how lucky I was to have been privy to this performance.  Albeit nostalgia, and despite my dislike of McDonald's offerings, The Dukes of September delivered entertainment in its purest form.
Setlist:
That Lady, Do You Like Good Music, I Keep Forgetting, Trouble Man, Kid Charlemagne, The Same Thing, Heard It Thru The Grapevine, You Never Can Tell, Summer In The City, If You Don't Know Me By Now, What a Fool Believes. Hey Nineteen, Love TKO, Piece of My Heart, Tell the Truth, Lowdown, Takin' it to the Streets, Reelin' in the Years
Encore: Peg, Pretzel Logic, Thank You (Falettinme Be Mice Elf Agin), Them Changes
Energy: A-
Sound: A+
Musicianship: A
Stage Presence: A+
Set / Light show: B
Overall: A-
Capturing life in various forms is what I do. I consider myself an archivist by nature. It is not a career choice that I consciously made, but it is something that has called me. I strive to freeze a moment in time with every frame, a moment that can retell its story with each viewing, forever. I also have a deep passion for music and have been photographing and recording live music for years. Capturing the energy and magic of a live performance in a photograph is one of my passions. In addition, I enjoy photographing in a wide variety of settings, from wildlife scenes to family portraits and everything in between. I am a lover of the earthscapes that we see all around us every day, both natural and manmade, and aim to make unique images that do justice to their beauty. Where others see darkness, I see streaks of light through long exposures. I shoot a very wide variety of subject matter including individual/family portraits, event coverage, landscapes, live concert/performance, HDR, product and commercial photography, architectural, weddings, food, and editorial photo journalism. With artistic expression, I aspire to create visual art that speaks volumes.