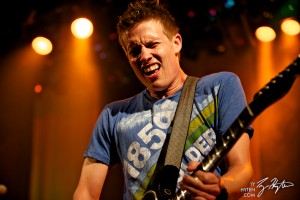 Photos by Ty Hyten
The Scene:  Last Tuesday night blues-rocker Jonny Lang brought out blues fans from several generations to a standing-room only Boulder Theater. The older demographic came with their spouses, and the younger folks came in a groups.  Married or not, the ladies were out in full force for the handsome baby-faced blues guitar ace.  The older the lady, the more fancy the dress.  It looked like the cougars were on the prowl, or perhaps it's just that the dress code for an event like this has changed.   The number of baby boomers in the audience stood as testament to how well Jonny can play, and play he did.
Opener: The Congress.  Local Denver three-piece The Congress were a hell of an opener.  They played a mix of their own stuff and covers that not only sounded great, but engaged the audience like a good opener should.  Their classic jamband sound was a good mix of easy to love melodies paired with exciting leads.  Their cover of "Killing Me Softly" was a crowd favorite.
Jonny Lang:  Lang walked out with a golden Gibson Les Paul in hand and I don't think anybody was quite ready for the firestorm he was about to unleash with it.  He and his five piece band started off the night with a bang.  The growl of a 50-year-old man who's seen his fair share of suffering poured from the 31 year-old's smiling mouth, and the ladies loved it.  Every spare minute that they weren't being drowned out by his wailing guitar, women yelled things like "I love you Jonny!" and  "Take off your shirt!."
He left the shirt on, but kept a perfect balance of slow poppier songs and rip-roaring dirty blues numbers.  I've been a fan of his recordings for a number of years but was really won over by how his playing, voice, and his band kicked away the polished shiny sound that you hear on his recordings. Jonny delivered what started out as a toned down, minimalist version of his hit "Red Light" which slid into a lengthy interlude of what seemed like adlib over the quiet crying of his guitar. "I know that it can be hard sometimes, just to get out of bed" bemoaned Lang.  His lamentation soon gave way to repeating  "everything's gonna be alright…" which he nudged the audience to join in on.  It felt predictable, but really good as he launched off into a haphazard solo that barely fit within the lines of melodic structure.
One of the highlights of the show was the walking bass backed "Rack 'Em Up," a sweet jazzy blues jam where each band mate got a chance to solo.  The crowd ate it up and it ended with a fireworks show from Jonny's telecaster.  Everyone could hold their own, but the rhythm guitarist was far outshined by Lang.  Their call and response portion consisted of Jonny playing a lick and the other guitarist imitating it without the finesse and cadence that made it so cool when Jonnny played it.
The encore was kicked off by my second favorite part of the evening, a solo cover of Muddy Waters' "Forty Days and Forty Nights."  Jonny's voice and the gritty shift in sound made for one of the best Waters covers I've ever heard. He ended the night with a full band, rather straight forward version of "Breaking Me" led by Jonny on acoustic guitar which trailed off with some adlib at the end with Jonny singing "I'll be on my way…"
Jonny Lang succeeded, if only for two and a half hours, in tricking the Tuesday night Boulder Theater crowd into thinking it was Friday.  His guitar playing, vocals, and stage presence conveyed the highs and lows of the blues to everyone who had the pleasure of being there.  It's no wonder Lang has received the praise of colleagues like Eric Clapton, and also Buddy Guy, who Jonny will be on the road with for the rest of his US tour.
Energy: A
Sound: A
Musicianship: A
Stage Presence: A
Set / Light show: B
Overall: A