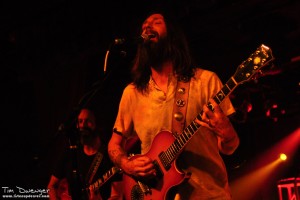 Photos by Tim Dwenger
The Scene: A Friday night at Cervantes' with Chris Robinson's new band?  Yes please . . . these two things seem like they fit hand in hand, and I have to admit I was shocked that they were still selling tickets at the door less than an hour before Robinson was slated to take the stage.  Once inside we were greeted by a room that was full but not packed and we were able to slide up within a few rows of the stage where a friend was waiting.  As the night went on, the crowd ebbed and flowed, but it was never too crowded to move freely and that was a blessing for sure.
Chris Robinson Brotherhood: Just shortly after 10, Robinson casually took the stage enveloped by a haze of incense and other smoke and waved to the cheering crowd.  Without more than a little tuning up, the band kicked into a cover of Hank Ballard's "Let's Go, Let's Go" that will be featured on their upcoming album The Magic Door that will be released in September.  From the get-go, the show had the slow and ambling pace that got the audience shuffling and swaying a little, but never really dancing.   Tunes like "Star or Stone," and "Do Right Woman, Do Right Man" featured some tight harmonies as guitarist Neal Casal, keyboardist Adam MacDougal, and bassist Mark Dutton blended their voices beautifully with Robinson's.
While Casal held his own at the mic, it was one the strings of his guitar where he truly shined throughout the evening.  He ripped solo after solo, but also stepped back into the shadows a few times to hold down the rhythm and let Robinson strut his stuff on lead.  There were a few times during the first set where it really felt like the "Chris and Neal show" but extended jams, like the one out of The Black Crowes country laced ditty "Roll Old Jeremiah," allowed the band to showcase their ability to improvise and stretch out some of the tighter tunes in the band's catalog.
As it turned out, the first set wasn't really about the kind of Rock-n-Roll that Robinson cranks out with The Crowes, and it was more focused on bluesy 70's ballads that conjured up images of The Grateful Dead circa Europe '72.  Nowhere was this more evident than on the last tune of the first set (and the first song of the band's recent record Big Moon Ritual), "Tulsa Yesterday," when the opening of the song found several of us scratching out heads and wondering if the band was teasing The Dead's "Bird Song" or just vamping on "Tulsa's" intro.  Several minutes later, the songs jam seemed to flirt with elements of "The Other One" that never came to fruition.
A relatively short setbreak caught me by surprise and I missed the first few songs of the second set because I was still outside catching up with some friends as the thump of the bass drum made it's way out the door and onto Welton St.  When I finally made my way back into the room, the band was kicking into Hoyt Axton's "Never Been To Spain;" a personal favorite of mine!  As I sang along to the classic tune, I wandered the room a bit and noticed that while there still weren't many dancers, everyone seemed to be digging what the band was doing up on stage.
A little later in the set, Robinson cranked things up a bit for the run from "Vibration & Light Suite" to "Ride" to "I Ain't Hiding."  The trio of songs featured some tight guitar playing, some catchy hooks, and best of all, these tunes got a few people in the room dancing as the set built to a solid peak before wrapping up with the crowd pleasing Rock-n-Roll sing-a-long of "Rosalee."
The two song encore consisted of The Crowes "Driving Wheel" and a bouncy take on The Dead's "Sugaree" that proved once and for all that the band could, and should, tackle the music of Garcia and company.  As we headed home I couldn't help but think this show was mellower than I was expecting, but in the end that wasn't a bad thing.  The band had put together two sets of music that showcased their skill and range as artists and I'm sure the hardcore fans in the room appreciated every minute of it.  I for one would have loved to have seen this show outside and under the stars.  There was just something about the feel of the music that begged for an open sky and light breeze.  Maybe I'll have to head up The Mish in September when Robinson and his band return to Colorado for a late summer show by the river.
Setlist:
Set One: Let's Go, Let's Go, Tomorrow Blues, Badlands Here We Come, Star Or Stone, Goodbye Wheeling, Roll Old Jeremiah, Do Right Women, Tulsa Yesterday
Set Two: Try Rock N' Roll, Jump The Turnstile, 100 Days Of Rain, Never Been To Spain, Sunday Sound, Vibration & Light Suite, Ride, I Ain't Hiding, Rosalee,
Encore: Driving Wheel, Sugaree
Energy: B-
Sound: B+
Musicianship: A
Stage Presence: B
Set / Light show: B
Overall: B
Music has always been a part of my life. It probably all started listening to old Grateful Dead, Peter Paul & Mary, and Simon & Garfunkel records that my parents had, but it wasn't long before they were taking me to concerts like Starship, Crosby, Stills & Nash, and Huey Lewis & The News. I got the bug to write about music after reviewing an Eric Clapton concert for a creative writing project in high school but didn't really take it up seriously until 2002. Since then I have published countless articles in The Marquee Magazine and done some work for Jambase.com, SPIN Magazine, and various other outlets. I started Listen Up Denver! as a way to share the music information that is constantly spilling out of my head with people who care. Please enjoy!