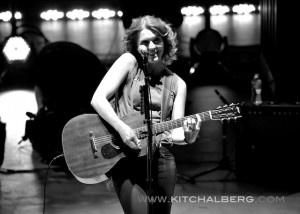 Photos by Kit Chalberg
The Scene: As we pulled up to Red Rocks Ampitheatre on Saturday afternoon the parking lots were nearly empty except for a small group of loyal, tailgating fans. We parked close to the lower north entrance and pulled out our camping chairs. Echoing in the background was the powerful, unmistakable sound of Brandi Carlile's voice during sound check. Fans in the parking lot reacted by turning down their music, limiting the chatter, and ending phone conversations. After a couple of minutes, it seemed that all anyone could do was to look at the person next to them and say, "wow…it's gonna be a good night." Not only would the Red Rocks faithful get to witness Carlile's first headlining show at the venue, they would also be treated to the poetic storytelling of Colorado-based singer songwriter Gregory Alan Isakov and pop-rocker Ingrid Michaelson.
Opener: Gregory Alan Isakov. Similar to previous Colorado shows and tours, Gregory Alan Isakov handled the opening duties for Carlile's show at Red Rocks. The two have been connected for several years and it wasn't too long ago that Carlile called Iaskov one of her favorite artists as they played together at Chautauqua. On top of that she provided background vocals on nearly every song on Isakov's masterful 2009 album, This Empty Northern Hemisphere. When the two get together there is always the potential for something special to happen—especially given Isakov's lyrical genius and Carlile's chops. It is easy to lose yourself in Isakov's songs.  His combination of poetry-like songwriting, string arrangements and minor chord progressions can almost transport the careful listener to another place. I don't know if it was the beer or too much sun, but as I looked around the venue during Isakov's set there were literally people moved to tears. My guess is that the tears had nothing to do with alcohol consumption or sun exposure; rather, Isakov's storytelling struck a chord and caused some unexpected reflection.
As I expected, Isakov and fellow band mates Jeb Bows, Patrick Meese, Philip Parker and  Ramaya Soskin played an inspired and musically-tight set.  Isakov opened the set with "That Sea the Gambler," an eerie and metaphorically charged song. He continued on to play the upbeat "Virginia May" and my personal favorite "The Stable Song," before rocking a couple new songs including "Amsterdam" and the hard-charging "Liars." As Isakov finished up his set, the crowd came out of their seats when Carlile joined him on stage for "That Moon Song." Isakov and Carlile's unmistakable chemistry, and nearly flawless harmonies, captured the attention of crowd, and left several folks asking the person next to them, "What is his name again?" For those that walked into Red Rocks not knowing his name, now they know.
Opener: Ingrid Michaelson. The pop-rocker followed Isakov with a set that included radio-friendly songs, "The Way I Am" and "Soldier." The highlight of the set was Michealson's cover of R.E.M's "Nightswimming," where she looped three or four different vocals and then sang over them. The unique blend created a song that seemed to move in all directions at once, but ultimately weaved together to create a stirring vocal.
Brandi Carlile: I will never forget the first time I saw Brandi Carlile and the Hanseroth Brothers (affectionately known as  "The Twins") live. It was in 2005 at the Gothic Theatre in Englewood. Admittedly, my wife and I weren't there to see Carlile…in fact, we had never heard of her. It was a co-headlining show for Citizen Cope and Marc Broussard and the name "Brandi Carlile" didn't even appear on the ticket. Luckily for us we got to the venue early (like we always do), as Brandi and the Brothers Hanseroth took the stage. I can still see the image in my head of the trio sitting on stools under white spotlights; Carlile flagged on each side by the twins. When Carlile took the stage the venue was nearly empty and those in the audience were either on their phones or chatting at the bar. This all changed very quickly when Carlile kicked into the first song. To this day it remains one of the only times I have seen a crowd stop in the middle of their collective conversations and move towards the stage (like a moth to a flame, as they say) for the "opening band," of the opening band.
Since the Gothic show we have missed only two Carlile shows in Colorado. We have seen her play to less than thirty people at the Fox Theatre, at the now-defunct Trilogy on the Pearl Street Mall in Boulder, at historic Chautauqua Auditorium, and the Boulder Theater.  Anyone who was at these shows, or any of the shows in between, had to know they were watching something special. It wasn't a matter of "if," but "when" Carlile would headline Red Rocks.
For many artists the opportunity to play Red Rocks is an important milestone as just about every music legend has graced the venue's stage and every aspiring musician dreams that one day they will look out at the wooden bleachers. Carlile is no different. "I just want to be the one on stage when the sun goes down," Carlile said as she reflected on opening for Ray LaMontagne and Sheryl Crow.  As the sun set on Saturday night we watched as she headlined the legendary venue for the first time along with nearly 9,000 of her loyal fans and thousands more watching via HD Net's (AXS TV) live broadcast.
Carlile and the boys walked onto the stage to an energized and roaring crowd. They stood for a moment, tuning their instruments, staring out at the sea of fans. With the red lights blaring down, and guitar strapped to her back, Carlile picked up a pair of drum sticks and ripped into the set's opening song, "Raise Hell" from her newest release, 2012's Bear Creek. The early part of the set continued with older favorites "Dreams" and "What Can I Say."  Before she played another new song, "Hard Way Home," Carlile looked to the crowd, huge smile on her face and said, "This is the greatest night of my life! Thank you Red Rocks!"
For the remainder of the set Carlile and the boys played as though it was, truly, the greatest night of their lives. The entire band couldn't stop smiling and could be seen starring into the crowd awestruck. During "Caroline" the band came together in the center of the stage and formed a small half-circle. Jeb Bows, pulling double duty on the night, put down the fiddle and delivered a soaring solo on mandolin. The band inspired a well-received sing-along when Carlile started the opening chords of "Keep Your Heart Young." For fan favorite "Turpentine" Carlile become a choir director and split the crowd into a three-part harmony, with stage left singing with Tim Hanseroth, the middle of the venue with Carlile and stage right hitting the high notes with Phil Hanseroth.
Before closing the set Carlile reflected on growing up as a fan of the Grand Ole Opry and her dream of playing there one day. She explained that when that day came Jimmy Dickens said to her, "kid…play the song that got you here." Upon sharing this memory, Carlile kicked into her emotionally charged and vocally soaring hit "The Story."
In addition to mixing in Leonard Cohen's much-covered "Hallelujah" and The Beatles' "Oh! Darling," during the encore.  Carlile went for broke with Queen's "Bohemian Rhapsody" during the main set and it deserves a paragraph all its own. Now, there are a handful of songs that I have always considered to be "off-limits"—some because of their legendary status and others because I don't want the artist to embarrass themselves—and one such song is "Bohemian Rhapsody." But, Carlile can sing anything—literally anything— and with such a solid band anything is possible, so my "off-limits" rule doesn't apply here. She is one of the few artists that could sing "Happy Birthday" and give you goose bumps.  So, when Carlile took to the piano and started into that familiar "Bohemian Rhapsody" melody, I couldn't wait for her to hit the chorus. Halfway through the song she left the piano bench and walked to the center microphone, electric guitar in hand. Carlile's flawless delivery and the band's dead-on execution would have made Freddy Mercury proud, maybe even blush.
It has truly been an honor to watch Carlile's progression as a musician over the last seven years, from Colorado's most intimate venues to the world's best outdoor venue. Her upward trajectory as an artist is nothing short of amazing. Her path has included four studio albums, endless touring (including a symphony tour), good ol' fashion fan engagement, two live albums and an unrelenting, and unmistakable, drive to stay true to herself. If Carlile's first headlining Red Rocks show is any indication of what's next for her and the twins, there is little doubt that whatever it is, it will be special.
Gregory Alan Isakov
That Sea the Gambler, Virginia May, The Stable Song, Amsterdam, Evelyn, This Empty Northern Hemisphere, Liars, That Moon Song
Ingrid Michaelson
Fire, Palm of Your Hand, Soldier, Parachute, Do It Now, Blood Brothers, Nightswimming, The Way I Am, Maybe, This is War, Black and Blue, The Chain
Brandi Carlile
Raise Hell, Dreams, What Can I Say, Hard Way Home, Before It Breaks, 100, Caroline. Keep Your Heart Young, Save Part of Yourself, Looking Out, Bohemian Rhapsody, Turpentine, Dying Day, The Story
Encore: Oh! Darling (w/ Ingrid Michaelson), Pride and Joy, That Wasn't Me, Hallelujah
Energy: A+
Sound: A-
Musicianship: A
Stage Presence: A+
Set / Light show: A-
Overall: A