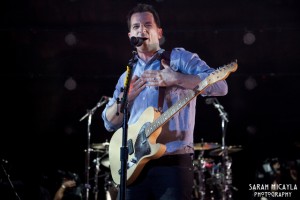 Photos by Sarah Henderson
The Scene: Questionable cloudscapes passed overhead as the eclectic crowd of O.A.R. fans and Rebelutionists made their way up and into Red Rocks Amphitheatre Sunday night.  The gray skies proved no match for the bright, positive vibes radiating from Red Rocks and rain ponchos became more of a fashion statement than a necessity.  No better luck could be had as I began my ascent up the rocks to find a spot among the 9,000+ in attendance only to find a vacancy in the first row. I capped off row one, stripped my poncho, and joined the Rebelution.
Opener: Rebelution:  For as long as I can remember Rebelution has rocked Colorado with their Reggae Dub assortment and Sunday night was no exception.  A generous mix of new tunes, from their 2012 release Peace of Mind, and Rebelution classics kept the people dancing through the early evening hours.  As the sun set over the mountains behind us, Rebelution made their mark on the evening with a beautiful rendition of one of my favorites, "Feeling Alright."
O.A.R.:  We were all "feeling alright" as the daylight diminished and the anticipation for the nights headliner came to a head.  O.A.R. took the stage in full force with all eight members present for the evening's performance.  The Rockville boys opened things up with "Dangerous Connection" and people were instantaneously moving.  I was blown away by lead guitarist Richard On's musicianship and overall musical aptitude.  However, it would prove to be the three piece brass attack of Jerry DePizzo, Jon Lampley, and Evan Oberla, on saxophone, trumpet and trombone respectively, which would capture my heart for the evening.  I particularly appreciated the times when front man Marc Roberge broke down songs for Jerry, Jon, and Evan to step in and wail on.  Mmmmmm, hmmmm, now you're cooking with brass!
All brass fetishes aside, O.A.R. played out a phenomenal set including crowd favorites "Love and Memories," "This Town," and "Black Rock."  The night would of course peak when Marc introduced the final song of their set, "This one," he started, "This one is about a crazy game of poker."  The amphitheater literally erupted, first with cheers but subsequently with playing cards.  The aesthetic pleasantry that comes with Red Rocks was the perfect canvas for the moment, as playing cards rained down from the top of the amphitheater all the way to the stage.  The mountain sang along to the final chorus and as O.A.R. made their way off the stage I followed suit, feeling as if I had truly become part Of. A. Revolution.
Energy: B
Sound: A-
Musicianship: A
Stage Presence: B
Set/Light Show: A
Overall: A-
I've always tried my hardest to live it up whenever possible, so live music was something that I gravitated towards naturally. You can find me with a massive grin on my face; skanking with rude boys in the pit, grooving along to reggae and funk, and even occasionally getting my whomp on at electronic shows. From tiny clubs to massive festivals, my love for music and passion for writing make my time writing for LUD! feel like time well spent.