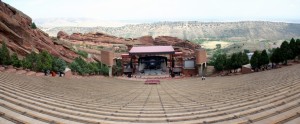 A Denver City employee has let Listen Up Denver! into some pretty sad news. After what has apparently been years of deliberation, the City and County of Denver (who operate Red Rocks park) have decided that this summer's concert season at Red Rocks will be the last at the famed Amphitheater. While they understand that the venue is a fixture on the summer touring calendar for many artists and fans, they site flora and fuana damage and erosion from over use during the summer months as the primary reason for closing the amphitheater.  Apparently there is a provision in the documentation to review the decision after 8 years.
The announcement is not scheduled to be made public until after the summer season is fully booked, but we made the decision that we simply could not sit on this information.  It is truly a sad day for those of us who frequented the Amphitheater over the years since it was put into operation way back in the early 1900's.  Let's enjoy this summer season "on the rocks" as it sounds like this may be the last.  It holds many millions of amazing memories and I invite you to share some of your memories in the comment section below.
More on this story as we learn more . . . R.I.P. Red Rocks.

Music has always been a part of my life. It probably all started listening to old Grateful Dead, Peter Paul & Mary, and Simon & Garfunkel records that my parents had, but it wasn't long before they were taking me to concerts like Starship, Crosby, Stills & Nash, and Huey Lewis & The News. I got the bug to write about music after reviewing an Eric Clapton concert for a creative writing project in high school but didn't really take it up seriously until 2002. Since then I have published countless articles in The Marquee Magazine and done some work for Jambase.com, SPIN Magazine, and various other outlets. I started Listen Up Denver! as a way to share the music information that is constantly spilling out of my head with people who care. Please enjoy!