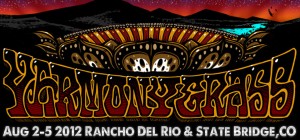 Yes you read that right, Listen Up Denver! has a pair of tickets to give away for this years Yarmony Grass Festival.  The festival will take place August 2nd – 5th in beautiful Rancho Del Rio and State Bridge, CO which is a short 2 1/2 hour drive from Denver.  You don't want to miss this!
All you have to do to enter is post "I want to go to Yarmony Grass!" on our Facebook Wall.
For those of you not on Facebook, shoot us an email at listenupdenver@gmail.com telling us you want to go to Yarmony Grass!
PLEASE NOTE: Entry deadline is 5pm MST Monday July 30th and the winner will be notified by email or Facebook no later than Noon MST on July 31st.
The first weekend of August will once again mark the arrival of YarmonyGrass at Rancho Del Rio and State Bridge Riverside Amphitheatre along the Colorado River. This year's festival features the return of Railroad Earth, accompanied by Elephant Revival, Lukas Nelson & Promise of the Real, members of String Cheese Incident and others, joining forces for Yarmony's seventh annual get-together.  Tickets are $169 for a four-day pass and $149 for a three-day pass.  They are available here.
YarmonyGrass 2012 lineup
Railroad Earth (2 sets)
Nershi's Joint Set
Elephant Revival (Saturday & Sunday)
The Contribution
Honkytonk Homeslice (Bill & Jilian Nershi, Scott Law and Keith Moseley)
Poor Man's Whiskey feat. Michael Kang performing "Dark Side of the Moonshine"
Lukas Nelson & Promise of the Real
Todd Sheaffer
Danny Barnes
The Drunken Hearts feat. Tim Carbone & Scott Law
The Grant Farm
Yarmony Creek House Band
Bonfire Dub and Friends
Sons of Fathers
Good Gravy
Dead Winter Carpenters
Fruition (2 sets)
Nathan Moore
Milkdrive
Bluegrass Delta Force
Tumbleweed Wanderers
Musketeer Gripweed
David Gans
Waiting On Trial
Kevin Watson
Olora Bros.