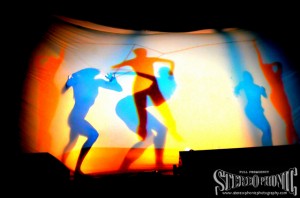 Photos by Johne Edge
Gone were the pizza, deep fried Twinkies, and beer vendors of the last three festivals I had covered for Listen Up Denver!  Instead there were free veggie burger samples, coconut water, and fruit smoothies to be had.  After all, the theme for this festival was mindfulness, and we were being encouraged to have an awareness of both our mind and body.  Wanderlust festival brought the world's leading yoga teachers, top musical acts and DJs, and renowned speakers to the mountains of Colorado to enlighten and entertain.   Promising fun in the sun and dancing under the stars, this festival definitely delivered.
Days were filled with Yoga practice, hiking, rock climbing, hooping, slack lining, lectures at the Speakeasy, and getting your downward dog on at the top of the mountain.  As the sun would set in the West, yoga clothes were shed for something a little more fun, and the cool mountain air would be filled with music coming from the main stage, and Wanderlust's late night DJ dance parties.
With transmutation through music in mind, Wanderlust created a musical alchemy with elements as diverse as Sonic Bloom's Jamie Janover playing hammer dulcimer Dub-Step, to nickel rubbing against corrugated metal, as Bonnie Paine and the rest of Colorado's own Elephant Revival played their blend of existential folk.  With DJ Drez's "Krishna's Dub" still ringing in my ears,  Anthony Magliano and his ensemble of artists known as Quixotic Fusion would take us on an aural and visual journey on not just one, but two nights.  Using various disciplines including acrobatics, dance, music, and visual effects, the group of artists that make up Quxotic created a total sensory experience that verged on overload.   (Besides I am a sucker for a pretty girl playing the accordion. )
Beats Antique glitchy brand of live electronica,  along with the seductive dancing of whirling dervish Zoe Jakes, would keep things going.  Never taking himself or his music to seriously, Gramatik would close out two different nights with only one thought in mind, let's keep everybody dancing.  Adding to the aural elixir on Saturday night were the world beats of Ziggy Marley, and the music of the beat-happy, Krishna-crazed MC Yogi.  MC Yogi & The Sacred Sound Society provided one of my favorite musical moments as they played tribute to MCA.  DJ Drez played Beastie Boys' beats, as MC Yogi sang the lyrics of "Son of Shiva" over the samples.  The rest of their set was filled with both old and new tracks from the latest album Pilgrimage, and ended with MC Yogi doing a stage dive into the eager arms of the audience.
In a lecture on Unified Field Theory I learned that all matter we observe is made of atoms and all atoms are made of 99.999999% space, yet we measure the "emptiness" of space to actually be infinitely full with energy.  I am just hoping that all that energy will allow artists to continue to make the music that keeps me dancing.
Wherever the music is, you'll find me with my camera, shooting on street corners, from barstools at clubs, from the side of the stage at theaters, and from photo pits in places like Red Rocks. Clicking away, trying to capture the emotive essence of music, and all those moments that we forget because of one too many Pabst Blue Ribbons.