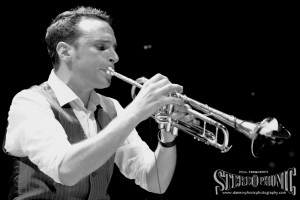 Photos by Johne Edge
The Scene:  The heat of summer in Denver is a magical time and place to be.  It's always conjured up memories of friends and family gathering to sip beers and toss Frisbees; all while taking in the beautiful sunshine of a late July afternoon on Capitol Hill.  Thursday evening was host to yet another of these all too often underappreciated moments.  I relaxed in the shade upon my favorite stoop chatting with friends, watching busy hipsters whizz by on fixies and a very (entertainingly so) poor parallel parker.  I sat, content upon the steps, and thought, "Man, Something about all of this, this very moment.  Even with the dirt in the gutter and the grit in the teeth.  Even with the house falling apart, even with friends becoming strangers.  The birds are singing and the dogs are barking and the beer is cold and beautiful women are walking by in sundresses, it's all so summer."
If there's another tradition that has always screamed summer to me, it's that every year you can expect the best summer skankdown is going to be the seemingly annual Reel Big Fish show.  This year's Summer of Ska! Tour was something I was incredibly excited for, and it did not disappoint.  After a quick bite at City O' City and double-fisting Pabst and Buffalo Trace bourbon (I wouldn't be a very good rude boy if I didn't go to arguably the biggest ska show this summer not drunk on cheap beer and fine whiskey!) I hobbled on one crutch and a sprained ankle the 10 blocks to Colfax's Ogden Theatre.
The small sidewalk outside was crowded with all kinds of rude boys and girls.  Fans ranging in age from kids that looked like they may have just started shaving, to people old enough to be my parents, including my father and LUD! photographer, Johne Edge.  Some dressed the part as those dressed in classic beer logo T's and ratty old punk rock hand-me-downs stood side by side, hell, even danced arm in arm with average looking 9-5er working stiffs.  Due to a misunderstanding and poor time management skills, I missed openers The Maxies and Suburban Legends.  My disappointment, however, melted away quickly like a crayon left on the concrete, when longtime personal favorites Big D & the Kids Table took the stage within minutes of my arrival.
The Opener:  Big D & the Kids Table.  Boston natives Big D & the Kids Table began their merciless set with classics like "Steady Riot" and their famous cover of The Specials' "Little Bitch" to get everyone skanking like.  This being my first time seeing BD&TKT after only being able to obsessively listen to their albums, I may seem a little biased, but I was amazed to see how much energy the whole band put into the show.  While Ska is most certainly known for being a high-energy genre, I was especially excited and impressed by frontman David (Big D) McWane.  To see him skanking, screaming, and generally being a complete madman was initially shocking and then absolutely inspiring since it's been less than a year since an announcement was made on Big D's facebook page that McWane had been diagnosed with thyroid cancer (from which he has since made a full recovery).  A living, breathing attestation to equal parts the advancements made in modern medicine and the unrelenting resilience of the human spirit, Big D himself sounded amazing, note for note like I was listening to a studio recording.
"We fucking love Denver!" exclaimed Mcwane, "You guys are like an oasis in the middle of tour."
The crowd roared in approval, obviously reciprocating that love.
"We know about you guys here in Denver, so this one's for you and it's called "Strictly Rude," you stoners."
Showing they could calm the mood down with slower grooves like "Strictly Rude" and "Shining On" (A personal summer anthem favorite), BD&TKT immediately brought the energy back up to thrashing with "Hell On Earth."  Blending seamlessly into tracks like "LAX" they even had a female guest vocalist come up for "Girls Against Drunk Bitches."    Rounding out the set Big D capped off their set with the classic party tune "Noise Complaint."  Always the humble gentleman, David McWane was even gracious enough to take the time to chat with LUD! Photographer Johne Edge and sign a copy of his book The Modern American Gypsy for me.  More of Mcwane's prose and poetry can be found on his website, www.davidmcwane.com.
Reel Big Fish:  Oh, Reel Big Fish.  I can't really explain why I have a profound and lasting love for this group.  I remember being jammed into the front seat when I was little (where the arm rest folded up in our 90-something Ford Taurus), between Ma in the passenger seat and Pa behind the wheel.   And when I had to sit up there on that tiny bench seat I would always play their 1996 release Turn the Radio Off over and over.  When I was I was in 5th grade I joined the school band because I wanted to play the trombone, which I only wanted to play strictly to learn the horn parts for "Everything Sucks" and "Alternative Baby!"
Since the first time I saw RBF in January 2006 at The Gothic Theatre, I have had the privilege of skankin' away many nights (half a dozen or so, by my count) with Reel Big Fish.  From inadequately short Warped Tour sets on the scorching blacktops of Invesco, to long sweaty nights in the pit at The Ogden, something keeps me coming back every time I see they're on tour again.  And although I have since given up the trombone, my love for Ska has further flourished nurtured by the relentless, sometimes manically energetic performances and juvenile, goofy humor that makes RBF perhaps one of the most recognizable names in Ska today.    Although the boys have been making music for over two decades, their performances always radiate and embody the pure, good hearted nature and undying oomph that defines Ska as a genre.  Thursday's performance was no exception to my expectations, with the band obviously feeding off the excitement of a well warmed up crowd.
Reel Big Fish kicked off their set with an awesome medley of "Kids Don't Like It" and the classic brawler track "In the Pit."  Middle fingers were flying like birds for another quick mosh song with "Another F.U. Song."  The night that followed those first few songs became a blur of epic skanking tomfoolery, fueled by Jameson, Coca-Cola, and PBR.  My memory of their set is more of a feeling; that uncontrollable happiness that makes Ska shows such a blast!  Luckily, my dad was able to snag a photo of the setlist, so I can tell you that they played a perfect mix of classics like "I Want Your Girlfriend," "Snoop Dogg," "Baby," "Trendy."
They chose to cap it all off with "Beer," an appropriate choice in my opinion given my state of mind.  As they exited the stage, the insatiable fans continued to cheer and chant,  "REEL BIG FISH!  REEL BIG FISH!"
The band took to the stage one more time in a feeble attempt to appease the ravenous crowd.  A perfect encore consisting of "Sell Out," "She Has a Girlfriend Now," and RBF's cover of A-ha's "Take on Me."  As I stepped into the cool summer night I knew I'd undoubtedly be back again, pledging to myself that as long as Big Fish keeps touring, I'll be there skanking as hard as possible.
I awoke around 6:45am in the passenger seat of my Nissan (Don't drink and drive kids!) to a horrible taste in my mouth and some ludicrously cryptic nonsensical text messages to an old friend I had bumped into.  One such message in my outbox reads, "Suits, gals and accessories, free of my charge tonight.  Now don't abuse it hahaha".  I still have no idea what any of that means.  Despite my confusion, pounding headache, sore joints and overall hungover-ness, I couldn't be happier.  Next to the nausea there was this feeling in my gut that I had just experienced one of the best nights I've had all summer.  When the dust settled, I knew with unwavering certainty that this night was the perfect embodiment of all things summer, making it a night I will not soon forget, except for the parts that I don't really remember!
Energy: A+
Sound: A
Musicianship: A-
Stage Presence: A+
Set / Light Show: B-
Overall: A
I've always tried my hardest to live it up whenever possible, so live music was something that I gravitated towards naturally. You can find me with a massive grin on my face; skanking with rude boys in the pit, grooving along to reggae and funk, and even occasionally getting my whomp on at electronic shows. From tiny clubs to massive festivals, my love for music and passion for writing make my time writing for LUD! feel like time well spent.