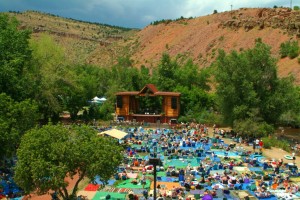 It's the 40th RockyGrass and as a result Planet Bluegrass couldn't stop themselves from adding one more celebratory treat: a magical Saturday late-night set from Greensky Bluegrass.
Before you make your way to the campgrounds for an epic final night of pickin' on Saturday, July 28, join them in the Wildflower Pavilion from 11pm – 12:30am.
They will be clearing out all the seats from the Wildflower and continuing to sell New Belgium beer at the Wildflower bar, as one of the best younger bands on the scene throws down a very special 40th Anniversary-worthy MoonGrass set (and a teaser of what they'll have in-store for everyone next month at the Kinfolk Celebration).
Please note: This show is open to all RockyGrass 3-day pass and Saturday ticketholders. You must have one of these festival tickets to attend; no additional tickets will be sold for this show.