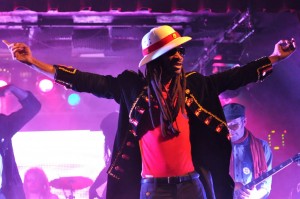 All Photos by Tim Dwenger
The Scene: It was quite a turnout at Cervantes on Saturday night.  Yes, it was quite a bill with Dubskin, See-I and Chali 2na, all artists that could headline the room, but it was also a party for Humboldt Wholesalers customers.  Humboldt Wholesalers is a distributor that was exhibiting at the Maximum Yield Indoor Gardening Expo at the Denver Convention Center that was going on in Denver over the weekend.  As a result, the crowd was much older than the typical Cervantes crowd with a healthy dose of the event attendees taking in the Saturday night festivities.  Humboldt Wholesalers and Cervantes pulled out all the stops for this high profile event that featured not only great music, but Fire Dancers, Ribbon Dancers who performed Aerial feats of strength, and other circus like performers as well.  It was truly an event that teased all the senses.
See-I: Shortly before 11, the See-I band, which features several members of Thievery Corporation's touring ensemble including bass player Ashish "Hash" Vyas, saxman Frank Mitchell, and guitarist Rob Myers, took the stage to a huge ovation.  After getting the crowd warmed up with some funky instrumental reggae, Frank Mitchell introduced the groups frontmen, Rootz and Zeebo Steele, in grand fashion claiming that if they had lived in ancient Egypt their faces would be on the Sphinx!
Rootz and Zeebo took the place by storm, dancing all over the stage and trading verses on all kinds of songs ranging from See-I originals to covers that kept the attention of the packed room focused directly on the band.    Throughout the night they teased a a wide variety of music including Parliament Funkadelic's "We Want the Funk," John Denver's "Leaving on a Jet Plane," and The Steve Miller Band's "Fly Like an Eagle."  While the teases were entertaining, See-I was at their best when playing their own music which, as many in the crowd noted on Saturday, often overlaps with Thievery Corporation as Rootz and Zeebo are two of the primary vocalists for Thievery and have shared some of their most beloved tracks with the group.  The crowd exploded when Zeebo introduced ".38.45 (A Thievery Number)" which is an old See-I song that appeared on Sounds From The Thievery Hi-Fi back in 1997 and later in the set the band laid down a killer groove for "33 Degrees," a tune that appeared on the most recent Thievery Corporation album, Radio Retaliation.
Midway through their 90 minute set, See-I paid tribute to one fallen legend of their genre when they covered Gregory Issacs' classic "Night Nurse" and then later they paid tribute to another when they busted into Bob Marley's "Stir It Up."  The later had everyone in the crowd singing along and it was clear the band was enjoying every second of it.
Shortly before they wrapped things up with a thunderous version of their own "Homegrown," See-I put their Disco chops on display as Rootz took lead vocals for a take on The Jackson 5's "I Want You Back," which featured Zeebo teasing a few lines of Naughty By Nature's "O.P.P."  It was a set that proved why See-I is rapidly gaining a reputation as a wildly fun party band and with their debut album dropping early this summer on Fort Knox Recordings, that buzz is sure to continue building quickly!
Chali 2na: After the second aerial performance of the night from one of the incredible ribbon dancers that entertained us from high above the floor and about 45 minutes after See-I left the stage, Chali 2na, formerly of Jurassic 5 took the stage with his live band, The House of Vibe and got the party hoppin' again.  Though the crowd had thinned out a bit as the time approached 1am, those still in attendance were vocal and full of energy and Chali rewarded them for sticking around.
He was animated up on stage, interacting with the audience, and he even rewarded some screaming fans with a few J5 tunes.  Thrilled with the reception that they got he praised the crowd for filling the room with a "Family Vibe."  Just about everyone in the room was waving their hands in the air and dancing hard as the band pumped out the beats.  About halfway through his set, we were treated to another Ribbon Dancing performance above the crowd and Chali looked like he had never seen anything like it at one of his shows (and he probably hadn't). When she finished right on cue with the end of one of the band's songs, the place exploded into wild cheering and even Chali was applauding for the dancer!
Soon after, Chali took an informal poll of the crowd, asking how many of us listen to mainstream radio and when he got the reaction he was expecting, introduced us to a station that we would actually want to listen to.  2na Radio with our host Chali 2na In The Morning!  The band latched on the vibe that See-I had left hanging in the air and dropped some more reggae on us before busting into a reprise of The Jackson 5's "I Want You Back," that featured Chali and the band dancing some synchronized moves.
To the delight of the faithful, as 2am neared Chali promised the crowd that he was going to keep the party going right on past 2.  I didn't make it to the end of his set but I'm sure he continued to deliver some of the best Hip-Hop out there today.
Energy: A
Sound: B
Musicianship: B
Stage Presence: A-
Set/Light Show: A
Overall: A-
Music has always been a part of my life. It probably all started listening to old Grateful Dead, Peter Paul & Mary, and Simon & Garfunkel records that my parents had, but it wasn't long before they were taking me to concerts like Starship, Crosby, Stills & Nash, and Huey Lewis & The News. I got the bug to write about music after reviewing an Eric Clapton concert for a creative writing project in high school but didn't really take it up seriously until 2002. Since then I have published countless articles in The Marquee Magazine and done some work for Jambase.com, SPIN Magazine, and various other outlets. I started Listen Up Denver! as a way to share the music information that is constantly spilling out of my head with people who care. Please enjoy!