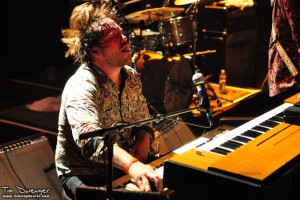 Photos by Tim Dwenger
The Scene: For a Thursday night, or any night really, The Bluebird was sadly pretty empty when we rolled in shortly after opener Hot Soup had cleared off the stage.  San Francisco's Monophonics has only played a few shows in the Denver area and despite several outlets (including this one) pushing the show pretty hard, turn-out was light.  What that left those of us lucky enough to have made the right decision and hit the show, was plenty of dancing room, and boy, did we need it.  My guess is next time these boys come to town, they will draw a much bigger crowd as it is only a matter of time before word gets around that Monophonics is the real deal on the Funk scene.
Monophonics: Let's start this off by getting down to brass tacks: Monophonics is simply awesome – period.  There really isn't much more that needs to be said, but this is a review of a concert after all, so I'll spend some time telling you why I think they are "simply awesome."
First off all, they poured so much heart, soul, and energy into this show that a casual observer might have thought the room was full of high powered record execs wavering over exactly how much money to throw their way rather than a bunch of die hard music fans out for a few drinks on a Thursday.  Early on in the two hour set their version of "Slippin' Into Darkness" transported us all back into the 70's where we stayed for much of the night as lead singer and keyboard player Kelly Finnigan reached to the depths of his soul for vocals that sent chills up my spine.  The band harmonized on the tune as horns added the texture that kept feet moving and faces smiling.
The group then gave us the first taste of their new album In Your Brain when they broke out "There's A Riot Goin' On" and again had me believing that we were in some dark and smoky club in 1972.  It's a tune that could have been on the soundtrack of just about any of the Blaxploitation movies of the 70's and one that demonstrates again and again that Monophonics doesn't just rage on stage, but they also lay down some of the funkiest stuff around in the studio.  This is a power packed group of musicians and it's clear that they are firing on all cylinders in everything they are doing together.
As Finnigan and his bandmates treated us to several more outstanding tracks from In Your Brain, I looked around the room and saw that a few more people had come in off the street to join the party.  Maybe they had been sucked in by the Funky sounds seeping through the walls of The Bluebird, or maybe they were notified by friends that these guys were simply killing it and they couldn't miss out on the party.  Either way, it was nice to see some more smiling faces, and even nicer when Finnegan leaned into the mic to let us all know that they were about to drop a track by one of the best party bands Colorado has ever produced, The Freddi-Henchi Band.  As the band tore into "Funky To The Bone" I did see a couple of knowing looks around the room, but I think most people were being exposed to this tune for the first time.  It's a true gem in the world of Funk and Soul and Monophonics version would have made the band proud.
The boys paid tribute to a few more of the greats when they dished up covers of Syl Johnson's "Don't Give It Away" and "Check Out Your Mind" by Curtis Mayfield and made it abundantly clear that they have an almost encyclopedic knowledge of their genre.  As he introduced "Don't Give It Away" Finnegan took the opportunity to plug the great Syl Johnson and encouraged anyone in the room who wasn't familiar with him to get out and get familiar with him.  It's great to see such a promising young band take the time to thank those that came before them and that simple acknowledgement gave me yet another reason to love them.
As the set wound down Monophonics kept the dance floor in front of the stage moving as they slipped into some sultry grooves with "Say You Love Me" and my buddy leaned over to me and said "there's gonna be some babies being made tonight!"  I'm sure he was right about that one!  Soon after, a sweat drenched Finnegan waved goodbye to the crowd and the band made their way to the wings for a short encore break.
When they returned, it wasn't for one, or even two songs, but three!  The triple threat of "Bang Bang," "High Off Your Love," and "Underdog" closed out the night in powerful fashion and left us all wanting more.  If you weren't one of the few who made it out to catch this show last Thursday; one, you are probably kicking yourself by now, and two, you better make it your business to get out and pick yourself up a Monophonics record (and one by Syl Johnson if haven't already) so you can be ready to catch them next time they roll through town because, seriously folks, this band is simply awesome!
Energy: A+
Sound: A
Musicianship: A
Stage Presence: A+
Set / Light show: B
Overall: A
Music has always been a part of my life. It probably all started listening to old Grateful Dead, Peter Paul & Mary, and Simon & Garfunkel records that my parents had, but it wasn't long before they were taking me to concerts like Starship, Crosby, Stills & Nash, and Huey Lewis & The News. I got the bug to write about music after reviewing an Eric Clapton concert for a creative writing project in high school but didn't really take it up seriously until 2002. Since then I have published countless articles in The Marquee Magazine and done some work for Jambase.com, SPIN Magazine, and various other outlets. I started Listen Up Denver! as a way to share the music information that is constantly spilling out of my head with people who care. Please enjoy!