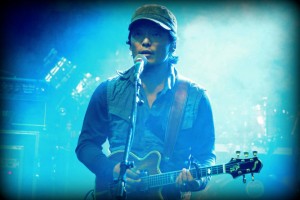 Photos by Jon Prins
String Cheese Incident returned to Horning's Hideout two weekends ago and they put on a stellar performance at their home away from home.  With guests including Sam Bush, Stanley Jordan, and longtime friend Liza Oxnard, the shows included songs from all eras of the band's career.  Covers like "Hey Pocky Way," "Magic Carpet Ride," "Synchronicity," and "Rocket Man" came alongside "Shantytown," "Galactic," and "Black Clouds" to make the weekend a truly memorable one for new and old fans alike.
7/20/2012 Horning's Hideout – North Plains, OR
Set 1: Outside and Inside > Can't Stop Now, Yo Se, Water > Pack It Up, Hey Pocky Way1, Song In My Head > Best Feeling > Let's Go Outside
Set 2: Shantytown > Howard, Freedom Jazz Dance2, Restless Wind > Land's End, Can't Wait Another Day > Drums > Magic Carpet Ride > Glory Chords > Rosie
Encore: This Must Be The Place (Naive Melody)2 > Restless Wind2
Guests: 1 with Dumpstaphunk, 2 with Stanley Jordan
7/21/2012 Horning's Hideout – North Plains, OR
Set 1: Miss Brown's Teahouse, Sittin' On Top Of The World, Mouna Bowa, Colliding, Sometimes A River, So Far From Home, Birdland > Big Sciota, Birdland > Rollover
Set 2: Ritual set, BollyMunster > Way Back Home, Jellyfish > Desert Dawn > Synchronicity > Las Vegas > Joyful Sound, Colorado Bluebird Sky
Encore: Could You Be Loved
7/22/2012 Horning's Hideout – North Plains, OR
Set 1: Hold Whatcha Got1, Whiskey Before Breakfast1, Old Train1, MLT1, One Love2 > Lonesome Fiddle Blues1, Struggling Angel, Galactic, Smile
Set 2: Black Clouds1, Rivertrance1, Eye Know Why, Late In The Evening > It Is What It Is, Big Shoes, Close Your Eyes > Rocket Man > Close Your Eyes
Encore: Just One Story
Guests: 1 with Sam Bush, 2 with Sam Bush and Liza Oxnard
I am a live music junkie, photographer, traveler and free spirit living in Boulder, CO. Going and seeing live music is my passion. Taking photos of various subjects has become a very enjoyable hobby for me over the years. Going out and capturing live music, scenic landscapes and candid shots of people are what I really like best.