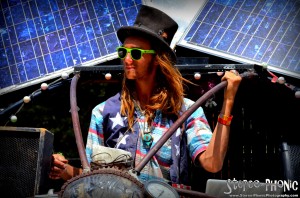 Photos by Johne Edge
I realized that I really didn't quite know what I was getting myself into as the car rolled down the main stretch of road into Georgetown, CO. Much to the surprise of many, signs read "Sold Out" at all of the parking lot entrances and this lead to us having to leave the car a good two miles away from the venue. The man in the parking lot explained he had only seen one shuttle in the past 3 hours and that was news I certainly did not want to hear as I lugged the 60 pound backpack I was responsible for. Luckily the kind hearted nature of human beings made its first, and most definitely not last, appearance of the weekend. We threw our thumbs up and within a couple of minutes a minivan full of costumed concert goers pulled over to give us a ride up the road.
I could hear music already coming from inside Shadow's Ranch as I hastily assembled my tent in the overflow camping across the street. By the time I finally made it inside the grounds sunset was already upon us. I decided to take a lap and round up as many of my friends as I could find before the night took over and the real party began.  It was beyond clear that one quick lap around the ranch was not going to be nearly enough to behold the true beauty that existed in the form of art installations and performers alike. I had heard rumblings prior to arrival that last year was a spectacle of epic proportions. This being the second year at Shadows Ranch and the largest Sonic Bloom to date, it was obvious that curator, Jamie Janover, and the rest of the folks involved, pull out all of the stops in order to make this one of the premier electronic music festivals around.
I was able to catch the end of Hammered Dulcimer master, Janover's set before I made my way over the bridge to wander through the onsite camping and find some friends. By this time in the evening it was obvious that spirits were rising. I had somewhat lost track of time, which is quite easy to do when surrounded by trees, tents, and flowing Whiskey. I had taken the time to set random alarms on my phone to remind me on occasion that I was here for a few other reasons than to mingle and be merry.
One of those reasons was ESKMO because the San Francisco based producer is partially responsible for my love of electronic music. He opened my mind a few years ago from the world of Punk rock and was able to show me that the world of music has a hell of a lot more to offer than three chords and angst filled lyrics. His off kilter brand of sound is surely one unmatched by any other. It's also safe to say that he is by far one of the most animated performers I saw throughout the weekend. What sets Eskmo apart from a good majority of the performers in the scene is his ability to improvise, but not with what may be normally accepted means of making music. Throughout his set he made use of very non-conventional items. He didn't only sing along while he mixes, but he pulled out cans of beer to open and loop, ripped pieces of paper, and beat on countless other noise makers. You could literally see the sounds happen in front of you.
What I discovered early on in the festival is that even though I had a long list of artists I was looking forward to seeing, the ones I had little to no previous knowledge of were what I really needed to look out for. The act known as Phadroid proved this to me on multiple levels. The husband and wife duo; Android Jones and Phadrea make up the visually breathtaking performance that is Phadroid. Dressed in all white, Phadrea moved in a way that mesmerized me from the start to finish of their set. I couldn't once peel my eyes away from the way she moved with visualizations superimposed over her.
I then was able to catch a good portion of up and coming Jamtronica act; Papadosio on the main stage. I had heard rumblings of these guys all week and although they weren't quite my cup of tea I was definitely impressed with their ability to create the sound they did from actual instruments. I hadn't yet caught anything on any of the other stages so I had to force myself from the main area over to the Rocky Mountain Hydroponics Dome for the first time. Here I was able to catch the beginning of hardworking West Coast Bass music producer, Russ Liquid.
Unfortunately I had to pull myself away from the dome stage after Liquid's spot on remix of Outkast's "Atliens." This song pretty much set the tone for the rest of the night and I was off to check out the Bay Area dance floor destroyer; Ana Sia. This was the first time I had seen, or even heard of Sia, and was definitely interested in what she could add to the festival. Her set was a solid mix of danceable beats, and Gangsta Rap remixes. Of course this is when I had to grab my drink, and my two step, and hit the dance floor. She ended her performance by attempting to get the crowd to line-up and do the "Wobble Dance:" a line dance popular in Hip-Hop clubs around the country. I watched from my perch on the balcony as a thousand trippin' hippies tried their best to line-up and follow directions that came out over the loud speaker.
Marty Party followed suit with in your face dance beats that I was frankly not feeling at the time. This was my cue to wander once more and reconnect with all of the people I had lost throughout the day. I knew at this point in the game, sleep was not an option, especially if I wanted to see Random Rab perform one of his famous sunrise sets.
I found the campsite where my people were collecting their thoughts and reflecting on the first day of the festival. In the background we could hear the intricate sounds of the mystical dance floor symphony that is Akara. 4am was slowly approaching and I knew I had to get to the Dome early to find a spot up close for the magic Random Rab was about to create.
I've been a huge fan and advocate for the deep bass, layered beats, and soulful lyrics that Random Rab has become famous on the underground for. He found his calling at Burning Man when he began performing sunrise sets. Since then these sets have become a coveted experience throughout the electronic music scene. I could probably review the talent involved, or talk about the sounds used, but that would never do justice to the atmosphere Rab was able to create as the sun peaked over the mountains and revealed a true Colorado bluebird sky.
For the first 8 hours of this festival my priorities were music. Don't get me wrong, my priorities remained largely music, but after Rab's set something else clicked in my mind. I had a dream a few days before the festival that was very strange.  It happened as I stood up from the couch in my living room, got a powerful head rush and fainted. Granted it scared the hell out of my friend, for she had no idea what was happening, and I really had no idea what was happening either. I was only out cold for a minute at most, but while I was out I had a dream that lasted a hell of a lot longer. In my dream state my mind shuffled through all of the things in my current situation that have been causing strife and heartache. I then began falling backward in my dream and the phrase "I'll be letting go now" echoed through my head. When I woke up, I asked "What the hell just happened." Neither of us had any clue. I then asked "was Random Rab playing in the background when I fainted?" My friend replied with "No music was playing." Needless to say it was a surreal experience and started me on a path that ended with Sonic Bloom.
Now, I tell this story because of how my first day at the Bloom came to an end. Random Rab played all the songs I wanted to hear and it was exactly what you would expect a morning set to be. Then, right when everyone thought his set was over, he came back to the stage and said into the microphone. "You know, I'm supposed to be done. But, I'm going to play one more song. I never really play this song but I'm going to right now because I love it, and frankly I think the time is right." The song is called "Apparently."
The first day ended with a hundred or so hands in the air and smiles on faces while the words "I'll be letting go now," echoed through not only the ranch but my well-being and soul. I knew from that point on that this festival was going to be more than simply a music festival. Sonic Bloom is a place you can let go and be free. It is a makeshift community of everything beautiful in the world. The best part about the whole thing is that there were still two more days left for me to discover whatever needed to be discovered.
SATURDAY
Since sleep wasn't really an option after the church of Random Rab, Saturday was sure to be much more relaxed, at least for me. I started the day with a quick trip to the media tent to learn my computer had been smashed (due to my own delinquency). With a clouded mind and a borrowed PC, I struggled my way through a prior obligation that got the best of me. That was followed by a dip in the river to wash away my sins. I threw on some shades to hide the bags and went on a journey to find a comfy chair in some shade to take in the afternoon tunes.
Before I could find the much needed chair, I saw a man in the Dome stage sitting in a chair with nothing but an acoustic guitar. This was a sight to be seen at a festival like this. The man was Michael Garfield. His sound was exactly what I was looking for to pull me out of the slump I had somehow found myself in. Garfield has a unique way of weaving improvisational guitar playing, with singing and looping via foot pedals and other devices. He explained that he had been a part of Sonic Bloom for years and this was his first time on stage. It was clear through the grin on his face that he was having just as much fun as all of us.
There were maybe 30 people or so laying, or sitting cross legged near the stage and as he wound his set down he said "this next song isn't something you would usually hear at The Bloom but I'm going to play it anyway." This one wasn't looped or layered, it was a simple folk song that spoke of hope and love for each other. He ended his set with one last song that surprised not only us listening but Garfield himself as well. Both Kaminanda and David Block of the Human Experience left the crowd and joined Garfield on stage. Both leant their voices to his last song which consisted of guitar riffs along with melodic tapping. Michael literally plays every inch of the guitar and creates a sound so interesting that it became one of my favorite sets of the weekend.
I then continued my journey to the much needed chair as Washington based electro-funk live band Acorn Project was just taking the main stage. At first it was nothing but mellow background music (a perfect complement to my deep contemplation) but it quickly changed when they caught my full attention with a perfect cover of the song "Stereo" from electro-funk contemporaries, Boombox. The full band (including Saxophone) added a new flavor to one of my favorite songs.
I seem to be missing a large portion of the next part of Saturday. I can only assume I was wandering aimlessly and wide-eyed admiring the wolves fenced in behind the stage and the many art installations on the grounds. A few pieces that really caught my eye were those from a local Boulder artist Victor Tilvaro. Along with his works were countless other installations that added more than just visual stimulation to the ambiance of the festival. At times you could feel the love and energy radiate from certain corners and nooks that may have just been passed by if it wasn't for the attention to detail I seemed to have picked up somewhere along the way earlier in the weekend.
Once I finally started coming back to reality, I remembered once again: "Ah! I need to see some music!" It happened to be just in time for another one of the sets I told myself I could not miss.
Welder, the alter ego of Eskmo, took over the main stage with the same animated live performance that we have come to love from Brendan Angelides. Welder's sets are sought out all over the country since it is only on very rare occasions that he actually dons the welder mask and performs his down tempo, organic, gentle sounds. This set consisted of "Purple and Orange" as well as a few numbers off of his most recent release Florescence.
After Welder came another one of the most sought out sets of the weekend. Zilla is a physical and sonic representation of what it means to "Unify the Field."  It is a once a year spectacle that consists of Janover, Michael Travis of String Cheese Incident and Aaron Holstein of Vibesquad. Zilla is a mind blowing force of musical mastery bent on providing a complex improvisational experience to the fans on the dance floor. Heavy breaks are coupled with high energy bass lines and a Mary Poppin's bag of grooves.
By this time it may have only been 10:30 pm, but the crowd that amassed for the next artist would have you thinking that a headliner was due to take the stage. To give him credit, Emancipator should be considered a headliner, and for the week leading up to Bloom my phone was blowing up with friends who couldn't make the trek constantly telling me "do not miss Emancipator!" The young sound designer has been stealthily rising in ranks ever since his first release. Judging by the size of the crowd that showed up for his set, he is soon to be one of the largest names in Electronic music.
I was lucky enough to meet the man behind Emancipator, Doug Appling, earlier in the weekend. I tried to get some words of wisdom out of him, but almost giddy he could only get out: "I simply cannot wait for my set!" I agreed with him.
As always, Appling was joined on stage by Violin virtuoso, Ilya Goldberg. By this point I had lost track of how many artists Ilya had already joined on stage and I had seen him the night before with both Akara and Random Rab. He is without a doubt one of the busiest members of the Sonic Bloom community and even he couldn't wait to take the stage with Emancipator. As they took the stage and a burst of applause and pure awe rushed over the massive crowd in the main stage area and I decided I had to take my journalist hat off. I needed to let myself become fully engulfed in the pure natural bliss that is the sounds of these two young men.
Engulfed turned out to be an understatement. The sounds of Emancipator reach me on a religious level that words almost can't describe. To list his track names and think of colorful words that attempt to describe what exactly they do on stage would be an insult to their art. It was pure beauty. I may be getting ahead of myself here since there is still a whole other day to recap, but it is more than safe to say that, in my humble opinion, Emancipator was by far the apex of music for the entire weekend, at least to me.
The rest of Saturday evening became a bit of a blur. Which I suppose should be understandable after witnessing such a spectacular display of music knowledge and understanding. I was however able to push myself a little further and catch a few more artists over at the Submission Dome.
Ill-Esha has been a favorite artist and performer of mine ever since I saw her earlier this year at the Summit Music Hall in Denver. Her beats are the crunchy gangster grooves I often crave, yet, at the same time, she maintains an essence of beauty that can only be attributed to the always changing Bay Area bass music scene.  She sings like an angel and after meeting her earlier in the weekend I may have developed a slight crush. She ended her always dance-worthy set with an ode to the west coast in the form of a "Nothin but a G Thang" cover.
Unfortunately, I got carried away and indulged in one of my guilty pleasures, Prophet Massive, so I had to internally justify to myself that I would be missing Tipper. Luckily he would be playing again the next night. Massive is a side solo DJ project of Jason Hann of String Cheese Incident and Eoto. I'm not usually much for the "dirty womps," but every now and then I find myself squinting my eyes and falling victim to the super heavy bass. Massive was exactly what I needed at the time. Although not usually my cup of tea, the raw passion and gut wrenching deep frequencies turned me into a believer.
I was only able to stick around for half of Heyoka's alien carnival of beats because I finally realized that sleep might be a smart move. By this point in the evening my mana had run dry. I had used up all there was to use and decided to make my trek back to the tent I had set up and not once returned to. As I made it over the bridge, and made one final stop to fill up my cup on the balcony, I was surprised by one last bloom employee cleaning up the day's mess. I offered my hand, as well as some conversation. Once it was clean, much to my surprise the kind young gentlemen offered me something I would have never in a million years expected. My very own bedroom, with a real life bed! Of course I could not say "no" to such a treasure knowing that my tent sat on top of a field of rocks. I followed my new friend, not sure of what I was getting into, and sequestered away in a small nook sat a loft with a single unused bed. It felt as if I had found the Holy Grail. My very own bedroom all to myself?!? I was slowly starting to understand what this "Unified Field Theory" I've heard so much talk about was. The main purpose of this festival was starting to become clearer to me. The music is what brought us all out here, but there is clearly something more going on that I couldn't quite put my finger on yet. I just knew that this is far more than your standard music festival.  My new friend departed to what I could only imagine to be his own hidden loft and left me to my slumbers. A slumber that would turn out to be well needed in order for me to tackle the immaculate day that Sunday turned out to be.
SUNDAY
I woke up Sunday to the smell of bacon, the sound of soft conversation, and slight confusion as to what events had led me to find my very own loft and bed. I also realized I hadn't yet even been to the tent I set up almost 3 days earlier. I then threw on my clothes, made the lifesaving bed up for whomever may need it next, and set off. After the short walk, I arrived to a tent that had been completely collapsed by what my neighbors described as a "wicked wind storm." Large rocks were placed over the stakes to keep it from flying away. I thanked them for their kindness in keeping my tent on the festival grounds and figured I might as well pack everything up and just store it somewhere else, since it probably wasn't going to be getting much more use.
By this point in the weekend, time had become rather irrelevant and the real world was just a vague memory. I could only assume it was sometime after noon when I returned back to the shaded area near the river. Hammocks were full of napping festivarians and the meditation platforms were all in use.
On a personal level, Sunday was the day I had been looking forward to most and that was mostly due to the local acts I have grown to love. But before them was an act that I had made note of wanting to see after partying with bass player Dave McSweeney all weekend. That band is Florida based electronic fusion group, Greenhouse Lounge.
Their set was exactly what I needed to clear the jelly out of my head and get back in the "I'm on the job" mode I somewhat had lost on Saturday night. Greenhouse Lounge had a unique way of combining Break beats, Hip-Hop samples, live jamming, and raw electronica into melting pot of noise that set the tone for the rest of the afternoon in a perfect way. After a weekend of button pushing magicians and knob turning maniacs, Sunday afternoon was a welcomed change since most of the acts were full bands.
Up next were local Denver head turners and slowly rising stars; Human Agency. After recently adding Jonas Otto on the drums, these three have been making huge waves in the local electronic scene.  Between the live scratching of real wax records (yes real records), the tight drumming, and one of a kind amalgamation of Hip-Hop beats and dreamy electronic sounds, these guys are surely onto something fresh. Their set may have been early in the day, but by the time it was over they had amassed an impressive crowd. It is definitely clear that big things are on the horizon for these guys.
Human Agency finished up with a masterful remix of Sublime's "Doin' Time." It's a bold remix to attempt, but they did it with perfect respect to the integrity of the original song. Coming to the stage next was Sunsquabi, a group that I have been supporting as long as they have been making music. They are another act out of Boulder, Colorado and the waves they have been making are slowly becoming a tsunami of funky beats and diehard fans. After totally crushing Wakarusa, along with countless other stages along the Front Range, these guys made it to Sonic Bloom and brought the house down.
At first I wasn't sure how I could step away from the fact that I have grown up with these guys and give an honest objective review of their performance but After two songs I knew that the fact I grew up with them was going to have nothing to do with the review.  The crowd started small but within twenty minutes a small army was drawn in by Kevin Donahue's shredding guitar, and Andrew Clymer's heavy bass lines. Halfway through the set I couldn't keep my feet from moving to their self described brand of Electronic-Hydro-Funk. Each song was kept together magnificently by drummer; Chris Anderson.
Now, by this time in the weekend I had seen so many forms of immaculate music and I had been brought nearly to tears on multiple occasions. This set of music almost made my break completely through. The day was young and my mind was perhaps as clear as it had been in over a week and I still couldn't help myself from almost breaking out in full on tears of joy during their set. Granted, a big part of my emotion came from the fact that I have grown up with these guys and to see them bring down the house in such a way made me proud to be from the small town of Longmont, Colorado.
Once it was over I decided to take a quick poll of the people dancing next to the stage. "Everything I love about music is coming out of Human Agency and Sunsquabi" said one wide eyed kid who hadn't stopped moving to the music for what seemed like hours. "Best set of the weekend so far" said another. I figure with quotes like that, my biased opinion becomes moot. It was beyond clear that Sunsquabi could have easily crushed a spot later in the evening, and I would put money down that they will have one next year. Keep an eye out for these three, I'd suggest hopping on board with them soon because I see nothing but good things coming in their future.
As the afternoon came to an end another live band from Denver with a huge following and buzz carried us into the final evening of Sonic Bloom. Octopus Nebula had been on the tongues and minds of many festival goers for the duration of the weekend as they have been a mainstay on the Denver electronic scene since their inception. The pure intensity and passion in their set proved why they deserve the respect they have.
Since I ended up missing more main stage acts than I should have on the previous nights, I decided to plant myself right next to the stage for the entire night. After Nebula finished up their set electronic guru Tipper came out for his second set of the weekend and my decision to stick around the main stage surely paid off. Tipper started slow and kept to the down-tempo sounds I've grown to love. Tipper's vast understanding of music came to light during his Sunday set. For a producer to be able to switch between so many technically different and strange sounds in order to produce a landscape of sound like no other, is a feat that most artists will never attain. That, combined with the digital masterpieces of Android Jones, made for a perfect segue into the set that I was most anticipating on Sunday. Tipper ended his set by simply saying "it's been such a blissful weekend to play music, thank you all so much."
When I found out that Ott would be playing at Sonic Bloom this year I knew I would have to do whatever it takes to make it to Shadow's Ranch. Before he took the stage I forgot once again that I was there on business and had wandered off with a new friend to find some sort of beverage to imbibe. I was in the media lounge plugging in my phone and partaking in a few stiff cocktails when I heard "One Day I Wish To Have This Kind of Time" the opening track off of his most recent release Mir come over the sound system.  With Ott starting his set with the song that I start a majority of my days off with. I had no choice but to sprint to the front and dance my ass off.
"I don't think I've seen you move that fast all weekend." said my friend when he finally caught up to me at the foot of the stage.  As we danced and listened, we agreed that Ott's heavily Dub-Reggae influenced set was both inspired and well thought out. "I just feel like the luckiest girl in the world" shouted the twirling beauty dancing next to me throughout the entire set.
Ott is able to paint a picture and build a universe through his sounds. Often using samples of noises you'd hear in nature to create an organic feel that has the ability to pick you up and drop you in an entirely new world. It seemed as if his hour and a half set was over much too soon. I could have easily listened to the master of down-tempo beats for hours on end. His set echoed in my mind for days after the festival ended. I heard rumblings backstage after his set that he may be returning to America with an new show and a live band. The news made me giddy like a school girl with hopes that he will grace Colorado with his mesmerizing sounds once again.
The final night on the main stage came to an end of most epic proportions with this year's incarnation of the Sonic Bloom Orchestra. An amalgamation of everything Bloom, this year the group consisted of Michael Travis & Jason Hann (SCI, EOTO), Jamie Janover, Dave Watts (The Motet), Hopscotch, Lafa Taylor, Govinda, Sasha Rose, and Kyrian of the Fungineers. The set was as magic as the lineup makes it sound. With freestyle raps and soulful lyrics, they were able to encompass what the Unified Field Theory is about through song. Then, to the surprise of everyone who was able to stay up late enough one last night, EOTO was allowed to play an entire set of their music and melted brains with their deep frequencies and understanding of bass music.
After the ruckus I caught up with Jason Hann and was able to ask him what he got out of the weekend. All he could say was "just have love, brother." I caught up with a few other artists backstage while everyone tried to pick the pieces of their jaws up off the festival floor. A common theme developed among the answers: "Love something, there really isn't much else to say," Heyoka chimed in. "We live our lives surrounded by mirrors that reflect who we are," Mentioned a random passerby on his way to the keg.
"Electronic music has been evolving so fast that sometimes I do not know where I belong in it, but I do know that if you have love in your heart you will without a doubt get in where you fit in," said my friend Charlie when I asked him to sum up his weekend. "I'm at a juicy spot in my life, I really can't complain about much," said Doug from Emancipator. I think it's safe to say that almost all 3,000 people in attendance couldn't have agreed more.
It all started to become clear. I may not fully understand anything about this world, but I feel like Sonic Bloom, and everyone responsible for making it happen, are building a family based on the simplest of ideas that we all to often forget: have compassion for one another. Finding awareness in the world around you, having unconditional love for each other, and unifying the field. Making real life human connections while appreciating the beautiful consistencies and synchronicities that surround us. Not only for the four days of Sonic Bloom, but during every day of our lives.
I ended my weekend with one more sunrise while Kaminanda went beyond expectations for one last set in the Submission Dome. Kaminanda has a deep understanding for the magic that can happen between the hours of 4 and 7 am and it became my favorite part of the day. As tired, or burnt out, or haggard as you may be, a beautiful sunrise that reveals a new day while your new friend is performing his heart out with an ear to ear smile, is truly something that words can't properly describe. It was the absolute sublime ending to a festival that is more than music and performance. It's a community of lovers and beautiful people all banding together to spread knowledge of the Unified Field. It is not only the premier electronic festival, but the premier gathering of like minded individuals.
As Kaminanda's set came to an end, a long row of tables appeared behind the crowd. A joyful Jamie Janover had set out countless boxes of cereal, bowls, spoons, and milk. I munched a much needed breakfast, held up one last stranger for one last keg stand, and headed to the Buddha Lounge to catch some rays and bask in the afterglow of one of the better weekends I have had in months. Just when I thought the music was done, David Block of The Human Experience surprised everyone with one last set of music. A few stragglers danced. One last photographer snapped his remaining shots. The festival curator relaxed on a bean bag in front of a speaker, and a bottle of patron was passed. A few people napped, a few were still spunand looking confused, but for the most part love was had by all. The subtle sounds of Mr. Block provided the perfect, almost solemn, background noise for the thousands of searching souls packing their bags and preparing to find reality again.
I rode my skateboard from school in 7th grade to my buddy Vince's house where he put on the song "Perfect Government" by NOFX and I was hooked. The next day I bought the album Duh by Lagwagon. The next year I saw Against Me! at the Starlight Theater in Fort Collins, my mom dropped me off. I've since devoted every waking hour to anything done with passion. My speakerbox bumps everything from Lil' Wayne to Pablo Casals. I was never very good at making music, but I am damn good at listening to it. I've been filling up yellow notepads with random thoughts and misspelled words for as long as I can remember. I enjoy whiskey of all sorts, Newport cigarettes and the company of my family. I've got an addiction to run-on sentences that I'll probably never cure. A solid handshake with a stranger who has become a friend over a few beers means the world to me. You'll often find me wide eyed and wandering with an ear to ear grin. I live for funky break beats and spreading the love.