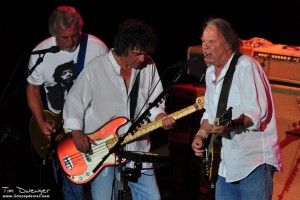 Photos by Tim Dwenger
The Scene: The traffic getting into Red Rocks in the half hour leading up to the show's scheduled start time of 7:30 was intense.  It was bumper to bumper and crawling up the hill toward the parking lot and I have to admit, I was sweating it a little as I was dying to catch Alabama Shakes strut their stuff in the opening slot.  Fortunately, we made it into the mostly full amphitheater just in time to catch Brittany Howard and her band walk out on stage with huge smiles on their faces.
As I looked around the jam packed benches I saw one of the more diverse (chronologically speaking) crowds of the summer.  There were hipsters out to catch the Godfather of Grunge, investment bankers out with clients on the company dime, and of course a healthy dose of grey hairs who had made their way out to Red Rocks to catch this guy they had grown up listening to, play one more time.  While the stands remained largely seated for the Alabama Shakes set, just about everyone was on their feet when ol' Neil took to the stage.
The Opener: Alabama Shakes. The Shakes debut album Boys & Girls has been in heavy rotation around my house since it was released earlier this year.  With the grit and Soul of early Muscle Shoals recordings, Howard and her band kicked off the set with "Hold On," the lead track on their album and I was hooked!  They were every bit as good on stage as they are on record and I settled in for a stunning 45 minute set that included "Hang Loose," "I Ain't The Same," a stirring version of "Be Mine," and the highlight of the set for me: "You Ain't Alone."  The latter song starts slow in the tradition of a classic 60's ballad and slowly builds in intensity until Howard is pouring everything she has into the emotionally charged song.  This one was truly special and I can't wait to catch the Alabama Shakes again, if only to catch this one song.
Neil Young & Crazy Horse: If there is one aging rocker whose legendary status is truly deserved, in my mind it's Neil Young.  He has excelled as part of the quartet Crosby, Stills, Nash & Young, as a solo artist writing folk leaning acoustic tunes and epic electric rockers, and as the leader of music's first Grunge band, Crazy Horse.  He's done it all and, despite a brain aneurysm that nearly killed him back in 2005, he's still doing it and, if several of the new tunes he showcased on Monday night are any indication, doing it very, very well.
He opened the night with "Love and Only Love" from 1990's Ragged Glory and the audience basked in the glory of the fuzzed out brilliance that is Neil with Crazy Horse.  The legendary guitar tone was there in spades and Young clomped around the stage like a dinosaur as he teased and pulled some amazing notes out of the low slung Gibson he has affectionately dubbed "Old Black."  When the opening notes of "Powderfinger" rang out in the night air, I was in heaven.  Considering many of his contemporaries are struggling to even come close to hitting the notes in some of their older songs, Young's voice was in absolutely amazing shape.  As he told the tale of Big John, Emmy-Lou, and the rest of the clan I remembered back to high-school when I cranked the distortion way up on my amplifier in the basement and struggled to get through this song, "Like A Hurricane," and many of Young's other classics.  I didn't do them any justice at all, but I like to think that maybe I have some insight into how much fun Young has up on stage when he performs with Crazy Horse.
Young then introduced us all to a pair of great new tunes when he broke out "Born In Ontario" and "Walk Like A Giant."  Both had Young's trademark lyrical sensibilities and that epic Crazy Horse sound and the rumor is that they will be released on a new album or original Crazy Horse material due in the fall.  One can only hope!  After a monstrous, feedback drenched outro that featured Young coaxing walls of sound from his cabinets as he stood inches away, the band took a break and left the old man alone on the stage with his acoustic guitar to take a stab at "Needle and The Damage Done."  It was haunting as the reverb laden tunes of the first 45 minutes of the show gradually echoed to the back of our minds and we concentrated on the man, his guitar, and the lyrics written so long ago.
Another new tune reared it's beautiful head next as Young remained on the stage solo and took us through "Twisted Road."  The lyrics name checked Bob Dylan and The Grateful Dead much to the joy of the crowd, and again I was blown away by how good Young's new material is sounding.  When the song ended, Crazy Horse returned, and Young told us that he wrote the next tune for "his son, his hero" before launching into the only non-acoustic or Grunge song of the evening, "For The Love Of Man."  I wouldn't be surprised if a parent or two in the crowd shed a tear or two during this one.
Young ratcheted things back up a notch with "Ramada Inn" and then, standing up there looking like the curmudgeonly Grandpa we've all dreamed about sharing a beer with, he tore into "Cinnamon Girl" and brought the house down when he went from that into "Fuckin' Up."  The set ended with another classic pair of tunes, "Mr. Soul" and "Hey Hey, My My (Into The Black)," that were met with two of the biggest reactions of the night.  As the feedback faded away, Young left the stage and though a thousand or so people had probably left to "beat the traffic," the audience poured out their love and willed the band to the stage for a pair of songs to end the show.  The first, "Jesus' Chariot (She'll Be Coming Round the Mountain)," was the only song played from Young's recent album of covers Americana, and it was powerful.  Everyone knows the words and just about everyone was singing along as he belted out "she'll be driving six white horses when she comes."
The show closed with the fitting "Roll Another Number (For The Road)" and two hours after it had begun, it was over.  As we made our way down the stairs and out to our car, I was struck by the fact that every time I've seen Young play live, it's been a completely different show.  I caught him on the solo acoustic tour back in 1992 or so, then several times more recently when he staged the Greendale project at Red Rocks, played to a seated crowd at the Wells Fargo Theatre, blew my mind at Magness Arena with a mix of all sorts of styles from throughout his career, and finally this show on The Rocks that proved he can still rock out with the best of them.  Long may you run Mr. Young.  Long may you run!
Energy: A
Sound: A
Musicianship: A
Stage Presence: B+
Set / Light show: B
Overall: A
Music has always been a part of my life. It probably all started listening to old Grateful Dead, Peter Paul & Mary, and Simon & Garfunkel records that my parents had, but it wasn't long before they were taking me to concerts like Starship, Crosby, Stills & Nash, and Huey Lewis & The News. I got the bug to write about music after reviewing an Eric Clapton concert for a creative writing project in high school but didn't really take it up seriously until 2002. Since then I have published countless articles in The Marquee Magazine and done some work for Jambase.com, SPIN Magazine, and various other outlets. I started Listen Up Denver! as a way to share the music information that is constantly spilling out of my head with people who care. Please enjoy!