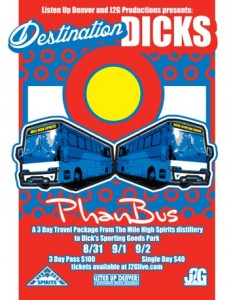 As you may have heard, Listen Up Denver! is teaming up with J2G Productions to run the "Destination Dick's Phan Bus," a 3 day travel experience.  Well, tickets are going fast and we have a pair of Sunday passes for you to win right now!
All you have to do to enter is post the titles of the first three songs you think Phish will play on Wednesday in Long Beach on our Facebook Wall.  The winner will be the person whose three songs are played first during the tour, if not Wednesday, then Friday, and so on.  Of course entry in the contest is closed at 8:30 PM MST on Wednesday August 15th.  One entry per person . . . Good Luck!!!  
Birds of a feather will be flocking outside of Mile High Spirits Distillery at 29th and Larimer for music, art, and a free tasting of their fine Bourbon, Gin, and Vodka. On Friday The Dumm Friends League (featuring members of Fox Street Allstars and The Whales) will be performing, while Saturday will feature an acoustic set from Paul Murin (of Phix and DeadPhish Orchestra) and Sunday will feature Rastasuraus.
After everyone has had their taste of some Bathtub Gin, air-conditioned Coach buses (with bathrooms and drinks on board) will pick you up and take you and your friends to the show where beverages will be provided free of charge in the lot. Remember last year when you paid $15 to park and still had to drive home after the show?  Were they busy handing out drinks in the lot?  I don't think so!  This is so much more than a ride folks, it is a three day experience that whets your whistle before you enter the gates. It's the party before the party, the show before the show, and the ride before (and after) the wild ride Phish will take us on!
Once the busses get back to Mile High Spirits after the shows, you will be asking your self some questions. The first one will be, "am I okay to drive home?" If your answer is "no," there is plenty of OVERNIGHT parking. Let's be honest, there are a lot of folks who will have a blank space where their mind should be, and knowing you can leave your car there is a great option to have. Another  question will be "where to next?" Mile High Distillery's location is a perfect jump-off point for late night shenanigans, and bars and venues are all a short ride or walk away.
The buses leave at 6:00 pm on Friday and 5:00 pm on Saturday and Sunday to get you to the stadium in time to in at doors if you want to. We'll depart from the show 30 minutes after the lights go up.
There is limited seating, and you don't want to miss the bus, so here is what you do: go on over to www.J2GLive.com, and purchase your single day tickets for $40 each day, or get a three day pass for only $100!  Remember, we are taking care of your pre-party!!!