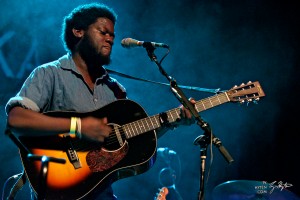 Photos by Ty Hyten
The Scene:  Michael Kiwanuka may not be a name you are familiar with, or you may have just heard your friends rave about his show at The Bluebird last week, but once his music hits your ears, you won't forget the name of this British musician with African roots.
Kiwanuka is drawing fans from all demographics, and the diversity in the crowd was matched only by their enthusiasm. When Kiwanuka strummed the final note of a song, the audience gave a polite pause to make sure he was done, and then whistled, cheered and clapped at a volume I didn't expect for a Tuesday night show.  That said, the show was rather mellow, and if you've heard his music, that should come as no surprise. His self-categorized Folk-Soul does not inspire rowdiness, but it did inspire something I didn't expect it to…dancing. No, not shake your ass and sweat, get down to the funk you sexy mother trucker kinda dancing, but a good portion of the crowd was definitely shuffling to the groove on a handful of occasions.
All across the board, what Kiwanuka brought to the table was way beyond my already high expectations. I went into this show already deeply connected to a couple of Kiwanuka's songs, and had been looking forward to the night for a couple of weeks. His live sound was impeccable and matched the warmth and depth I was used to hearing from studio recordings on high end home audio equipment. To be more specific, the night sounded like it was coming off of vinyl. Not only did Kiwanuka and his band play extremely cleanly and precisely, putting out great sound before it went through the soundboard to the speakers, but whomever was behind that soundboard deserves a lot of credit as well. It was by far one of the best sounding nights I have had the pleasure of attending at The Bluebird. The crowd was silently enthralled when he played, but boisterously appreciative between songs, and there was a general feeling of seeing an artist for the first time, but knowing he will be coming through your speakers twenty years down the road because of the immediate connection. Kiwanuka may be fresh on the scene, but he makes you feel like his music has been part of you forever.
Michael Kiwanuka:  I first heard Kiwanuka after an old friend sent me a link to his song "I'll Get Along," with a note saying the song made her think of me and our past together. I broke down at first listen. How could a song hit me like that right away? The lyrics simply hit the nail right on the head and described the feelings around a heavy event in my past. I once lived a life full of self-doubt, fear, and dark times, and pushed away some people before going down a rocky path. When Kiwanuka opened with that song, and the old friend who not only turned me onto Kiwanuka, but whom I pushed away and hurt the most, was standing right next to me, the lyrics were lived out, and taken a step-further. I am getting along, that's for sure. I have a feeling Kiwanuka's music will become the soundtrack to many situations like this in my life and others.
While "I'll Get Along" was reproduced as clearly as a studio recording, Kiwanuka and his band don't just stamp out the same product over and over. Songs from his debut album Home Again, like the title track, were played with added nuance and detail, showcasing Kiwanuka's Jazz background. He first started listening to jazz when he was in middle school, and eventually wound up taking some formal study on the subject. That technical ear later listened to Radiohead before discovering Dylan, and his entire musical path was evident in the music he and his band played.
"Tell Me A Tale" is a fine example of the vintage side of Kiwanuka. It sounded amazing swirling and floating around The Bluebird, like it could have been a scrapped track from Van Morrison's Astral Weeks or Tupelo Honey, or some soul record from the early seventies, yet it was being played by a bearded yet baby faced 25 year old. Other songs off Kiwanuka's debut album also rang with a certain air of timelessness, maturity, and depth. "I'm Getting Ready" was probably my favorite of the night, and Kiwanuka's soulfully sweet voice pierced me like a dagger.
As I mentioned before, I had high expectations for this show. Kiwanuka captures elements from some of my favorite artists and time periods, yet says it all with a fresh and unique voice. Some of my friends have classified him as "adult contemporary," and I can see that, but only because of the mellow vibe. Looking at the performance as a whole, I think it would be unfair to place Kiwanoka into any category. Folk-Soul is the best way to describe him…for now. The way he and his band stretched out the songs by adding improvisational jams that got people's feet moving, jazzed them up with technical detail, or made them a bit harder and more upbeat with a tinge of rock, make me believe that Kiwanuka is going to cover a lot of ground over his career. I can see more Ben Harper like roots-rock coming out of him, or even harder Funk and Soul. Whatever his next record sounds like, I hope it comes quick. This was Kiwanuks's first performance in the Mile-High and he made a hell of a first impression. When you see he is coming to town again, you better get your tickets fast, because I am sure it will be a weekend night at The Bluebird or The Ogden…and sell-out fast as lightning.
Energy: A
Sound: A+
Musicianship: A+
Stage Presence: A-
Set / Light show: B+
Overall: A
Brian Turk grew up in the shadow of the Catskill Mountains, near Woodstock, NY. He comes from a family of music lovers, audiopliles, Dead Heads and avid concert goers.The musical magic that can only be created in the Catsklills, both past and present, is what Brian cosiders the epicenter of his music addiction. The music of The Band, and most recently The Levon Helm Band, is the soundtrack of home for him. Brian's mother took him to his first concert at 5years old...it was Johnny Cash and Roseanne Cash at Jones Beach Amphitheatre. For Brian, music is a family affair. He feels the same way about live music...we all convene to celebrate together. Brian's writing life started when he wrote his favorite author, southern fiction writer Clyde Edgerton, a fan letter at age 13. When most kids were idolizing baseball players and television, he was worshipping writers and musicians. The two became friends and Clyde shared his craft with Brian. The next year Brian attended Duke University's Young Writers Camp. This is the extent, of what Brian considers, his "formal" training in writing. From then on his goal was to capture snapshots of life through words. Brian has been involved with live music in various facets over the years, and combined with his enthusiasm and love for Denver's music scene, he creates a vivid description of what he sees and hears. If you see him out at a show, dancing with a notebook in hand, say hello.