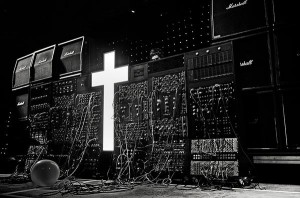 The Scene: The year was 1999 and I decided to widen my musical horizons beyond rock music. I ended up buying a copy of Fatboy Slim's album You've Come A Long Way Baby and developing a newfound respect for electronic music and sampling. Since then, the title of that album rings true for my musical tastes and the electronic genre as well, with artists such as David Guetta and Skrillex achieving Top 40 popularity and developing styles and sonic qualities that are imitated by many.
Despite my increasingly open-minded attitude toward the EDM genre over time, I was hesitant to see any live acts for a while. "What's the point?" I thought to myself. "It's just going to be some dude on stage standing there pushing buttons and little else – it seems boring." My attitude quickly changed in 2009, when my friends and I saw a live performance by the Prodigy.  It was one of the most energetic, sweat-inducing shows I have ever witnessed. Armed with a combination of live rock instrumentation and Liam Howlett's booth of synthesizers and laptops, the Prodigy served up an exciting introduction to live electronic music for me and set a high standard. A year later, I decided to drop in on another show – this time, I caught a set from the legendary Chemical Brothers at The Hollywood Bowl. Unsurprisingly, the mosh pits from the Prodigy had vanished, and were replaced with a crowd that never stopped dancing and having a great time. The vibes was certainly different from those felt at a visceral rock show, but it wasn't a bad thing. I was at a huge dance party attended by thousands of other people that wanted to groove.
In many ways, being in the crowd at the Justice show last week at Red Rocks felt similar to the 2010 Chemical Brothers performance.  I was immersed in a never-ending dance party alongside other 20-somethings, scantily clad ladies, and flying glow sticks. As I watched Justice, along with the opening acts, fans wasted absolutely no time sitting down and danced the night away well past midnight. Even the security staff couldn't resist the urge.
Opener: Boombox.  As the sun began to fall to the west, Boombox took the stage decked out in their stylish feather boas and pimp hats to get the venue warmed up. Less than a minute into the set, the majority of the crowd rose to their feet to wiggle their hips. Russ Randolph played the role of DJ/producer, as he kept a continuous, bassy, mid-tempo House beat and occasionally played funky synth lines and dropped samples. Meanwhile, a mellow Zion Godchaux took over the other side of the platform with bluesy electric guitar leads and when he felt like it, sang an occasional line or two. Judging from his unwavering laid back presence, Zion was not the least bit phased by stage fright or anxiety, he was enjoying time in the cool, August breeze like the rest of us. Overall, Boombox was a solid opening act – nothing mindblowing, yet plenty of energy to get the crowd pumped.
Opener: Rusko. I had mixed feelings about Rusko. From an objective standpoint, he was able to accomplish quite a bit alone onstage with a single table containing a relatively modest hardware setup. The beats and drops were loud and climactic, and Rusko himself was having the time of his life behind his equipment with a never-ending arsenal of spastic and amusing dance moves. His enthusiasm was contagious and everyone had a blast. Musically, I felt that the build-ups and the all-too-familiar Dubstep sound heard throughout the set came off as cliché and predictable. That said, there was a particular moment in Rusko's set that I really enjoyed when he fused together old (early '90s breakbeats and old school synth loops) and new (the infamous "wub" bass and triplet rhythms of modern dubstep) sounds simultaneously and delivered a somewhat refreshing take on an otherwise overdone style. If you're like me and you were able to put your dubstep resentment aside for a moment, Rusko's performance was a loud and enjoyable sugar rush.
Justice: The stage was now being prepared for the big, headlining set from Justice, and excited fans started screaming when roadies eventually came onstage to unveil the iconic white cross attached to the front of the group's equipment booth. Minutes later, the venue went dark as the first few bars of the "Star Spangled Banner" squealed through the synthesizers. The duo immediately kicked the set off with a pair of energetic tunes, "Genesis" and "Helix", and continued to alternate between songs from the Cross album and their latest release Audio, Video, Disco. At times, the best of both worlds collided into exciting mash-ups that you'd only hear at a live show.  "Civilization" was injected with the tightly-cut samples from "New Jack," while the vocal hook from "DVNO" was played over "Civilization," and my personal favorite, "Newlands," featuring the electric drill sound from "Stress." Other songs were re-interpreted to have a heavier/harder edge than their studio counterparts, from the distorted, growling synths during "D.A.N.C.E." to the extra-loud bass drops featured in "Horsepower."
The stage production was a visual treat. Long strands of lights behind the two musicians offered a variety of cool, tightly choreographed visuals. The booth was situated between two 3×3 grids of faux-Marshall guitar amps that lit up like Ableton sampler pads. The best onstage spectacle involved the equipment booth slowly splitting into two halves to reveal a hidden, backlit keyboard that Gaspard Augé (A.K.A., the long-haired half of Justice) played during "D.A.N.C.E." and "On 'n' On." The stage presence of the duo was (much like their music) filled with attitude and dramatic flair. They donned leather jackets embroidered with Justice logos and at one point during the set, cut the music and triumphantly raised their fists toward the crowd for about two straight minutes as they savored the cheers and excitement from their fans.
The music had settled into a comfortable groove until a sound malfunction occurred during the title track of "Audio, Video, Disco." At first, the situation was somewhat confusing. I initially thought the band was intentionally playing the intro extremely quiet to inevitably climax into a loud chorus, however, the music continued to hover around the same inaudible decibel level and anxious sound technicians could be seen running back and forth along the sides of the stage. Luckily, after a five-minute break to patch things up, Gaspard and Xavier returned to the stage, gave the same song a second try with a functioning sound system and made a great comeback by rounding out their set with a looser yet energetic bundle of song excerpts and sample mash-ups. As the house lights came on and I settled into my car with my head and ears ringing, I further realized that contrary to my naïve thoughts years ago, live electronic shows are capable of delivering full-fledged, theatrical stage productions that involve more than mundane knob-turning and laptop-meandering.
Energy: A
Sound: B+
Musicianship: B+
Stage Presence: A-
Set / Light show: A
Overall: A-

As a kid, my parents were always cool. They took me to a Don Henley concert when I was four years old. When I was an angsty teenager, they were fine with me going to a Limp Bizkit concert with my best friend and returning to the house later that night naively smelling like weed. In 2005, the same friend (who, at the time, enjoyed metalcore and wore girl pants) worked at a mom-and-pop guitar store and was randomly offered two Hilary Duff tickets by the store owners. Long story short, I'm not one to argue with free stuff. From the beginning, I've always kept an open mind about live music and attending shows. Concerts often inspire me, regardless of genre. The opportunity to witness the onstage culmination of tireless rehearsing, hard work, and songwriting is always exciting to watch, and it's also important to document. Somehow, I've stumbled into this great gig where I get to write about the fun times I have at live shows and then sharing them with you, the reader. In my spare time, I write/record/produce my own hard rock material, which can be found/heard here: www.sparkmandrill.bandcamp.com