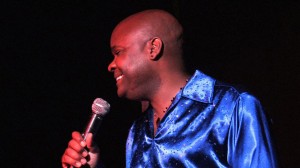 THE BLACK DIAMOND EXPERIENCE
Wednesday, August 29th
Cervantes' Masterpiece Ballroom
Tickets: $10 – ADV, $12 – DoS
PURCHASE HERE 
On Wednesday, August 29, 2012 Theron Denson, The Black Diamond will bring his band and Neil Diamond Tribute to Cervantes' where 100% of the proceeds will benefit the victims, survivors and families of those involved in the Aurora shooting. All participating musicians are traveling and performing on their own dime (for everything that isn't donated) for the sole purpose of raising as much money possible for the victims of the shootings.
The Black Diamond, Theron Denson, was inspired by the great Neil Diamond and has performed his tribute to the legendary performer everywhere. Theron not only has quite an impressive "show biz" reputation, but his fun style has garnered him fans all over the world.
Since the "birth" of his show, he has experienced many career highlights. Among them, An invitation and appearance on ABC Television's, Jimmy Kimmel Live show and being profiled in a national supermarket checkout stand magazine. He even made a brief appearance on NBC television's, America's Got Talent. Theron has performed for political dignitaries, including a U.S. Presidential candidate. He has been fortunate enough to share billing with (or open for) some of the best known names in music. The Pointer Sisters, Sheena Easton, Brad Paisley, The Village People, Taylor Dayne, and Boyz II Men, just to name a few.
He generously donates many performances to charitable causes, or just sings to friends (on a whim) as a day brightener and having performed his tribute to Mr. Diamond, to warm applause for many years, Theron looks forward to entertaining crowds for many more to come.