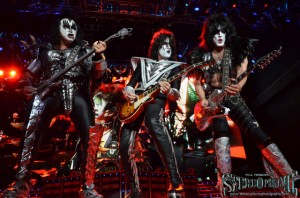 Photos by Johne Edge
The Scene: Noticeably absent  from the parking lots that surround Comfort Dental Amphitheater, the venue formerly known as Fiddler's Green, were the tailgaters that usually file in long after the evening's opener has left stage.   Instead, the 7,500 fixed seats and a general admission lawn section was nearly full shortly after 6:00.  Don't get  me wrong, people were still pounding down beers, but they did it as they walked toward the venue because no one wanted to miss any part of what has been billed as "The Tour."  An event not to be missed, "The Tour" brought two of the biggest rock acts of the past thirty years to the same stage, on the same night.
Motley Crue: It is hard to think of a band as big as Mötley Crüe as an opener.   After all Mötley Crüe was one of the most influential hair metal bands of the '80's, and were infamous for their hedonistic Rock and Roll lifestyle.  Surviving brushes with the law, alcoholism, and drug addiction, Crüe has been rocking stages for nearly thirty years.
On Wednesday they brought out all the tricks that they had learned over those years.  Classic songs like "Shout at the Devil," "Girls, Girls, Girls," "Wild Side," and more  were punctuated with flame throwing guitars, spinning drum sets, aerialists, and pretty girls.  A set for the fans, Nikki Sixx and the boys pulled out all the proverbial stops.
KISS: As a child in the 70's I got  a Demon Deluxe boy's costume one year for Halloween.  It had silver stud print detail throughout, tiny wings, and an authentic demon style KISS mask.  Long after Halloween was over you could still find me prancing around the house in my costume belting out the lyrics to "Shout It Out Loud."  Now, nearly forty years later, I was getting the chance to photograph my childhood idols.  I wasn't alone in my dream come true though, as life long KISS fans Bruce and Erin Miller won a photo pass contest on KILO 94.3 FM in Colorado springs.  With KISS tattoos and the online moniker "KISS Disciple" KILO couldn't have chosen a better pair of winners.
Camera in hand, I waited anxiously in the pit as KISS descended from the heavens in a shower of sparks. Then it happened, I was face to face with the Demon himself, Gene Simmons.  Limited to shooting the first two songs only, I couldn't have been any happier with the bands choice of songs as they opened the show with "Detroit Rock City" and "Shout It Out Loud."
When my photography duties were complete I got to enjoy the rest of the spectacle that is a KISS show as a fan.  Spectacle is what we got as Spaceman Tommy Thayer and feline percussionist Eric Singer exchanged laser blasts, the Demon spat fire during "Firehouse" and vomited blood during "God of Thunder," and during "Love Gun" Paul Stanley rode a zipline over the heads of fans to a raised platform in the middle of the crowd.
Theatrics aside the band was musically amazing, effortlessly blending metal and glam rock into their own style, and engaging the crowd with call and response.  As we pushed up against the city curfew of 10:30, the encore "Rock and Roll All Nite" made me a proud to be a card carrying member of the KISS Army.
Energy: A
Sound: A
Musicianship: A
Stage Presence: A+
Set/Light show: A+
Overall: A+  
Wherever the music is, you'll find me with my camera, shooting on street corners, from barstools at clubs, from the side of the stage at theaters, and from photo pits in places like Red Rocks. Clicking away, trying to capture the emotive essence of music, and all those moments that we forget because of one too many Pabst Blue Ribbons.