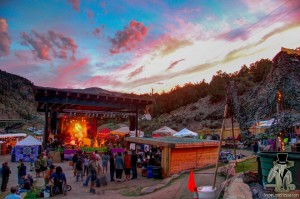 Photos by JohnRyan Lockman
Day 1 – Thursday
Approximately 140 miles west of Denver and 30 minutes outside of Avon sits a plot of land at the base of Yarmony Mountain. Tucked away there, right on the banks of the Colorado River, is the picturesque resort known as Rancho Del Rio. Once a year hundreds of beautiful people turn off their cell phones, say goodbye to society, and descend upon this secluded paradise. YarmonyGrass is the reason for this pilgrimage into the Rockies. The brainchild of festival curator Andrew Mconathy; Yarmonygrass has become the premier Jamgrass festival in Colorado. It may be billed as a music festival, but this gathering of people is far more than meets the eye.
For 4 days a small community is constructed. It is a collection of music lovers and a multitude of beautifully strange folks with an undying zest for life. Starting out as a small get together at the Rancho Del Rio resort, YarmonyGrass has slowly been gaining momentum over the past 7 years and this year it expanded 5 miles up the road from Rancho into the newly rebuilt State Bridge Amphitheater. Camping was split between the two locations, leaving ample room to spread out wherever it was you decided to set up home base for the long weekend.
These changes had quite a few festival goers from the past concerned. As with anything that changes there will always be naysayers. But, anyone who has actually been to either of the locations knew that it would take a hell of a lot more than these small changes to compromise the integrity of this festival. Plus a small stage was still set up at the Rancho compound for happy hours and late night shenanigans.
My caravan had every intention of arriving as early as possible on the Thursday, the first actual night of music. Unfortunately life loves to throw curveballs. After multiple runs to the corner market, liquor store, and other supply outlets we finally were able to hit the road. We rolled into Rancho Del Rio at roughly 11pm to find a few people sitting under an EZ-Up with a sign that read "Will-Call." Luckily enough we were still among some of the first to arrive. Our driver secured a spot up front while we staked out some waterfront property. Half drunk and high on the mountain air, we did our best to pitch our tents in hopes we could make it down to State Bridge for the end of the music.
To our chagrin, the music was just coming to an end as we got off one of the many shuttles meant for shuffling folks back and forth between the two places. I did however manage to hitch a ride almost immediately back up the road to rancho in order to catch Gipsy Moon, a three piece bluegrass band from Nederland, who was jamming away on the Yarmony Creek Saloon stage. Though it was a small, intimate little stage it would prove to be where I would discover some of my favorite music of the weekend. Their set ended and The Magic Beans took over with their own brand of space-funk-groove-grass. I decided for the sake of sanity and being able to fully appreciate the rest of the weekend, it would be best for me to call it a night early so as not to over-do-it before the real party even started. Even with that being the case I somehow still made a new friend on the walk back to my camp which turned into us sitting by a fire chatting while a group of strangers provided us with a perfect fire pit jam session.
Day 2 – Friday
As Friday morning dawned, the real party was set to start. The day started with a breakfast cooked up by the folks camped next to us, a few bottles of champagne, and some laps around the campgrounds to see how many friends and family had made it out so far. Finding a schedule for the music was also on the agenda. Cell phone service was far out of the question, meaning it would be simply impossible to check the Yarmony website from your phone. Truthfully, who needs a damn cell phone at a festival anyway?
Slowly Bluegrass aficionados swarmed the campgrounds while clouds filled the sky. One thing about drinking champagne for breakfast is that a nap around noon is almost inevitable. Being that we were still waiting for a good portion of our camp to show up, I took the duty of holding down the fort. Before I knew it I could hear raindrops pounding the top of the canopy I had chosen for my mid-day slumber. The sleep was peaceful and very well needed. I finally awoke to a small storm and the majority of my crew surrounding me to shelter from the rain.
The time now was roughly 5:30 and I noticed people flocking over to the Yarmony Creek Saloon once again. Upon questioning a few making their way in that direction, we learned one of the bands I was told to absolutely not miss was playing. They are a group of rising stars out of Oregon that go by the name of Fruition String Band.
Fruition is the only band at the festival that was granted multiple time slots beside Elephant Revival. That in and of itself should be a testament to their prowess as a band. The quintet was billed as only playing a "Happy Hour" at the saloon so I grabbed my friends and made our merry way over to the stage right as they were plugging in and getting started. While this was a welcome surprise, I have to admit I was a little disappointed that I missed the Dead Winter Carpenters over at State Bridge due to the sleep that no one was able to pull me from.
All was well. Fruition delivered far more than I, or anyone else, could have expected. The happy "hour" turned into four. Nathan Moore, as well as members of Dead Winter Carpenters both joined Fruition on stage for what was described as the Dead Fruity Moorechestra. This performance was a perfect example of things to come for the rest of the weekend.
By the time they finally began to wind down I realized I had been dancing on this deck for over 3 hours. Each member of Fruition carry a charm and tenacity about them that had me enthralled from the first note and hanging on every lyric. They made it easy to forget that I had come to this festival for any other reason but them. A attribute that surely will take them as far as they could ever want to go.
A short shuttle ride followed, and I was now at State Bridge to catch my first pieces of music at this beautiful amphitheater. The Contribution's set was already well underway showcasing a melting pot of some of the greatest musicians jamming on Bluegrass these days. The Contribution rarely play, sometimes only once or twice a year, due to the constant touring of each member's other bands and for that reason each set is a huge treat for everyone in attendance. They weren't necessarily my cup of tea, but something must be said for the pure talent emanating from each musician.
The reason I wanted to make my way down on Friday night was to see son of Outlaw Country legend Willie Nelson. Lukas Nelson & Promise of the Real are a Rock and Roll outfit that have been building a niche all their own in the music scene. They released their second album earlier this year, and I was lucky enough to actually talk with Lukas a week before Yarmonygrass in order to learn a little more about him [Editor's note: Read that interview here]. Their sound isn't quite what you would expect from a band at YarmonyGrass which became apparent as people slowly started to file out of the place.
I found it unfortunate that a lot of folks didn't give him a chance and his sound is far different from what you would expect coming from the son of Country pioneer. His lyrics were heartfelt and clearly came from a place of deep introspection. That, coupled with his ability to absolutely shred on his guitar, had those of us who remained shredding each of our very own air guitars and dancing around. They worked through a majority of their songs off of the sophomore release Wasted while also playing some of the popular ones off of their first album. Even though there weren't many people there for the intimate rock performance, I couldn't keep myself there much longer. I had to call it a day and knew that for real this time I had to take it easy in order to fully appreciate the massive day of music I had coming my way the next day.
I rode my skateboard from school in 7th grade to my buddy Vince's house where he put on the song "Perfect Government" by NOFX and I was hooked. The next day I bought the album Duh by Lagwagon. The next year I saw Against Me! at the Starlight Theater in Fort Collins, my mom dropped me off. I've since devoted every waking hour to anything done with passion. My speakerbox bumps everything from Lil' Wayne to Pablo Casals. I was never very good at making music, but I am damn good at listening to it. I've been filling up yellow notepads with random thoughts and misspelled words for as long as I can remember. I enjoy whiskey of all sorts, Newport cigarettes and the company of my family. I've got an addiction to run-on sentences that I'll probably never cure. A solid handshake with a stranger who has become a friend over a few beers means the world to me. You'll often find me wide eyed and wandering with an ear to ear grin. I live for funky break beats and spreading the love.