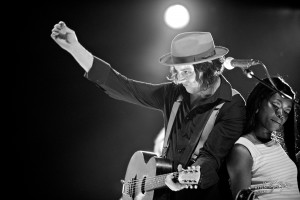 Photos by Ty Hyten
The Scene:  The internets were buzzing last week when Rock & Roll Bluesman Jack White was rumored to be playing a secret show somewhere in Denver. The word finally came down and Facebook exploded giving fans only 15 minutes to get over to a service station somewhere on West Colfax for the impromptu performance. It is these types of stunts, his undying respect for the lesser knowns, and not forgetting the roots that he came from, that has solidified Jack White as one of the most significant musicians of our time.
It was no wonder that the signs read sold-out and cars filled the lots and lined the roads leading up to Red Rocks hours before the evening's concert was even set to start. From what I gathered, fans were told that there would be an opener, but not told who. This sort of anticipation, I can only assume, lead to the throngs getting there early and holding down a spot inside the venue. Everyone from skinny jean clad, black hair dyed, tattooed and pale skinned rockers, to 40 something couples made it out on this fine evening to see who many believe to be a musical genius and absolute virtuoso.
Opener: Pokey Lafarge and the South City Three. Much like the majority of folks rumbling on the stairs heading into the venue, I had no clue who would be opening the show. Much to my surprise and joy, the opener turned out to be St. Louis based American Roots band Pokey Lafarge and the South City Three. From the looks on the faces of the folks around, I gathered that Pokey and the bunch may not have been very well known and this proved to be another reason why Jack White must be commended: for selling out ten thousand seat venues and bringing along bands that may not normally get the recognition they deserve.
The South City Three's brand of Americana Gypsy Blues had a large number in the crowd on their feet or at least nodding along. The slide guitar, stand up bass, and top notch mouth harp complemented Pokey's vintage old timey voice in such a way that you could close your eyes and almost feel as if you were drinking rot gut whiskey in a saloon, or bootleg rum in a speakeasy. Yet, all the while staying relevant through Pokey's lyrics and perfect delivery. They may not have been what many were expecting, but there's no doubt they turned at least a couple thousand listeners into fans.
Jack White and the Peacocks: The lights dimmed at roughly 9:30 resulting in an uproar likely to dislodge a rock or two from the surrounding mountains and Jack White took the stage accompanied by a 6 piece, all female, backing band. Goosebumps ran up my spine and arms as White's guitar echoed out the opening chords of "Dead Leaves and the Dirty Ground." Being a long time music lover with the enviable problem of not being able to find one single genre to call home, I base most of my opinions on whether a song makes my soul tingle. Not being too familiar with Mr. White before I found myself at Red Rocks, the fact that his opening notes already qualified his music as something special, I knew the night was going to be a performance not soon forgotten.
The ladies behind him, all dressed in white, displayed masterful knowledge of their instruments as White constantly switched between guitars and styles of playing. I may not be much of a guitar player myself, but I sure as hell can pick up on someone who knows their way around the old six string and Jack White is surely one of those people. His first solo album, Blunderbuss, was released recently, but as we all know, he already has a massive library of music credited to him.
As the lights changed from blue to purple and three long white pieces of cloth hung behind the band, it was obvious that a majority of the set was going to be songs off Blunderbuss. The songs allowed White to showcase his vocal range on many occasions, going from scratchy and almost inaudible to high pitched and angelic. He even harmonized perfectly at times with the soulful voice of Ruby Amanfu.
Of course, it goes without saying that he didn't skip the songs he made famous with his other projects and what made the night truly special was that each song was played in a new and different way most had not heard before. The Peacocks added a unique flavor to the sound, capturing the raw passion and blues ridden soul Jack White's lyrics often encompass. The only one that didn't find much change was "We're Going To Be Friends." Played by White on an acoustic guitar, and proving to be one of my highlights of the evening, the song struck a special chord with me, reminding me of a time when I would lay around with someone I used to know and whistle the tune while staring at the strange patterns on my ceiling.
The set stretched on for nearly 2 hours, and White stopped only momentarily to crack a joke or two about how funny it was that "the walls of this theater have been painted to look like the outside." When the band finally left the stage, they couldn't stay away for too long. It seemed as if all 10,000 were going to stick around until the bouncers walked them out one by one. Chanting, whistling, and downright screaming their lungs out, the band was eventually convinced to come back to the stage for what could almost be considered an entire second set. White closed the evening with a fast, and loud as all hell version of "7 Nation Army" that turned into a massive scream-a-long and a version of Leadbelly's "Goodnight, Irene" that proved once again that he not only knows his way around a guitar, but also that he has a vast knowledge of those responsible for all of us chasing "the Devil's music."
I left Red Rocks with a new understanding and appreciation for the pale skinned, heavy hearted bluesman. I'm nowhere near qualified to call the man a virtuoso, but on many levels I must agree that he is a genius in his own right. His songs are captivating. His ideas are simple, yet able to strike up emotions that are often kept hidden. At the end of the day, his music is capable of sparking memories both good and bad. His songs send Goosebumps up my spine and down my arms and, when it comes to music, that is my end all and be all as far as being a critic goes. There is very little else in this world that I can say does the same.
Energy: A
Sound: B
Musicianship: A+
Stage Presence: A
Set/Light show: B-
Overall: A
I rode my skateboard from school in 7th grade to my buddy Vince's house where he put on the song "Perfect Government" by NOFX and I was hooked. The next day I bought the album Duh by Lagwagon. The next year I saw Against Me! at the Starlight Theater in Fort Collins, my mom dropped me off. I've since devoted every waking hour to anything done with passion. My speakerbox bumps everything from Lil' Wayne to Pablo Casals. I was never very good at making music, but I am damn good at listening to it. I've been filling up yellow notepads with random thoughts and misspelled words for as long as I can remember. I enjoy whiskey of all sorts, Newport cigarettes and the company of my family. I've got an addiction to run-on sentences that I'll probably never cure. A solid handshake with a stranger who has become a friend over a few beers means the world to me. You'll often find me wide eyed and wandering with an ear to ear grin. I live for funky break beats and spreading the love.