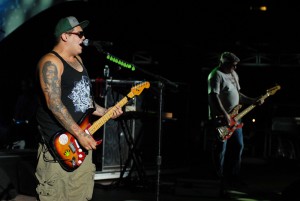 Photos by Todd Radunsky
Pepper and Sublime with Rome packed Red Rocks on Sunday night with a crowd of nostalgia seeking 30 somethings and a mob of kids who were glimmers in their parents eyes when Bradley Nowell and Sublime got together back in 1988.  Though Nowell is no longer with us, having died of a Heroin overdose back in 1996, Rome Ramirez, Josh Freese, and original Sublime member Eric Wilson are carrying the torch in the form of Sublime with Rome.  Their versions of the classic tunes like "Date Rape," "What I Got," and "Smoke Two Joints" are spot on and the crowd loved every minute of the show.
I work in the music industry photographing bands live and offstage for publicity. My work includes shooting concerts, festivals, and portraits of musicians and bands. I shoot for promoters, record companies, publicists, magazines, band managers, and individual musicians. I also photograph weddings, and portraits and have traveled the world to do so. I've shot weddings in Cali, Ireland, Mexico, Cape Cod, and Amsterdam to name a few.