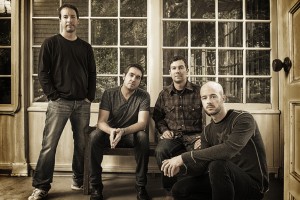 Photo by Jay Blakesberg
We Have a pair of tickets to Friday of the Kinfolk Celebration and all you have to do to enter is post "I want to party in Lyons with Yonder and my Kinfolk!" on our Facebook Wall.

For those of you not on Facebook, shoot us an email at listenupdenver@gmail.com telling us
you want to party in Lyons with Yonder and your Kinfolk!
PLEASE NOTE: Entry deadline is 5pm MST Tuesday August 21st and the winner will be notified by email or Facebook no later than Noon MST on August 22nd.
Why You Should Go: Yonder Mountain String Band started their annual Kinfolk Celebration way back in 2002 at Planet Bluegrass in Lyons and, after staging a two day event in 2003, the band decided to take the celebration on the road.  Now, 10 years after it first began, the Kinfolk Celebration is returning to it's home in Lyons.  This year's event will feature four sets from YMSB over the course of two nights as well as sets from Larry Keel & Natural Bridge,  Split Lip Rayfield, & Todd Snider on Friday and Greensky Bluegrass on Saturday.
In addition to music, a silent auction will take place to benefit the Colorado Fire Relief Fund. Fans will have an opportunity to place a bid and win exciting prices such as archived posters and signed merchandise, tickets to upcoming events, and instruments and gear from the band's vault. Separate auctions will take place on both August 24 and 25, 2012. For additional information, please visit Colorado Fire Relief Fund's onsite booth and YMSB's merch table. More information will also be posted on the band's website.
Also, starting today, Yonder Mountain String Band will launch the "Countdown to Kinfolk Daily Music Give-Away" on their website and Facebook page. For five days-in-a-row, YMSB will give away a free live track from their recent explosive summer tour (all tracks are from July 2012). Make sure to check out their website for more details.
Venue:
Planet Bluegrass Ranch, 500 West Main Street  Lyons, CO 80540 – (800) 624-2422
Doors:
Friday – 3pm
Saturday – 5pm
*Price:
2-Day Pass – $90
Friday Pass – $50
Saturday Pass – $50
BUY TICKETS
*All times and prices are gathered from other sources and we are not responsible for mistakes or inconsistencies. They are intended only as guidelines. Please, always call the venue if you desire the most accurate information possible.