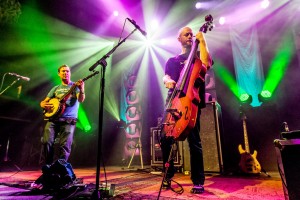 Yonder Mountain String Band is gearing up for their first Kinfolk Celebration at Planet Bluegrass Ranch in Lyons, CO in nine years and we were lucky enough to catch up with Bassist Ben Kaufmann and Banjo player Dave Johnston recently to talk a little about the weekend and some other relevant topics.  From the sounds of it the band is really looking forward to playing at the ranch again and bringing the family reunion back here to Colorado.  It's sure to be a hell of a party and from the looks of some of the requests that have been pouring in over the past few weeks, we are all in for an amazing "Kinfolk Created" set this weekend.
Listen Up Denver!:  Tell me about when you guys first thought of the name "Kinfolk Festival" and where it came from.
Ben Kaufman: I'm afraid I can't exactly remember.  I do know that the term Kinfolk wasn't very hard to come up with.  It was probably the first and immediate choice for what we wanted to call the die-hard Yonder fans but it grew into something that is so much more than a label.  People have met their wives and husbands at shows; best friends, travel companions, partners in the journey.  The term came first but the real depth happened once the fans grabbed hold and breathed life into it.
LUD!: If I'm not mistaken the first two Kinfolk Festivals were held at Planet Bluegrass.  Can you share some memories of those early festivals?
BK: Some fans will say that the 2003 Kinfolk Celebration was the best we ever played.  I respectfully disagree, thank God, but the recordings of those shows are among the most circulated.  Back then, the whole thing was just getting started.  A lot of bands make it to 4 or 5 years and by that point the guns are blazing.  We're at 14 years.  Most bands don't make it that far.  So I recognize a maturity (in a good way) in what we do.  The shows back then were all passion, blood, spit, and beer.  Now it's mostly passion.
LUD!: What does it mean to you to be able to bring the Festival back to Planet Bluegrass?
Dave Johnston: It means a lot to me to be able to bring the festival back to Lyons. The last few years, we've been doing the Kinfolk party on the road, usually in the midst of the year's final trip, so it has lately taken on the quality of a year-end celebration. It is sort of been our road New Year's party. To bring it back, it feels like exploding out of the gates. It also is a nod to Planet Bluegrass, they've been one of the key pillars to the success the band has had and you can't match their generosity of spirit, time, and commitment. They were the people to give us a stage and we can't thank them enough.
BK: We're a Colorado band and Planet Bluegrass is a very important Colorado music venue.  I've listened to so much music on those grounds.  When we moved the Kinfolk Celebration to the Midwest it was based on the idea that the Kinfolk are everywhere and the spirit of the whole thing isn't at all dependent upon geography.  However, it does feel special to have a family reunion at home, essentially in the house we grew up in.
LUD!: Why did you choose this year to come back to Lyons?
DJ: It seemed like the right time to have this kind of front range play. It is a really intimate venue with big vibes and it has a lot of personal meaning for all of us.
BK: Craig and the folks at the Planet have been supportive of us from the very beginning and they graciously opened their home to us again this year.  So many things had to happen, the most important of which was our taking a year off from playing Red Rocks.  Once that decision was made, the only real choice was Lyons and Planet Bluegrass.
LUD!: You've got some great special guests sharing the bill with you guys.  Can you tell me how you went about selecting these bands?
BK: The artists on the bill are not only friends but also people we recognize as kindred spirits: musicians who have pushed boundaries and are charting their own paths.  While the music is key, the essential ingredient of the whole deal is fierce independence.  Plus, those of us who exist artistically outside of the mainstream tend to gravitate toward each other and take care of each other because we all deal with the same challenges.  It's hard to get people to know you exist, firstly.  Then, if you accomplish that, it's harder still to get them to come to a show.  Yonder has been blessed with continued opportunities to cross boundaries and open eyes and ears.  It's only right that we use those chances to expose people to artists we think they need to see.
 LUD!: I understand you are soliciting requests from your fans for a special all request set that will happen during the weekend.  What are some of the strangest requests you've received so far?
BK: Let's see . . . there's "Aerodynamic" by Daft Punk and "Dance Yrself Clean" by LCD Soundsystem.  "I'm Broken" by Pantera.  You know how some jackass is always yelling "Freebird" at rock shows?  Well, I've noticed people shouting for "Girls just Want to Have Fun" at our shows.  I support their right to shout it and I hope they stop it.  Anyway, that's been requested.  Then again, I'm a big fan of "Africa" by Toto which was also requested.  People really seem to want us to play Phish covers.  It's all over the place, but I was pleasantly surprised by how many people requested obscure original music of ours.
LUD!:  Can you give us a sneak peak at a song or two that might have made the cut?
BK: I could tell you that we're doing Dark Side of the Moon while dressed as the Wizard of Oz cast members.  While not true, it would be awesome.  I make a drop dead horrifying Dorothy.
LUD!: The Pro Cycling Challenge will be rolling through Lyons on Saturday afternoon.  Are any of you guys cycling fans and even if you aren't, will be out cheering on the riders?
BK: I am a fan of the cyclist as a physical specimen.  I also have found them to be among the most arrogant of the sports enthusiasts.  I would perhaps remind them to follow their own advice and Share the Road.  Then again, I regularly drove from Ned to Boulder and back again and cyclists almost universally suck on that road.
LUD!: Was it intentional to schedule the festival at the same time as the race?
BK: Simple coincidence on the timing of the race.  I am personally excited because it's something I would otherwise never see.  And from what I understand, the best of the best race in this thing.  I'm not missing an opportunity to see modern masters even if there's not a banjo player among them.
LUD!: At the end of last year during an interview for The Marquee Magazine, Adam told me "I think another album sometime next year would probably be a safe bet" but we haven't seen anything yet.  Can you give me an update on the status of the next record?
BK: Recording starts in October in Chicago.  There's a big discussion happening internally about the relevance of the "album" anymore.  What I can promise is that material will be released, even if we pursue models and methods that are new.
We Have a pair of tickets to Friday of the Kinfolk Celebration and all you have to do to enter is post "I want to party in Lyons with Yonder and my Kinfolk!" on our Facebook Wall.

For those of you not on Facebook, shoot us an email at listenupdenver@gmail.com telling us
you want to party in Lyons with Yonder and your Kinfolk!
PLEASE NOTE: Entry deadline is 5pm MST Tuesday August 21st and the winner will be notified by email or Facebook no later than Noon MST on August 22nd.
Music has always been a part of my life. It probably all started listening to old Grateful Dead, Peter Paul & Mary, and Simon & Garfunkel records that my parents had, but it wasn't long before they were taking me to concerts like Starship, Crosby, Stills & Nash, and Huey Lewis & The News. I got the bug to write about music after reviewing an Eric Clapton concert for a creative writing project in high school but didn't really take it up seriously until 2002. Since then I have published countless articles in The Marquee Magazine and done some work for Jambase.com, SPIN Magazine, and various other outlets. I started Listen Up Denver! as a way to share the music information that is constantly spilling out of my head with people who care. Please enjoy!