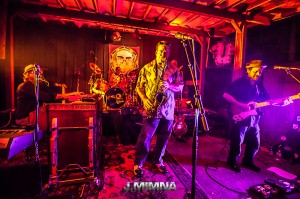 Photos by Jim Mimna
The Scene: After the hot day that last Saturday proved to be, the porch at Quixote's True Blue, or The Owsley's Stage as it is now called since the upgrades, was the perfect place to hear some quality New Orleans roots music in the cool night air.  When I say quality music, I mean it.  Quixote's owner Jay Bianchi has brought in renowned sound engineer Jon O'Leary to do what he does best, make eloquent sound and bring Quixote's into the company of the finest sounding venues in town.  Jon has done just that, bringing in a world class sound system and revamping the entire business end of the performance area, stage and all.
With JonO at the mixing desk driving the new Meyer PA, the transformation of the outdoor stage, or the porch, has taken what was a good place to play ping-pong, or have a smoke, into one of the finest places of its size to hear a band in Denver.  Isn't the quality of the music the most important thing?  I am an admitted audio snob and all the hair on the back of my neck stood straight up as the band played the first song.  The sound was enveloping and full yet not so loud it hurt my ears.  I was in audio nirvana.  To compliment the massive upgrades in production, the porch has also had many small upgrades in creature comforts, making it one hell of a great place to settle in for a night of music.  By the looks of the packed audience, word is out on Quixote's new upgrades.
New Orleans Suspects:  The New Orleans Suspects are the newest band of their kind out of New Orleans, and yet is old school in its approach and its lineup.  Let's not mince words here; this band is a super-group by all measures.  All you have to do is look at the players' resumes.   Let's start with the rhythm section and "Mean" Willie Green.  He has been the drummer for The Neville Brothers for the last 30 years and is one of the most influential drummers in the recent history of New Orleans.  Also bringing nothing but chops to the rhythm section is Reggie Scanlan.  He was the original bassist for The Radiators and was with them for their entire 33-year career.  Before that, he played with all of the greats including Fats Domino, Professor Longhair, Earl King, Snooks Eaglin, James Booker, and the list goes on.  On lead guitar is Jake Eckert, who has played with the Dirty Dozen Brass Band for 6 years.  He was the first person to transcribe all their tunes into written music.  He is also a Grammy-award winning engineer, receiving a Grammy for engineering a song called "Tassili" by the band Tinariwen who won the "Best World Music Album" Grammy in 2011.  Not to mention that he is simply one hell of a guitar player!  The newest member of the band is the saxophone player, Jeff Watkins, who played with James Brown for the 12 years leading up to Brown's death.  James Brown called him the "9th wonder of the world."  Jeff went on to play with Joss Stone for the last 5 years and left her to join the Suspects.  Last, we have the self-proclaimed "black sheep" of the group on keys, CR Gruver.  His unknown status is relative, considering his company on stage.  Denver music fans know him for his work in the homegrown group Polytoxic, and on a bigger scale his stay with the national touring band Outformation.  He often plays with Leo Nocentelli's Meter's Experience, not to mention 100 other bands you never heard of.  CR's tenacious style and ability to go from a classic piano solo to down and dirty funk have made him one of New Orleans most in-demand players currently working the big dirty, and a terrific secret weapon for the Suspects too.
The band played a nice mix of NOLA staples and band originals, giving the audience a healthy dose of old and new material.  The musical chops of this group are beyond description and were only matched by their ability to harmonize.  They brought the heat on songs like "Smoke My Peacepipe" and "Sneakin' Sally" with vocal arrangements that melted like butter on a hot NOLA day.  Their original tunes were what I found to be the most surprising, written in the language of the French Quarter itself.  They almost didn't sound new, but rather like songs of old that I should have known.  You might say new songs with an old soul.
The front man job of the group was handled primarily by Jake Eckert, who did a great job of engaging the audience and keeping it on a personal level while Jeff Watkins appeared to be the band director (not that the bands' veteran players needed much direction.)  Jeff almost seemed to be calling out the next song more than anything.  As they made their way through the setlist, it seemed like the audience was dancing in unison.  The vibe was undeniable and the funk was hot.  I was nothing but pleased by the performance from start to end, and can't wait for the next time they come back to Denver!   Something tells me this band won't be able to play a venue the size of Quixote's long… they are destined for much larger stages.
Setlist:
Set I: Get Back What You're Giving, Swampthang, Junko Partner, Congo Square, That's What Love Will Make You Do, 36 Cars, Look A Pypy, Smoke My Peacepipe, Willie's Second Line
Set II: Sailin' Shoes > Hey Julia > Sneakin Sally, Loose Lucy, Hey Hey Indians Coming, Spanish Moon, Big Chief
Encore: Blackbird Special
Energy: A
Sound: A+
Musicianship: A+
Stage Presence: A
Set / Light show: C
Overall: A
Capturing life in various forms is what I do. I consider myself an archivist by nature. It is not a career choice that I consciously made, but it is something that has called me. I strive to freeze a moment in time with every frame, a moment that can retell its story with each viewing, forever. I also have a deep passion for music and have been photographing and recording live music for years. Capturing the energy and magic of a live performance in a photograph is one of my passions. In addition, I enjoy photographing in a wide variety of settings, from wildlife scenes to family portraits and everything in between. I am a lover of the earthscapes that we see all around us every day, both natural and manmade, and aim to make unique images that do justice to their beauty. Where others see darkness, I see streaks of light through long exposures. I shoot a very wide variety of subject matter including individual/family portraits, event coverage, landscapes, live concert/performance, HDR, product and commercial photography, architectural, weddings, food, and editorial photo journalism. With artistic expression, I aspire to create visual art that speaks volumes.