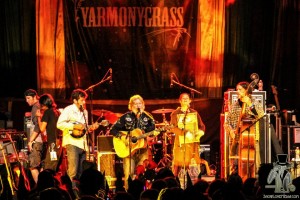 Photos by JohnRyan Lockman
Day 3 – Saturday
Even though I told myself to take it easy Friday night, something magic seemed to keep happening at the Rancho campground and I once again ended up imbibing what seemed like continuously flowing whiskey and nonstop picking sessions around raging fires with folks who I felt were slowly becoming some of my best friends.
Saturday morning came rolling in like a locomotive, quite literally. I was jarred from sleep by the sun beating down, the blast of train's horn, and the realization that "this is not my tent." A short journey across the campground found me back at my weekend home on the banks of the Colorado. No clouds marred the sky as a large meal and at least a gallon of water seemed to be in order if we wanted to maintain a constant pace for the rest of the day.
Around noon I heard the voice of our neighbor who had spent the entire morning pumping up tubes, rafts, and other floatation devices. "Levi! Get your ass into one of these boats, we have 50 beers and you don't have a choice." It was quite the convincing argument. So, without hesitation, I found refuge in a raft, kicked off my shoes, cracked a Blue Moon, and embarked on a two hour journey down the mighty river. While this story of reckless debauchery will have to wait for another day it was exactly what I expected when I boarded a ship of strange pirates with no goal in mind but traversing the high seas and finding a stage somewhere along the way.
From what I gathered Todd Sheaffer of Railroad Earth was the reason we embarked so early down the river. After a short debacle regarding a few popped inflatables, and a mad dash to hang whoever brought glass into the boat, we were able to make our way under the train tracks, right to the front gate as a voice I'd soon grow to love rang out over the surrounding hills. Truth be told, I really hadn't known what I got myself into. Not only in terms of river rafting, late night boozing, and family building but, as far as the main event went, I was essentially clueless.
Dripping wet while Todd sang songs to a dwindled, or not yet gathered, crowd I came to terms with a few things. One being, that Todd Sheaffer's voice may just be one of the easiest things on Earth to listen to after a 2 hour boat ride (or at any given time for that matter.) Two being, "holy hell, we are in for something truly spectacular tonight. I need to get back to my camp so I can find my wallet and some dry clothes." The third thing being, "I'm here for a reason, as are we all."
A few hours later I was dry on the outside, but not so much on the in and Grant Farm's set was coming to an end as Pirates and free folks came slipping out of the water, gliding in from the teepees. Everyone was making themselves known with the battle call my words can only attempt to justify; "Yaaarrrrrmmmmmonnny."
Just then, a man came to the stage with the hat of Captain Hook and wearing one of the classiest eye patches this side of the Mississippi. Humble as can be, Andrew McConathy and his band The Drunken Hearts filled a modest time slot with a fantastic set. Deserving of more credit than the man gets, he is the brains and fuel behind the growth of YarmonyGrass. Not only can the man brainchild a festival, but he fronts a band worthy of being in it whether associated or not.
On a small stage sitting opposite the big one, Fruition was not done with their weekend assault on my eardrums and Lord knows, I wasn't ready for them to be. Atop the hill between the toilets and a small cliff leading to the bar is where I once again lost myself in their sound for a while and it wasn't to be the last time.
Above Boulder, Colorado, in the town of Nederland, some strange magic goes on. By the grace of whatever is holy something brilliant continues to happen in the small mountain town. Young, beautiful, and relentlessly talented musicians cross paths resulting in sounds that can't quite be classified unless you want to group yourself in with all of the other folks bent on putting obscure things into simple categories. Amongst all the flat-pickers and jam music aficionados sit a group of simple people, transcending genre and all of that other jazz called Elephant Revival and they were another reason why we drove miles up a mountain and threw caution to the wind. They harmonize, they progress through chords, they hit notes, and they do all of those things very well. Each of them have a name, a personality, a remarkable skill with their weapons of choice, and a sense of humble wit that translates each of the following into a vessel void of the individual. I guess you could say, their sound is truly one of a kind.
Now, I've seen them play at least a few times, each time I find myself picking up on something new that I love about this band. They have a special way of taking you from where you are, whether mental or physical, and dropping you dead center into a song you'd only dreamt about before realizing this is actually where I am. The vibrato took hold of me merely seconds into "Raindrops." The simple nature of "Don't Drift Too Far" reminded me to remain proud yet vulnerable.  "Rogue River" stopped me in my tracks. In the past few days I've been playing their set over in my head. I continue to find myself stuck on "Rogue River," almost haunted by the lyrics.
So, just when I figured it couldn't get much better they decided to do something different. Judging by the looks on faces, half were confused, half were aware, the other half knew deep down that something really fucking cool was happening.
On the small hill opposite the big stage a small band I had grown quite fond of over the weekend sat in silence. From the big stage instructions on how to sing along were given. What ensued was easily one of the coolest things I've ever witnessed. Back and forth from big to little stage, Fruition and Elephant Revival traded guitar licks with transcendental soul. Both bands worked in harmony with everyone else singing along to the chorus. I could probably go on for a hell of a lot longer than the song was about how fucking sweet this back and forth was. You really just had to be there.
Then without hiccup or fault, Fruition took over one more time to rock my socks off. Only this time, joined by the lovely Bridgett Law and countless others.  At one point it became difficult to keep track of which virtuoso was sitting in with whatever group of world class musicians were on stage. Perhaps, that's when the real party got started. Still though, we have one more piece of history to attend to.
Behind the stage at State Bridge runs a long stretch of steel. Every so often along that stretch of steel comes screaming a monster and, just after the sun had set, another beast came rolling unto the banks of the Colorado River in the form of Railroad Earth. As Todd Shaeffer's voice echoed out, this time more vibrant than I recalled from earlier in the day, but maybe that was just due to the lack of light.
Some things can be planned and sometimes planned things work out just swell. In fact, most times in my experience they work out quite swimmingly. Sometimes though, the most amazing things happen when there is no plan at all; they just happen and shouldn't need to be explained. "Oh mama, please don't ask me why. I need my freedom, need my open sky." Now, I'm not too sure how in the hell those fellas on stage have their instruments tuned, but I know damn well they didn't plan for that train to barrel by just a few songs into their set. "Oh mama, ain't it good to be alive?"
That was all the convincing I needed as the wheels from the final cars screeched into the distance. "Well, we might as well just call it a night after that." chuckled Todd. The euphoria was thick like molasses in this place. Now that we had gotten the whole train passing by, big show extravaganza out of the way after the second song, everyone just kind of "let loose."
Now, being on the job in these situations means I must do justice by the folks I'm around as well as this fine publication, but I just couldn't resist busting out my best jig while getting lost in the sounds of Railroad Earth. That being said, I did take a few seconds away from the good time to tip my hat to each member of the band as they sang about the state I've spent the last 23 years of my life calling home; Colorado.
What followed was two sets of music by a band I now call one of my favorites. If I had to guess I'd put it at somewhere around 3 hours. Not bluegrass, not rock and roll, definitely not punk rock, Railroad Earth proved themselves as the grandaddy of good time music without boundaries. Not much can really be said about their sound that hasn't been said before. What it really comes down to is that you need to be there to witness the power this train has.
As if that wasn't enough, rumblings of what was to be a real party were in the air. By my body's clock I gathered it to be roughly a quarter past 1am before the barefooted, big bearded flat picker known as Billy Nershi took the stage with his band of misfits.
The Joint Set is to some the most sought out set of the entire Yarmony weekend. One could say the players on stage could be considered the Harlem Globetrotters of jam-grass music. I heard tales passed down from Yarmony's of yesteryear that anything and everything could possibly happen during this time of night. It became easy to forget the raw talent floating around the Vail valley for the past 3 nights. This is the time for no holds to be barred.
For those still awake long enough to see the dream team take the stage, a triumphant display of camaraderie amongst arguably some of the most talented musicians doing it in our times took place. The ear to ear smile of Billy Nershi while he traded licks with Tim Carbone, Keith Mosely, and an entire slew of others was worth the ticket price alone. I counted at least two full bottles of Tequilla being handed around with swigs, not measly sips being taken.
My body continued to tell my brain to call it a night. Yet, without fail the beginning of each song and the simple expectation of what in the world might just happen next kept me two stepping to keep warm. "I lost all my money but a two dollar bill," bounced back and forth between my ears as I slowly realized that those words were not far off. I also realized a two dollar bill will never keep me warm, but fast picking, good times, and some of my musical idols singing "put the lime in the coconut and shake it all up" are some of the best warmth providers this universe has to offer.
Day 4 – Sunday
Sunday soon came stumbling in with what was probably my first real night of sleep for what seemed like a week. Neighbors were packing up tents and giving away as much free shit as they could so as to not have to truck it back down the mountain as Bluegrass music calmed the morning air. Before I knew it; keg stands in the Colorado River and fearless conversations with absolute strangers left only me and a few other strong willed, rotting livers with the hopes that this keg may soon be emptied so some brave soul could attempt to ride it down the river.
The hours I sat in the river decompressing while catching a wicked tan had brought me back to a state of mind I hadn't felt in quite some time. That moment when you can sit back and smile uncontrollably with nothing on in your brain except the thought that "this is what nice feels like."
Even though one more night of music took place the real world had already begun to beckon its elite back to their places of consistency. As is the case with the end of most things that should never end, it was bittersweet.
The intimacy YarmonyGrass provides is not even remotely comparable to any festival or weekend retreat on this green earth. By the end, everything weighing heavy on my soul prior to arrival seemed almost trivial. I took Sunday to myself. Maybe I'll touch back on the 5 mile hike at sunrise or the 4 am super jam in a day-glo school bus when I take the time to write about the debauchery that took place on my 2 hour boat ride. Some things can be planned, and others are better left as unexplained vibrations between human beings. The entire experience, at the end of the day, was nothing but pure unadulterated bliss. Really, what it all boils down to; is that you just had to be there.
Please see Part 1 of this Review for Photos
I rode my skateboard from school in 7th grade to my buddy Vince's house where he put on the song "Perfect Government" by NOFX and I was hooked. The next day I bought the album Duh by Lagwagon. The next year I saw Against Me! at the Starlight Theater in Fort Collins, my mom dropped me off. I've since devoted every waking hour to anything done with passion. My speakerbox bumps everything from Lil' Wayne to Pablo Casals. I was never very good at making music, but I am damn good at listening to it. I've been filling up yellow notepads with random thoughts and misspelled words for as long as I can remember. I enjoy whiskey of all sorts, Newport cigarettes and the company of my family. I've got an addiction to run-on sentences that I'll probably never cure. A solid handshake with a stranger who has become a friend over a few beers means the world to me. You'll often find me wide eyed and wandering with an ear to ear grin. I live for funky break beats and spreading the love.