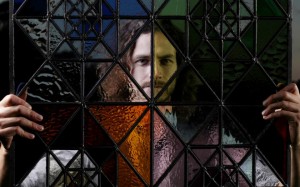 Photo by James Bryans
Music lovers have been besieged by the name "Gotye" this year. Anyone who has turned on the radio even once in the past few months, has probably heard his recent mega-smash single "Somebody That I Used To Know."  Let's face it, this song is everywhere — literally. It's on in shopping malls, taxi cabs,and dentist offices, and it was even featured on an episode of Glee. It's been almost impossible to avoid this unnervingly catchy tune as it has sold more than 5 million copies in the U.S. alone. Oh, and don't bother trying to skip the country if you can't get the tune out of your head, it charted at #1 in more than 23 countries worldwide from South Africa to The Czech Republic. Simply put, it's one of the biggest selling singles ever.
But unlike so many 'superstars' today, Gotye isn't the winner of some televised, scripted "contest," shepherded along by the biggest and best record labels and given the best session musicians in the world to work with. Nor is he an extraordinary one-hit wonder that just managed to get lucky with his first single. Instead, the man behind the mega-sensation is a simple music fanatic who spends his time digging through bins at second-hand record stores picking up anything that catches his eye so that he can later possibly sample them in a barn at his parents' house in Australia.
Gotye was born Wouter "Wally" De Backer in 1980, and to date he has released three studio albums as Gotye and another four as part of the band The Basics. With countless hours of time spent in the studio and on tour, De Backer has proved over the course of a ten year career that he is a hard working musician who just happened to hit it big. He is living proof that it can happen to anyone, and proof of the old adage that "overnight success" often takes decades.
"I can't ask for anything more in terms of what's happened with my music in the last year, because it's given me a new perspective on just how different it can be when you have a song in the charts and when you find a huge new audience. So, it's kept things interesting for me," De Backer said in a recent phone interview with The Marquee, from a chair in front of the fire as the clock pushed midnight at his home Down Under. "The momentum and the changes have meant that everything is new. There are new challenges and experiences and some of them are pleasant and some of them concern me. But overall, the whole thing has certainly been interesting every step of the way and I can't really ask for more than that."
Finish This Article Over At The Marquee Magazine Site . . .

Catch Gotye Live:
Red Rocks Amphitheatre :: August 22nd
The Marquee is an independent, Colorado-based, PRINT & ONLINE Free Music Magazine. The Marquee strives to be the Farmer's Almanac of the regional music scene — providing readers with facts, tid-bits, in-depth feature stories and a Calendar section that is unparalleled on Colorado's Front Range, covering every live music venue from large venues such as Red Rocks Amphitheatre to small clubs and coffee shops.