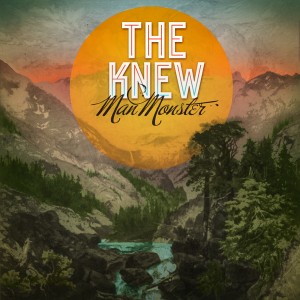 At moments recalling huge "Indie" pop bands like The Killers and The Stokes, while clearly drawing inspiration from giants of the 70's like The Stones and The Clash,  Denver's The Knew have crafted an album of infectiously gritty, guitar-laced pop songs that should find their way onto every great jukebox in the country and fuel those late night sing-alongs that gradually fade-in as a hazy memory over a strong cup of coffee on Sunday morning.
Lead singer Jacob Hansen's powerful tenor vocals are front and center in the mix as he sings over his band's chugging rhythms and catchy melodies that blend, build, and eventually soar on each of Man Monster's 11 tracks.  While the barroom chorus of "Bang The Drum," the prominent and bouncy bassline of "Animal," and the sheer power of the album's lead single "Major Nights" will suck you into this record, tamer tunes like "Old and Young," "Yellow Moon," and "Marianne" will keep you coming back for repeated listens as their deceivingly ballad-like structures yield to some of the album's more noteworthy climaxes.
A late album stunner, "Surrender" comes tearing out of the speakers with all the force of a rumbling locomotive as the group proves they are the Garage band everyone wishes they had the balls to form.  Hansen's scream 90 seconds in foreshadows the almost metal like vocals that come 15 seconds later as he assaults the listener with the words  "On your knees! Hold up your hands! Rebel Hold! Hold! Surrender!" before the songs fades off in a wall of feedback and fuzz.  Disguised as an unassuming collection of Barroom, or Garage rock, Man Monster turns out to be a very mature record that creates some important musical moments that have the potential to remain highly relevant milesontes on the critical landscape for years to come.
Catch their two CD Release parties on Friday and Saturday, August 24th & 25th at The Lion's Lair on Colfax.  Tickets are going fast so get your's today right here!

Music has always been a part of my life. It probably all started listening to old Grateful Dead, Peter Paul & Mary, and Simon & Garfunkel records that my parents had, but it wasn't long before they were taking me to concerts like Starship, Crosby, Stills & Nash, and Huey Lewis & The News. I got the bug to write about music after reviewing an Eric Clapton concert for a creative writing project in high school but didn't really take it up seriously until 2002. Since then I have published countless articles in The Marquee Magazine and done some work for Jambase.com, SPIN Magazine, and various other outlets. I started Listen Up Denver! as a way to share the music information that is constantly spilling out of my head with people who care. Please enjoy!