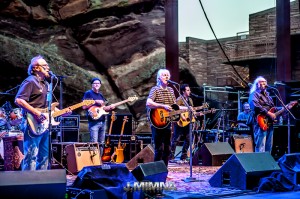 Photos by Jim Mimna
The Scene:  I remember back in 1985 when I saw my first Crosby Stills & Nash show at the Alpine Valley Music Theatre in Elkhorn, WI. I was 17 then and much of the audience was 10, 15, 20 years older than I was.  I remember being a little surprised that the younger generation wasn't more represented.  Flash forward 27 years to Red Rocks Amphitheatre Aug. 21st 2012, and frankly, not much has changed.  Baby boomers dominated the scene, and the 20 and even 30 somethings we're spread out sparingly through the crowd.   The older, more relaxed audiance, although enthused, were seated for the entire show, only standing at the end of songs to applaud and cheer their musical heroes.
Crosby Stills & Nash: You can't help but to get a little nostalgic when David Crosby, Stephen Stills and Graham Nash take the stage. It doesn't matter where the venue is and it shouldn't matter the age of the audience member. Once they hit the stage and strap in, you cant help but to realize their place and importance in both the Rock and Folk music genres.
Yes, Mr. Stills' voice sounded like he smoked 11 packs of cigarettes 5 minutes before singing "Carry On" which opened the show. Yes, when hearing them sing songs like "Find the Cost of Freedom", "Guinnevere" or second set opener "Helplessly Hoping," it's obvious the 3 of them can't harmonize as well as they could in 1977.  The fact is however that instrumentally, and as a whole, they still sounded pretty damn good. Once those house lights go off and CSN comes on, it takes about 10 seconds before you realize you're looking at, and listening to, three true icons of the music universe, who's lyrics are still very much relevant in 2012.
I'd venture to say that most, if not all, of the people who bought a ticket for this show got what they hoped to get. Memories of times long past and friendships long forgotten.  A time of "tune in, turn on, and drop out." A time of change, frustration, and overwhelming joy.  A time of both war and love.
It doesn't matter what age a musician is, or if their voice isn't exactly spot on this particular night or that, it's about how the music makes you feel when hits your ears.  It's about what the music makes you think and where it takes you. How it jolts your soul in one way or another. It's not about perfection. This was obvious when I looked into the eyes of the fans and I'm sure I could hear it in their voices when they sang along to songs like "Chicago," "Southern Cross," "Wooden Ships,"  and "Almost Cut My Hair."  They were loving every minute of being there, basking in the presence of 3 true musical legends who brought them back to a much different time.
Energy: B
Sound: B
Musicianship: A
Stage Presence: A
Set/Light Show: C
Overall: B+
I work in the music industry photographing bands live and offstage for publicity. My work includes shooting concerts, festivals, and portraits of musicians and bands. I shoot for promoters, record companies, publicists, magazines, band managers, and individual musicians. I also photograph weddings, and portraits and have traveled the world to do so. I've shot weddings in Cali, Ireland, Mexico, Cape Cod, and Amsterdam to name a few.