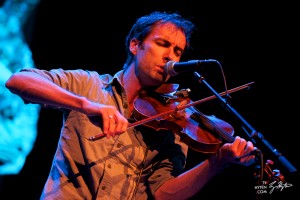 Photos by Ty Hyten
The Scene: Families with dogs and flying Frisbees speckled the large grassy area in front of the Chautauqua Auditorium and on the hills surrounding the building sat folks on blankets with picnic baskets. Built over 100 years ago, Chautauqua sits atop a little hill and due to the old nature of the building, they prohibit food and drink inside in order to avoid rodents and other creatures taking refuge when music is not happening. Due to this there is a beautiful little beer garden type of set up behind the building that serves a small selection of beer, wine, and BBQ food. The show was sold-out and people piled in early in order to find a good seat, even though almost every seat in the entire place is a good seat if you close your eyes.
Andrew Bird: I first learned of Andrew Bird when I got into a band by the name of Squirrel Nut Zippers with whom he is an honorary Violinist. He is a one man orchestra of sorts. Brilliant on not only his violin, but also on the guitar, and, as my friend put it, "he is a whistling virtuoso."
He brought to stage front a spinning double horn speaker that has become his calling card. It was my first experience with the device. He flipped a switch and it began to spin. Within seconds of his opening notes on "Sifters" I felt a knot in my chest as his voice filled the every nook and cranny of the massive barn. I literally had to fight back tears that I couldn't even explain and that doesn't happen often when I'm hearing songs for the very first time and it wouldn't be the first set of tears I found myself fighting back throughout the night.
We thought maybe a spot in the back would be a perfect place to dance. By the time he finished "Desperation Breeds…" it was obvious that dancing wouldn't even be an option. The sounds he created had me planted stone cold solid. I couldn't do anything except close my eyes and listen to the way each complex melody echoed through my head and the old wooden barn.
Bird is a musical genius in every sense of the word. His understanding of sounds far outshines that of almost anyone I have ever seen before. Many times I've seen artists work looping machines and play multiple instruments, but never like this. He builds the songs one piece at a time with a hand as steady as a surgeon's. He captures your attention with not only his sounds, but the words that accompany them. I found myself trying to sing along in my head even though I had no idea what the lyrics even were.
The atmosphere inside that building brings you back to a time when things were simpler. You could almost close your eyes and imagine what it would have been like to attend a town meeting or concert decades ago. After Bird showcased his ability as a one man band he was joined by a complete band of real humans. Starting in the middle, and eventually huddling around a microphone somewhat off to the side of the stage, together they provided an even more old time feel. Bird himself even compared it to what it would be like to perform at the Grand Ole Opry.
I had been asked a week or so earlier by a friend what the best show of the summer I had seen so far had been. It really was a hard question to answer and at the time I couldn't honestly say. Nothing had really stuck out in a way that set them aside from the others. Until this performance, aside from fighting back tears, I found myself having to stifle a strange laughter multiple times. Not because anything was particularly funny, per say. Simply, because what that man did on stage was like nothing I had ever seen before. All my brain could think to do was cry, or laugh, or both at the same time.
He may have had to start a song or two over, but if you noticed you could never hold it against him. His charm radiates from his being. His demeanor is calm. He is patient and strikes me as a man full of silent wisdom. His long set consisted of mostly material from his most recent release Break It Yourself. But, he didn't leave his old songs to the wayside and touched on almost all of his albums. Going back and forth from plucking his violin, to playing it traditionally, he sang, whistled, and strummed a guitar well into the night. Even covering one of my all time favorite Townes Van Zandt songs "If I Needed You."
It all came to an end and I was left wanting much more. I left the wooden auditorium knowing that Andrew Bird had done it justice. Sometimes when I leave shows I can't for the life of me figure out what in the world to write about, often due to the rudimentary and somewhat generic feel of the show. Other times, I don't walk out of shows, I find myself floating feet off the ground, not sure how in the hell I'm ever going to put words to the beauty I just witnessed. That was the case last week as left the Chautauqua Auditorium. Andrew Bird left me speechless and riding on a the wings of his music for a good few days after the fact.  Easily one of the musical highlights of not only my summer, but my life.
Energy: A
Sound: A+
Musicianship: A+
Stage Presence: B
Set / Lightshow: C
Overall: A
I rode my skateboard from school in 7th grade to my buddy Vince's house where he put on the song "Perfect Government" by NOFX and I was hooked. The next day I bought the album Duh by Lagwagon. The next year I saw Against Me! at the Starlight Theater in Fort Collins, my mom dropped me off. I've since devoted every waking hour to anything done with passion. My speakerbox bumps everything from Lil' Wayne to Pablo Casals. I was never very good at making music, but I am damn good at listening to it. I've been filling up yellow notepads with random thoughts and misspelled words for as long as I can remember. I enjoy whiskey of all sorts, Newport cigarettes and the company of my family. I've got an addiction to run-on sentences that I'll probably never cure. A solid handshake with a stranger who has become a friend over a few beers means the world to me. You'll often find me wide eyed and wandering with an ear to ear grin. I live for funky break beats and spreading the love.