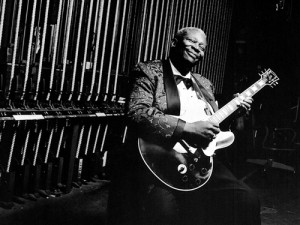 Why You Should Go: This one evening on The Rocks will be like enrolling in an advanced course on The Blues.  With one of the true legends of The Blues sharing the stage with the next generation of Blues greats, B.B. King and Tedeschi Trucks Band will take you to school and you are going to love every minute of it!   From Trucks' searing slide guitar licks to Tedeschi's soulful vocals to King's impeccable phrasing, this is one of the must see shows of the summer.
Throughout the 1990's as well as the 1980's, 1970's, 1960's and 1950's, there has been only one King of the Blues – Riley B. King, affectionately known as B.B. King.  Since B.B. started recording in the late 1940's, he has released over 60 albums many of them considered blues classics, like 1965's definitive live blues album "Live At The Regal", and 1976's collaboration with Bobby "Blue" Bland, "Together For The First Time."
Soon after his number one hit, "Three O'Clock Blues", B.B. began touring nationally, and he has never stopped, performing an average of 125 concerts a year.  In 1956 B.B. and his band played an astonishing 342 one night stands.  From the chitlin circuit with its small town cafes, ghetto theaters, country dance halls, and roadside joints to jazz clubs, rock palaces, symphony concert halls, college concerts, resort hotels and prestigious concert halls nationally and internationally, B.B. has become the most renowned blues musician of the past 60 years.
Tedeschi Trucks Band delivers everything you'd expect and more from Tedeschi's powerful voice and Trucks' flawless guitar. The all-star lineup has been praised by concert goers nationwide for their brilliant musicianship and roof-raising performances of Revelator favorites like "Come See About Me,"  "Midnight in Harlem" and "Bound for Glory" as well as their creative take on a few choice covers from Tedeschi and Trucks' wide-ranging musical influences.
Tedeschi Trucks Band features brothers Oteil Burbridge (noted for his years as bassist with the Allman Brothers Band) and Kofi Burbridge (longtime keyboardist/flutist with The Derek Trucks Band), harmony singers Mike Mattison (vocalist with Derek Trucks Band) and Mark Rivers, with drummers J. J.Johnson and Tyler Greenwell, trumpeter Maurice Brown, tenor saxophonist Kebbi Williams and trombonist Saunders Sermon.
Venue:
Red Rocks Amphitheatre, 18300 West Alameda Parkway, Morrison, CO 80465 – (720) 865-2494
Doors:
6:30 PM
*Price:
RES $39.75 – $85.00
PURCHASE TICKETS
*All times and prices are gathered from other sources and we are not responsible for mistakes or inconsistencies. They are intended only as guidelines. Please, always call the venue if you desire the most accurate information possible.