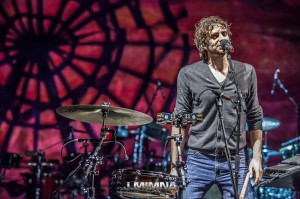 Photos by Jim Mimna
The Scene: Setting expectations for a concert will naturally introduce an element of bias to the equation. It works both ways.  Something falls short of your standard and you're left disappointed or, something wildly exceeds your preconceived conclusions and you leave a venue with giddy enthusiasm. I feel like the most exciting experiences occur when you haven't set the bar at any particular level and you really don't know what to expect.
I'll admit that I'm a relatively new addition to the Gotye fanbase. It has been a mere two weeks since I obtained his latest release Making Mirrors and I've thoroughly enjoyed it ever since. Gotye (a little more exciting/exotic than his offstage name of Wouter De Backer) has proven himself to be a competent musical chameleon capable of writing, performing, and producing songs that span a broad range of pop genres. The fact that he's all over the map and refuses to settle into any distinct and/or narrow stylistic groove makes it that much more interesting and exciting to be seeing him perform live for the first time. Simply put, truly I didn't know what to expect from this show.
Opener: Jonti.  Like many other concerts, I approached the introductory acts last week with an open mind. Sadly, I later found it difficult to come to any concise conclusions regarding Jonti, the shaggy-haired solo artist who kicked off the cool, breezy evening at Red Rocks with Synth loops and occasional Guitar and Ukulele licks. Jonti was filled with wide-eyed, appreciative enthusiasm as he sincerely thanked everyone in attendance for coming out to see him play, and it was hard to resist his unjaded charm. From a musical perspective, I found his set to be too loose and skewed for my tastes. Rather than bearing witness to a setlist consisting of tight, rehearsed, calculated arrangements, Jonti seemed to experiment with a series of loosely developed song segments and drafts, which made it difficult to devote my full, undivided attention to him. In the end, he may simply require a little more time to master his craft as a performer, songwriter, and producer.
Opener: Missy Higgins.  Immediate first impressions go a long way for any artist, and Missy Higgins succeeded with flying colors (both figuratively and literally — she sported a very unique, tasteful, multicolored dress). The first song began with the songstress playing a slow, groovy guitar riff accompanied by her soulful singing, before hesitating as her backup musicians began to join in. "We're all so out of tune, we're going to take a moment to fix that," Missy said with a thick Aussie accent, as she continued to vamp on her groovy guitar lick for a minute or so. The crowd chuckled and gradually started applauding.  It was a job well done by Ms. Higgins to quickly win over her audience. The remainder of the set involved more subdued, mid-tempo, piano-driven numbers as she took a seat behind the keys. There was a girl standing next to me who happened to be a huge Missy Higgins fan and as we casually chatted during the set she informed me during one song that the lyrics were about a 10-year old that commits suicide. Hearing this bit of trivia made me appreciate the intensity of her beautiful, melancholy voice even more. Higgins' mellow set was well-rehearsed, featured a decent backing band, and didn't overstay its welcome.
Gotye: Due to some scattered rain, and the preparation of a wide variety of equipment on stage, it took some time for Gotye and his band to get their set started, but luckily, it was worth the wait. From the start, the show involved unique, unconventional instrumental arrangements with Gotye perched atop a platform with a sampler and two electronic drums that emitted rumbling bass hits – a far cry from your everyday singer-songwriter armed with an acoustic guitar.
Aside from his impressive vocal abilities, Gotye's focus (along with the overall characterization of his music) leaned toward percussion and samplers, as he would often run to different areas of the stage to pound on a secondary drumset or electronic pad to generate a variety of sounds. I was particularly impressed with the juggling act he accomplished during the song "State of the Art," which featured Gotye singing auto-tuned, pitch-shifted lyrics, playing big synth chords on what appeared to be an electronic vibraphone, and rapidly pecking away at a sampler during the chorus. At times, the entire ensemble relied heavily upon electronic instruments to the point where no one was playing a single drumset or guitar. Conversely, there were other tunes such as "The Only Thing I Know" from Gotye's debut album Boardface that incorporated a more traditional, analog approach to the pop-rock formula with Gotye providing vocals from behind a standard drum kit.
The visual element of the show manifested itself in the form of constantly evolving images being projected onto the rocks behind the stage. The displays ranged from tribal, hand-drawn figurines running across landscapes, trippy rotary phone kaleidoscopes, and time-lapsed sunset footage, which looked particularly interesting on the rock formations. To some extent, I found the musicianship itself to be a worthwhile visual spectacle. The ever-changing instrumental setups, the musicians frequently rotating roles, and Gotye hammering away on any percussion instrument he could find (including a very small bell-shaped piece of metal pinched between his fingers that he referred to as "the smallest cymbal in Denver") were all very fun to watch and sounded great.
As an artist with only one prominent radio single, Gotye was shrewd enough to avoid numerous clichés of musicians performing under similar circumstances. The first thing I became aware of was the fact that I didn't recognize many of the songs, meaning he wasn't at all hesitant to unleash older, lesser-known tunes from his catalog, rather than predictably pandering to newer fans like myself by playing every track from Making Mirrors. His approach worked on two levels: he demonstrated that his old music blends seamlessly with the songs that have given him mainstream success, and it also served as an invitation for people to explore his Australian releases from the 2000's (he addressed this by proudly announcing to the crowd that Like Drawing Blood, his 2006 album, is now available in the United States and was also being sold on vinyl at the merchandise booth). Additionally, Gotye didn't wait until the end of the set to play his breakthrough single "Somebody That I Used to Know," which he could have easily done. The inevitable peak in crowd enthusiasm instead occurred halfway through his set with the house lights illuminating the audience and a surprising number of fans singing every word of Kimbra's second verse. It must've been a particularly powerful and triumphant moment for the Aussie singer to witness something like this.
Despite a great performance, the future of Gotye's career remains uncertain at this point. He's still riding a giant wave of success from one song and there are a couple of obvious questions that will inevitably crop up: Will Gotye release anything in the future that can even come close to the level of international crossover success of "Somebody That I Used to Know?" Will he have any additional success outside of Australia? Will he ever crack the Billboard Hot 100 again? His eventual fate brings the discussion full circle – none of us really know what to expect and it's an exciting time to witness a wild-card artist like Gotye receiving a moment in the pop music spotlight. I can only remain optimistic and hope that Gotye, along with other artists, can continue to offer some eclectic musical diversity to an otherwise stagnant, cookie-cutter Top 40 landscape.
Energy: B
Sound: A-
Musicianship: A-
Stage Presence: B+
Set/Light Show: A
Overall: B+
As a kid, my parents were always cool. They took me to a Don Henley concert when I was four years old. When I was an angsty teenager, they were fine with me going to a Limp Bizkit concert with my best friend and returning to the house later that night naively smelling like weed. In 2005, the same friend (who, at the time, enjoyed metalcore and wore girl pants) worked at a mom-and-pop guitar store and was randomly offered two Hilary Duff tickets by the store owners. Long story short, I'm not one to argue with free stuff. From the beginning, I've always kept an open mind about live music and attending shows. Concerts often inspire me, regardless of genre. The opportunity to witness the onstage culmination of tireless rehearsing, hard work, and songwriting is always exciting to watch, and it's also important to document. Somehow, I've stumbled into this great gig where I get to write about the fun times I have at live shows and then sharing them with you, the reader. In my spare time, I write/record/produce my own hard rock material, which can be found/heard here: www.sparkmandrill.bandcamp.com