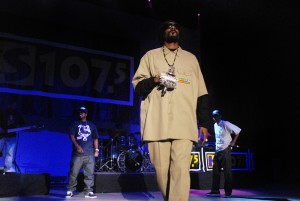 The Scene: Snoop Dogg and Ice Cube had all of Comfort Dental Amphitheatre dancing their butts off on Friday night with a little help from supporting acts Bone Thugs NHarmony, E-40, and Tha Dogg Pound.
What was really striking was the diversity of people at the show.  Kids in their teens, 50 somethings, and every age in-between were there having a good time and nearly every race was seemingly represented at the concert as well.
The sound was pretty much the same for this show as it has been for many others at CDA.  Pretty decent up front but the further back you go, the rougher it gets.  It doesn't sound horrible on the lawn, but it's certainly not as crisp as other venues of the same size.
Ice Cube: Ice Cube came out looking cool as a cucumber with a striking afro, phat shades, and a swagger right out of a John Wayne movie.  He's looks a little older now than back in the day, just like all of us, but the fact is, he can still sing his heart out and get the crowd going just like when he was a young man.  His energy is still there and everyone felt it.  Cube might have been Snoop's "opener" but watching the crowd dance and sing to his music, I'd call him a "Co- Headliner."
Snoop Dogg: What more can be said?  You say "Snoop" and everyone knows he's a legend.  Even if you call him by his new name "Snoop Lion," he's still one of the most famous and talented Hip-Hop artists that ever walked the planet, and people showed up in droves to the obviously sold out amphitheater to see their Hip-Hop hero in action.
Snoop didn't disappoint. As the smell of Colorado's kindest wafted through the crowd and around the stage, Snoop and his backup singers and dancers had the crowd bouncing up and down, singing the lyrics to songs like "Gin 'n Juice," "2 of Amerikaz Most Wanted" which was written by Snoop and 2Pac, and "Nothin' But a "G" Thang."
All-in-all I think Snoop and Cube set out to do a couple things. First was to turn people on to their music and second was to try to turn Comfort Dental Amphitheatre into the biggest party in Denver over the weekend. Mission accomplished!
Energy: A
Sound: B
Musicianship: B
Stage Presence: A-
Set/Light Show: C
Overall: B+
I work in the music industry photographing bands live and offstage for publicity. My work includes shooting concerts, festivals, and portraits of musicians and bands. I shoot for promoters, record companies, publicists, magazines, band managers, and individual musicians. I also photograph weddings, and portraits and have traveled the world to do so. I've shot weddings in Cali, Ireland, Mexico, Cape Cod, and Amsterdam to name a few.