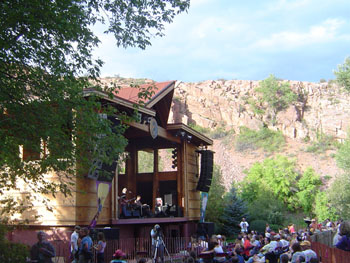 The first thing I have to do in this review is thank the wonderful people at Planet Bluegrass for putting together such an amazingly well run festival. Everything runs like clockwork, food and beer prices are low, people are kind, the sound is great and the venue . . . well that is another story all together. Suffice it to say that it is easily within the top 10 most beautiful venues in this country (and I am counting places like Red Rocks, Telluride, The Gorge, and the Britt Pavilion to name a few). Nestled along the St. Vrain River under the majestic Red Rock cliffs of Lyons, CO, the Planet Bluegrass Ranch plays host to 3 major festivals every summer. Rocky Grass in July, Folks Festival in August and The Festival of Mabon in September.
This was my second trip to the Ranch in 6 years of living in Colorado and I am kicking myself for not going more often. The place is designed specifically to host festivals. There is a nicely layed out area for food and crafts, a separate stand for beer, wine and mead service, a tented second stage and tons of activities for children. It really has something for everyone. There is even a beach area where you can wade into the river to cool off in the heat of the Colorado sun.
The festival seating area consists of four well defined and organized sections. There is a "backstage" area that allows ticket-holders to access an area of seating directly in front of the stage that is off limits to the general public. Then there is a large field dotted with cottonwoods where festivarians can spread tarps and gather with friends on blankets and in "low-backed" chairs (Planet Bluegrass defines low backed as anything you can't roll a basketball under). Behind this area is a section where high backed chairs are permitted and then behind them are the tents and sunshades. The set-up works very well and allows for great site-lines from all parts of the ranch. Be forewarned, people start lining up at midnight to get their tarps up near the front for the next days shows. The beauty of it is that once you have your spot up front, you don't have to worry about losing it. Everyone is very respectful of space and the staff does their very best to prevent people from standing in front of you.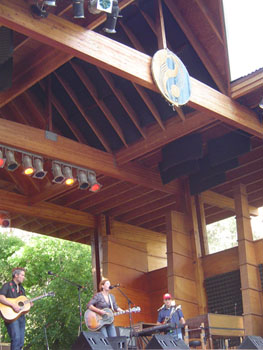 The stage itself is a beautiful wood structure with a permanent roof that keeps off those afternoon showers and allows music to continue uninterrupted all day long. The back of the stage is open to allow for the breeze of the day to filter across the stage and ruffle the leaves that serve as a backdrop to the performers. I think that every performer I saw took time out of their set to acknowledge the beauty that surrounded them and tell us how lucky we were to have such an amazing venue in our state.
We are certainly lucky to have such a venue, but the fact that we have the opportunity to see performers such as: Jeff Tweedy, Kris Kristofferson, Ani Difranco, Mindy Smith, The Waifs, Martin Sexton, and The Assembly of Dust at that venue makes it all the more remarkable.
The festival began on Friday and while I wasn't able to make it, I heard from reliable sources that Wilco's Jeff Tweedy put on a memorable show to wrap up the day. Having seen his solo set in the past I am sure that the respect the Planet Bluegrass audience pays to performers suited him very well.
We woke up Saturday to a dreary morning but by mid afternoon the skies had cleared and the sun was shining on the nearly 3,100 in attendance. After a mediocre set by Issa (formerly Jane Siberry), the meat of Saturday's line-up was upon us. Veteran songwriter Guy Clark took the stage with long-time friend Verlyn Thompson. Both men played guitar and Thompson sang back-up on some classic Clark tunes such as Homegrown Tomatoes, Old Friends and The Randall Knife. Two thirds of the way through the set Clark yielded the stage to Thompson who picked up the pace a little bit and wowed the crowd with three originals of his own. He had people buzzing all afternoon about his solid guitar work and vocals that brought to mind fellow Texan Joe Ely.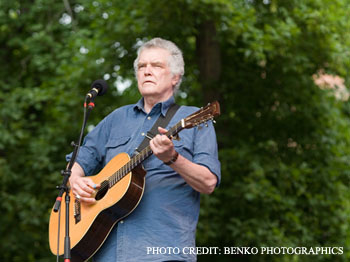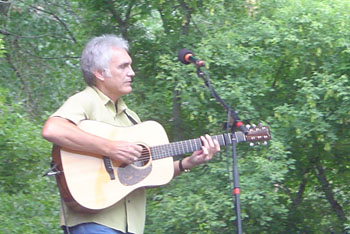 Following Clark's set we made our way over to the tented Wildflower Stage just in time to avoid the only downpour of the weekend and to catch a little bit of the Songwriter Showcase song circle. Iain Campbell Smith was the highlight of this group for me. The three songs of his we heard caught us off guard with his Australian accent and clever lyrics. Between the lyrics and his goofy grin, he had the whole tent laughing and clapping along. Just the thing rain soaked fans who crowded the edges of the tent needed, I'm sure.
As we left the tent and wandered back toward our spot up front, the sounds of Canadian folk rocker Kathleen Edwards drifted through the venue. Having seen Edwards several years ago I was interested to see how she had matured as a performer. To be honest I don't really understand her appeal. Sure, some of her songs are catchy and 6 O'clock News had some potential as a radio single, but overall I found her performance to be a bit flat. She did however; get my attention when she broke into Neil Young's Only Love Can Break Your Heart.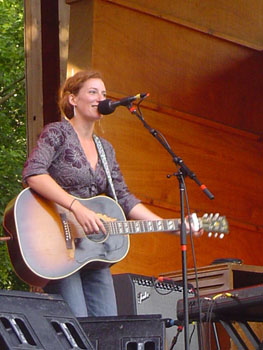 Next up was a highlight of the weekend for me, The Waifs. Hailing from Australia they were the first band I ever covered more than three years ago, and while they still sound great, they have gone through some changes since then. The line-up is the same, but sisters Donna and Vikki Simpson have each had a baby in the last year. In fact as Vikki revealed on stage they were pregnant at the same time and even due on the same day. They may be new mothers but their energy hasn't fallen off a bit on stage. Vikki's harmonica solos are as fiery as ever and Donna voice is still as sweet. Their set offered some new tunes, some of the blues that stellar guitarist Josh Cunningham injects into the group, and of course favorites such as Lighthouse and Fisherman's Daughter. As the dark crept in and The Waifs left the stage to a standing ovation, we all knew who waited in the wings.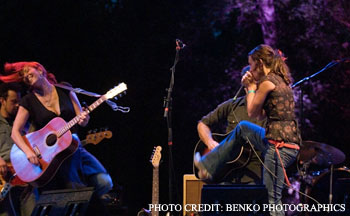 A half hour later, at the stroke of 9 o'clock Andy Schneidkraut of Boulder's Albums on the Hill record shop introduced a man who needed no introduction: Kris Kristofferson. Without so much as a "Hello" to the crowd, Kristofferson launched into a set that made you realize why the man is a legend. He may not have the singing voice he once did and I won't argue with the guy I overheard saying his E-String was a little flat, but his songwriting is what he is known for. If The Last Thing to Go, off his new album is any indicator, he hasn't lost a step. Peppered with hits such as Sunday Morning Coming Down, Darby's Castle, The Silver Tongue Devil and I, The Best of All Possible Worlds and of course Me and My Bobby McGee his 90 minute set taught us all a thing or two about songwriting. Though he was not very talkative and ended each song abruptly with a mumbled "Thank You," Kristofferson nodded to Janis Joplin several times, acknowledging her version of Bobby McGee as one of the things that elevated his stature on the pop culture landscape.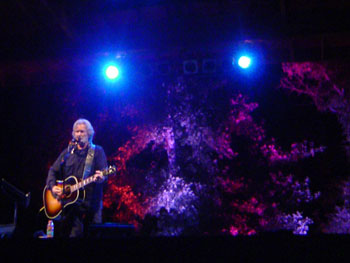 The final day of Folks Fest dawned bright and sunny and it was again a breeze to get into the festival and set up our home base. With a stellar line-up in front of us we set out to fill up on some food and sample the mead from the local Redstone Meadery. The short lines and reasonable prices were again welcoming and a Greek salad hit the spot. After sampling several of the fine meads we decided that the Black Raspberry was the one for us and wandered around a bit before getting distracted by the music coming from the stage. Australian Paul Kelly had been playing for a short while and had just invited tour mates Vikki and Josh from The Waifs to join him on stage. While these are lofty comparisons, Paul has been referred to as the Australian Bruce Springsteen and his subtle melodies and phrasing suggest Mark Knopfler. He has been recording music since the late 70's and his 75 minute set drew on new and old albums alike. He was new to me but I will certainly try to dig up a couple of his records. He was very well received and I am looking forward to hearing more about Paul Kelly in the future.
Being a transplant to Colorado from the Northeast, the next act to hit the stage was a long-time favorite of mine. Former Strangefolk member, Reid Genauer, and his band, The Assembly of Dust, were about to give the Folks Fest crowd a glimpse into the Jamband world. Genauer was a perfect choice for the festival as his intricately crafted songs paint pictures in your mind nearly as well as anyone else on the Folks Fest bill (yes Kristofferson is in his own league). Lyrics such as "Sipping beer on aging porches, Crooked walls, built before my birth," led Glide Magazine to call him a "Verbal Photographer," and that sums it up quite well.
The Assembly of Dust's set included several tracks of their most recent offering, An Honest Hour, including Man with a Plan, Honest Hour, Bus Driver, Fountain and a set ending version of Speculator that wove in verses of Neil Young's seminal classic, Comes A Time. Early in the set a rousing version of The Band's Up On Cripple Creek drew a big reaction from the crowd and really filled up the dancing area by the river. I think that this gig introduced A.O.D. to a very accepting new audience who will be happy to welcome them into their hearts and CD collections. I heard Genauer commenting backstage later in the afternoon that they had sold nearly every copy of Honest Hour they had brought with them. Well Done!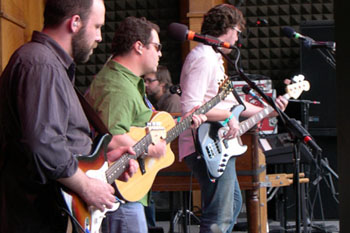 After a sweat soaked A.O.D. left the stage and headed to the country store to sign some autographs, one man band Andrew Bird took his spot behind the mic and proceed to wow the crowd with his expertise at layering and looping as he played a variety of instruments to create a set of original, and if nothing else, very creative songs. Bird's star has been rising recently and while I was glad to see him perform so I could make my own judgment, I don't think I'll be rushing out to purchase his material or see him live again any time soon. In my opinion he would have been better off had he played before A.O.D. and let their classic rock infused sounds melt into the Canadian country rock of Blue Rodeo.
Blue Rodeo isn't really my thing either and I was largely backstage taking advantage of the dollar beers and the shelter of the hospitality tent. However, I have to say that they had the attention of the crowd. In Canada they routinely sell out 20,000 seat hockey arenas and have a very loyal following. They aren't as big in the States but that might change. For better or worse, country music is incredibly popular and these guys are talented and do have a catchy sound. Keep your eye on Blue Rodeo if you are a fan of Robert Earl Keen, Old 97's or Delbert McClinton.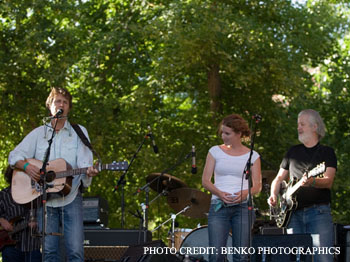 At this point in the weekend things were starting to wind down, people were packing up tents and the better food was running low in the vending area. However, no one was leaving. In fact I think people were still arriving with two of the most charismatic performers on the bill still to perform.
Martin Sexton had spent the hour or so before his set hanging with the boys from A.O.D. and that seemed to warm him up just fine as he came out full of contagious energy. Backed by only a drummer, Sexton bounced all over the stage plucking out his unmistakable rhythmic melodies. Just three or four songs into his set the entire audience was on their feet for the first time all weekend. Sexton kept the audience going for a bulk of his set by keeping the tempo upbeat. His ditty Diggin' Me about what's good about a first date got laughs out of good natured crowd and perennial favorite Angeline did not disappoint. By far the most spirited set of the weekend Sexton got the capacity crowd of 3,600 fully warmed up for the woman they had come to hear; Ani Difranco.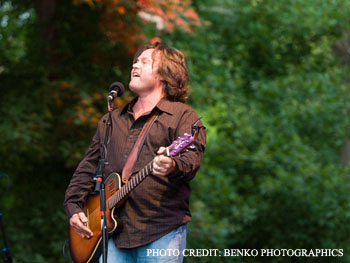 We had spotted the newly pregnant Difranco backstage and hanging out in the river earlier in the day with Donna from the Waifs. 11 years since she last played the Folks Fest, it was clear that she enjoyed the warm friendly environment that surrounds the festival. She took the stage at 9 to a thunderous ovation. Seating etiquette had unfortunately been brushed aside as people pushed forward to get the best view possible at one of Difranco's few gigs of the summer. Flanked by percussionist extraordinaire Mike Dillon and bassist Todd Sickafoose she opened her 18 song set with God's Country, clearly a nod the beautiful night and venue. Throughout the 90 minute set she showcased several songs from her new record, Reprieve, including Half-Assed, Decree, Unrequited and the festival closing Hypnotized. Difranco is truly a great performer I can't deny that, but it was Mike Dillon's contribution that really caused me to take notice. His sparse percussion complimented her songs perfectly and he accented her melodies expertly on the Xylophone.
While Difranco's set was a great way to wrap up over thirty hours of music in one of the most beautiful venues there is, The Assembly of Dust, Martin Sexton stood out a bit more to me. However, I can't stop thinking about the power of Kris Kristofferson's Saturday night performance. There is something about seeing those songs sung by the man who wrote them that will stick with me for years to come.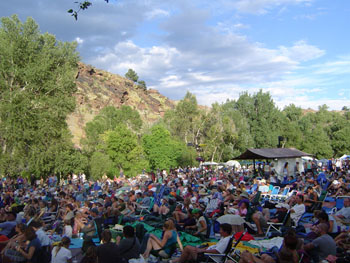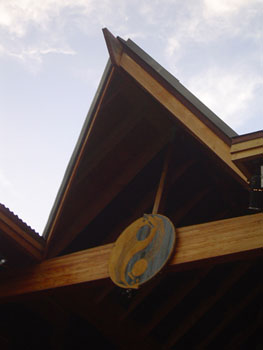 Organization: A+
Crowds: A-
Sound: A
Prices: A
Line-Up: B+
Venue: A+
Overall: A

Music has always been a part of my life. It probably all started listening to old Grateful Dead, Peter Paul & Mary, and Simon & Garfunkel records that my parents had, but it wasn't long before they were taking me to concerts like Starship, Crosby, Stills & Nash, and Huey Lewis & The News. I got the bug to write about music after reviewing an Eric Clapton concert for a creative writing project in high school but didn't really take it up seriously until 2002. Since then I have published countless articles in The Marquee Magazine and done some work for Jambase.com, SPIN Magazine, and various other outlets. I started Listen Up Denver! as a way to share the music information that is constantly spilling out of my head with people who care. Please enjoy!