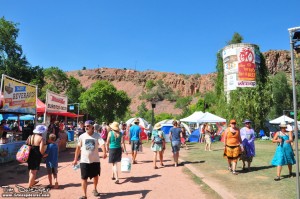 Photos by Tim Dwenger
I think it's become a goal of the team up at Planet Bluegrass to out-do themselves from year to year with the line-up of the Folks Festival.  While last year featured headliners Jackson Browne, The Weir Robinson Greene Trio, and Brandi Carlile, this year brought Iron & Wine, Amos Lee, and Lyle Lovett to the intimate stage by the river in Lyons and each one mesmerized and surprised as they entertained the sold-out crowd.  As usual, the Ranch was full, but not packed, and good vibes were flowing everywhere.  From the circles of conversation in the river, to the eyes riveted on the stage from that front and center tarp, smiles were on the faces of just about everyone I saw throughout the weekend, performers included.
Each year, when I go to Folks Fest, I walk onto the grounds with one idea of who my highlights of the weekend will be, and leave with another.  This year as no different.    While Dawes, Iron & Wine, and Lyle Lovett were on the top of my list early on, artists like Caleb Hawley, Justin Townes Earle, Amos Lee, The Milk Carton Kids, and Peter Himmelman left me scraping my jaw up off the floor after their sets.  Since this is what Festivals like this are all about, I'm going to focus this review on the artists that broke onto my radar and won themselves a place in my heart after three days in beautiful Lyons, CO.
First, let's talk about Caleb Hawley, he was the winner of last year's Songwriter Showcase and, as a result, the first artist to take the stage for a full set this year.  I didn't know what to expect from the bubbly, curly haired troubadour, and apparently neither did the crew at The Ranch because he announced from the stage early in his set "until last night they thought I was coming alone, but I brought these guys with me" as he gestured to his bandmates.  Together, Hawley and his band wove together elements of Folk with a healthy dose of Soul and R&B to create a sound that wasn't just good, but enthralling.  As the tender sweeping harmonies of "Time Is Gold" and the tongue in cheek funk of "Badaboom Badabing" washed over us, my wife and I kept looking at each other as if to say "can this get any better?"
Midway through his set, Hawley revealed that his connection to the Folks Fest goes back for many years as he has been coming to the festival since he was a kid.  From sitting in the Tarp Dash line while his parents slept soundly in their tent, to being the naked kid in the river, he has now seen the event from every angle and seemed humbled and extremely thankful for his opportunity to play his original songs like "Little Miss Sunshine" and "Let A Little Love In" from the main stage.   Here's hoping that Caleb Hawley becomes more of a household name in the years to come, he sure has the talent!
Justin Townes Earle has battled addiction and had his problems over the years, and I've got to admit that the last time I saw him a few years ago I pretty much wrote him off my list.  Who knows what was going on that night, but his solo set on Friday at Folks Fest was nothing short of amazing.  His fingers danced on the strings of his guitar with an interesting percussive style and his voice was in prime form as he sang songs from his expanding catalog including "Am I That Lonely Tonight," "Look The Other Way," and "One More Night In Brooklyn."  While just about every song in his set was solid, the one that caught me off guard and stood out above the rest was the tantalizing and unassuming "Unfortunately, Anna" off his recent release Nothing's Gonna Change The Way You Feel About Me Now.
The son of legendary Country music maverick Steve Earle, JTE tipped his hat to others who influenced him including Lightning Hopkins and Woody Guthrie by playing a blistering version of Hopkins' "I Been Burning Bad Gasoline" and saying "I do what I do because of Woody Guthrie."    While it's true that many people playing Folk festivals around the country do what they do because of Woody Guthrie, there was something so authentic about the way Earle played and sang that it probably wouldn't be much of a stretch to say that one day people like him will do be doing what they do because of Justin Townes Earle.
Many of you reading this may be thinking "why was Amos Lee not on your radar before this weekend" and to you I can honestly say "I have no idea," and "clearly I missed something."  I'm a huge fan of Levon Helm, and The Band, and as I listened to Lee perform his headlining set on Saturday night I was blown away to hear him reference playing in Levon's barn a few years ago.  Though he admitted that it took him a few years to fully appreciate the experience, the influence of The Band and the Rambles that Levon held in his barn were clear as he and his band ran through a loose set that opened with "El Camino" and touched on two songs that Levon and The Band played over the years: "Ain't No More Cane On The Brazos" and "The Mountain."
Though we left before the end of his set after there were a few problems with the PA, Lee captured my attention and the part of me that loves Americana Rock-n-Roll on Saturday night.  I heard from friends the next day that the end of his set was just as entertaining, and even involved one of his back-up singers coming out dressed in a completely white suit.  The quote that was flying around all day was something about putting the "tit in altitude" and it really made me wish we had stuck it out till the end.
For many people I talked to after the festival, The Milk Carton Kids were the highlight of the weekend, and I've got agree that their set was one of the best, hands down.  I had never heard this duo before and from the moment their Simon & Garfunkle-esque harmonies hit my ears, I was hooked.  Interspersed between beautiful Folk ballads like "Milk Carton Kid," "Undress The World," and "Michigan," Joey Ryan kept the crowd in stitches with his hilariously dry wit as Kenneth Pattengale stood silently by and smiled.  While Pattengale hardly spoke to the crowd at all, leaving that duty to Ryan who has clearly mastered the art, he was a wizard on the guitar and plucked out some gorgeous melodies on his old Martin.
As is the case with all great bands, together these two were much more than the sum of their parts.  From the melodies to the lyrics, and from to the harmonies to the humor, The Milk Carton Kids won over the crowd who rewarded them with a standing ovation at the end of their set that was in turn rewarded with a take on their "Like A Cloak" as the lone encore.  It was a simply fantastic performance and one that I, and many other Festivarians, will remember for years to come.
As you can imagine, many of the sets at Folks Fest are relatively tame, acoustic guitar centric affairs, but when Peter Himmelman coaxed me from the river he had an electric guitar slung around his neck and he was backed by a full rock band.  It was easy to see why he has been long been a favorite of Planet Bluegrass festivals as he picked up where the humor of The Milk Carton Kids left off and his infectious energy flowed through every corner of the ranch.  His set featured crowd favorites "Tremble," "7 Circles," and "Good Idea" but things really started to get interesting when Himmelman talked a shirtless guy in the crowd in the crowd into starting a "Love Train" which slowly morphed into a giant Conga line that wove it's way through the grounds for the next ten minutes or so.
A little later, after talking a few folks in the poser pit into helping him off the stage with mic in hand, Himmelman jumped the fence and ran out into the crowd pausing only to take a shot at the PA system and the sedentary crowd by saying "no wonder you all aren't moving, it sounds like my Dad's AM radio out here!"  With that he was off to the back of the lawn delighting fans of all ages as he darted around the grounds while singing and screaming things like "I feel like Woody Guthrie."  It was a great Folks Fest moment that ranks right up there with Dan Mangan's show stopping excursion into the crowd during last year's festival.  Himmelman returned to the stage and closed out his set but the cheering crowd didn't let him stay away long, bringing him back to perform a song called "Hope Will Sustain Us" that he claimed he had written the night before.  Given the tongue in cheek nature of much of Himmelman's set it was tough to know whether to believe him or not, but either way it was a great way to end an eclectic set of music that had a little something for everyone.
If you got to this point, you may be wondering how my pre-festival favorites Dawes, Iron & Wine, and Lyle Lovett were, and I figure I owe to you to at least a mention of these fantastic artists.
First off, Dawes delivered in spades.  They are one of the tightest young bands out there today and frontman Taylor Goldsmith was singing and playing like a man possessed.  They opened their set with "Moon On The Water" from their 2011 record Nothing Is Wrong and continued on to play seven or eight more songs from the stellar album including "Million Dollar Bill," "Coming Back To A Man," and the exceptional "If I Wanted Someone."  They dropped a pair of songs from 2009's North Hills into the set, but the defining moment for me was when they announced that they are working on a new record and played one of the new cuts they have been writing called "From An Airplane Window."  The song showed considerable depth in the band as it revealed a driving, bluesy, almost R&B influence that hasn't been present in their work to date.  It really peaked my interest in a band that already love and I'm counting the days until I can drop their new album onto the stereo.
While Dawes welcomed new fans from all corners of the globe, Iron & Wine seemed to the be the one act that stirred up some real controversy with their set.  It started out with Sam Beam emerging solo, and slightly late, with a huge grin on his face.  He joked a bit with the audience, and seemed a goofier than usual, before launching into a solo acoustic version of "Jezebel" that rang through the valley.  He followed this stunning performance with his mesmerizing cover of The Postal Service hit "Such Great Heights" and finally the epic, and always entrancing, "Trapeze Swinger."  I would have been happy if he had said "goodnight" right then and there and disappeared into the wings of the stage, but it was only the beginning of a set that would feature several different incarnations of his band on songs ranging from 2005's "Jesus The Mexican Boy," to 2011's "Big Burned Hand."  Along the way the band played straight-ahead versions of some, and experimental, almost Jazzy versions of others.  Saxophones, Clarinets, and Organs all wove their way into the mix and while I personally loved the set, I can see how it could have scared some people off who might have been expecting Beam to highlight his more straight forward Folk arrangements.  All-in-all it was a stunning and varied performance from Iron & Wine and it may not have pleased everyone but I for one was thrilled, especially when they broke into great cover of "Long Black Veil" that hung eerily in the cool night air.  The night ended as it had begun, with Beam alone on the stage with his acoustic guitar for a version of "Sodom South Georgia" that sent us all home for the night.
Finally, what is there to say about Lyle Lovett that hasn't been said before.  He is a unique artist and, when he's with his "Large Band," he puts on a one-of-a-kind performance that really has no equal.  They wander from Bluegrass, to Folk, to Country, and even to Gospel and somehow nothing feels out of place as it's all held together by Lovett's unique voice and unparalleled lyrical phrasing.  He highlighted songs from his recent album Release Me including "White Boy Lost In The Blues" and "Brown Eyed Handsome Man," went back almost ten years to My Baby Don't Tolerate with "Cute As A Bug" and stopped in at It's Not Big It's Large along the way for a take on the soaring "I Will Rise Up."  The set was the perfect way to end an eclectic weekend of music as Lovett and his all-star band wrapped it all up with a bow and left everyone of us satisfied in the way that only he can.
So, that's a relatively quick recap of one of the best weekend's of music I've seen in a long time (at least since last year's Folks Fest).  One thing is for sure, Planet Bluegrass never fails to find artists that have the mainstream appeal necessary to draw a capacity crowd and then they expose that crowd to some of the best and brightest up-and-comers out there.  People will tell you The Dunwells blew their mind this year, but frankly their sounds was a little too polished for me in all the wrong ways.  I guess I felt like they were redoing what the bands I loved in the late 90's like Jackopierce, Vertical Horizon, and Pat McGee Band were doing.  That said, I completely respect everyone and anyone who loved The Dunwells, I just don't happen to disagree.  They will be the darlings of KBCO and other mainstream radio stations around the country this year, and Planet Bluegrass scored when they booked them, but I'd rather listen to From The Wood, Finest Hour, or Running On Ice, and that's just my preference.  That's the beautiful thing about art, we all have our own perspective and it is valuable in it's own way.
Music has always been a part of my life. It probably all started listening to old Grateful Dead, Peter Paul & Mary, and Simon & Garfunkel records that my parents had, but it wasn't long before they were taking me to concerts like Starship, Crosby, Stills & Nash, and Huey Lewis & The News. I got the bug to write about music after reviewing an Eric Clapton concert for a creative writing project in high school but didn't really take it up seriously until 2002. Since then I have published countless articles in The Marquee Magazine and done some work for Jambase.com, SPIN Magazine, and various other outlets. I started Listen Up Denver! as a way to share the music information that is constantly spilling out of my head with people who care. Please enjoy!