Below is a feature that I published in The Marquee Magazine back in 2004.  Though the band has undergone numerous personnel changes since this was originally published, they are still going strong and delivering some of the best Reggae around.  The group is returning to Colorado this weekend after a sold-out run to kick off 2011 that included a two night run at Cervantes to ring in the New Year.  As if that wasn't enough, Their latest album, Amplify, debuted at #1 on Billboard's Reggae Chart!  Enjoy this trip back in time and do not miss your chance to catch some of the best Roots Music out there this weekend!
Friday April 8th – Cervantes, Saturday April 9th – The Fox.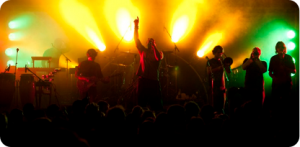 Good vibes are exactly what John Brown's Body is all about. Their music, an upbeat mix of reggae and dub, conjures up the image of an all-night party at a beachfront bar — Red Stripe in hand and the sun coming up over the horizon.
"Ooh wee, it feels so nice. It happens every time. When the music starts to play I'm picking up a good vibe," sings Kevin Kinsella on John Brown's Body's latest studio effort "Spirits All Around Us."
A mostly white group from the North East, John Brown's Body has rede­fined, in many critics' eyes what it takes to be influen­tial in the world of reggae. Pause-Record Magazine said of the band: "The racially-mixed unit from Ithaca and Boston will disa­buse you of the notion that white folks can't play some of the rootsiest, skankiest reggae beats around."
John Brown's Body's unlikely musical journey began in the mid-1980s in Ithaca, N.Y. with 15- year-old, Kinsella. "Ithaca became a hotspot on the reggae circuit in the '80s. The I-Towns, The Meditations, Burning Spear and Culture would have big shows in Ithaca and I think that Kevin picked up on that pretty quick," said trombone player Alex Beram in a recent interview with The Marquee. Kinsella's passion and drive inspired others to join him, and the band was born in its first incarnation as the Tribulations. The Tribulations gradually morphed into John Brown's Body, retaining several of the original members. Along the way they matured musically and remained focused on their goal of trying to contribute to the future of reggae music.
"We don't play cover songs," Beram said. "We are not interested in emulating to a 'T' anything that has gone on before. We love the music and we know it very well and I don't think that John Brown's Body would be where it is today if we focused on recreating the music of others."
Last summer the band broke from this mentali­ty for a few weeks to fulfill a dream that many of the members shared. They were asked to back up reggae legend Justin Hinds when he performed at the Grassroots Music festival near Ithaca. "If there was one person that you could pick to back up, he's at the top of the list." Beram said. "Justin has been at the forefront of Jamaican music since the '60s. He had huge hits early on in ska and rocksteady and reggae. He was really one of the first people to infuse a cultural reflec­tion into the music. He expanded on those thoughts and took the music in a much more cul­tural direction."
Beram went on to say that the experience last summer stretched them musically as a band. While learning Hinds' songs they were forced to experiment in ska and rocksteady, specific genres that John Brown's Body traditionally did not play.
Beram said that quest rejuvenated the band's passion — a passion that is evident in the music of John Brown's Body "We have come to love and respect and understand Jamaican music through the roots musicians — Culture, Bob Marley, Burning Spear. As we grow as youth in America we obviously listen to the hip-hop and the R&B and any other music that we call popu­lar music here in the U.S., and that becomes an influence of ours as well. John Brown's Body takes our love and admiration for Jamaican music and fuses it with young America," he said.
A testament to how serious John Brown's Body is about making their music sound the best they can is that they list their sound engineer Jocko as a member of their band.  Though he isn't physically on the stage, he is undoubtedly an integral part of the group.
Download Four John Brown's Body Songs for Free Below!
Music has always been a part of my life. It probably all started listening to old Grateful Dead, Peter Paul & Mary, and Simon & Garfunkel records that my parents had, but it wasn't long before they were taking me to concerts like Starship, Crosby, Stills & Nash, and Huey Lewis & The News. I got the bug to write about music after reviewing an Eric Clapton concert for a creative writing project in high school but didn't really take it up seriously until 2002. Since then I have published countless articles in The Marquee Magazine and done some work for Jambase.com, SPIN Magazine, and various other outlets. I started Listen Up Denver! as a way to share the music information that is constantly spilling out of my head with people who care. Please enjoy!