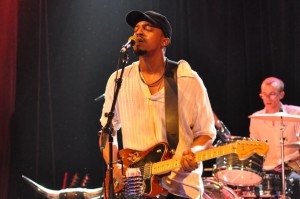 All photos by Tim Dwenger
The Scene: Over the years the Bluebird has gotten more and more strict and that's in keeping with the times, but I still found it pretty funny when, as we were walking into the theatre last night, Joe Lewis (the frontman for the band headlining the show that evening) had to show his ID and get a wristband as he walked in the door just like the rest of us.  Guess it takes a few more years until that police escort rushes you in the side door minutes before show time 😉
While the room was about half full for the opening set by Nashville's Those Darlins, by the time Lewis and his band took the stage at about 9:30, the place was packed.  Probably not quite sold out, but damn close.  It was a good crowd of primarily 30 somethings who made it quite clear they loved Black Joe Lewis and The Honeybears throughout the night.
The Opener: Those Darlin's.  This four piece from Nashville, TN features three women out front and one lone guy sitting behind the drum kit keeping time.  Their sound was a bit of a Rockabilly / Punk mash-up and unfortunately it just didn't really do much for me.  At times I actually felt like the band was out of time with themselves.  They certainly did have their share of admirers and they got quite an ovation when they took their final bow, but the sound just didn't seem to fit with The Honeybears.
Black Joe Lewis & The Honeybears: Almost as soon as they stepped out on stage it was clear they were going to pour their souls into their show and do their best to blow the back wall off The Bluebird.  Lewis and his bandmates, The Honeybears, were on top of their game, to say the least, and gave us an up close and personal, live and in person, definition of what the term "Garage Soul" is all about.
An early highlight of their nearly 90 minute set was the deep funk of "Livin' In The Jungle" from their recent stellar release Scandalous. With it's driving horn lines and ringing guitar riffs the song got smiles creeping across everyone's face as their feet started to move in time with the music.  Lewis showed off his vocal prowess on the sultry title track to the new record which found most of the room bobbing and swaying slowly as the horns gradually built the song up only to let the bass break it back down to it's roots again.  It was a great example of a band working together to create tension in the room that they blew apart with one of the catchiest tracks on Scandalous, "Booty City."  The song featured the horn section laying down their instruments to share one vocal mic and holler along on the chorus with guitarist Zach Ernst and bass player Bill Stevenson who shared Lewis's mic up front.
From there things started to get down right nasty as the band dialed in the funk and seemed to channel some strange amalgamation of James Brown and The Stooges that ended up sounding from time to time like The Black Keys had hired a horn section.  The whole thing delighted the crowd who was hanging on every word and frequently screaming them right back in the bands face.  At one point a fan held a joint up in the air and offered hits to Lewis and Stevenson who graciously accepted.  It really gave new meaning to the term audience participation!
A little later in the night Lewis pulled one Jimmy Hendrix's old tricks out of his bag and played a solo with his teeth as he showed off the back of this guitar that was adorned with taped on photos of pin-up models.  Then Stevenson and Ernst got into the action and slid across the floor on their backs while playing, and at one point Stevenson tossed his bass high in the air ala Nirvana's Kurt Novalesic at the VMA's back in 1992.  Fortunately Stevenson ended up a little better off than Novalesic and caught his bass as it came down.
Another highlight of the set was a raucous version of the anti-government track "You Been Lyin'" that appears on Scandalous which really finished the epic transformation of the room from a Colfax Ave Theatre into a Deep South Juke Joint circa 1978.  It was truly a memorable evening and as the band left the stage the roar for more was practically deafening.  After several minutes, and some encouragement from one of the horn players who had emerged early to egg us all on a bit, Lewis and his drummer emerged for a bluesy track and the rest of band filtered out slowly as the song gradually segued into one of The Honeybears moved loved songs "Sugarfoot."   As the band danced in synch and the crowd sang along with every word, it solidified the fact that this was one of the best shows of the year so far.  This is a band that will get your feet moving, your mouth smiling and your heart pounding.  They are the real deal and if you like their records, you'll LOVE seeing them live.
Energy: A+
Sound: B
Musicianship: B
Stage Presence: A
Set/Light Show: C
Overall: A-
Music has always been a part of my life. It probably all started listening to old Grateful Dead, Peter Paul & Mary, and Simon & Garfunkel records that my parents had, but it wasn't long before they were taking me to concerts like Starship, Crosby, Stills & Nash, and Huey Lewis & The News. I got the bug to write about music after reviewing an Eric Clapton concert for a creative writing project in high school but didn't really take it up seriously until 2002. Since then I have published countless articles in The Marquee Magazine and done some work for Jambase.com, SPIN Magazine, and various other outlets. I started Listen Up Denver! as a way to share the music information that is constantly spilling out of my head with people who care. Please enjoy!