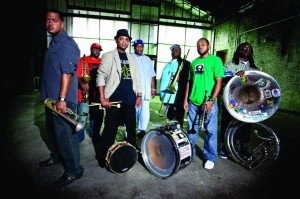 Why You Should Go: The Soul Rebels formed when Lumar LeBlanc and Derrick Moss, originally members of New Orleans' iconic Dejean's Young Olympia Brass Band, decided they wanted to play the new, exciting music they were hearing on the radio while respecting the tradition they loved. Both New Orleans natives, the pair was steeped in the fundamentals of New Orleans jazz, but inevitably, contemporary styles of music began to seep into their psyches. While LeBlanc attended the famed St. Augustine High School, Moss went to Lil' Wayne's alma mater McMain High School, and paraded alongside soon-to-be Cash Money Records CEO Ronald "Slim" Williams in the school's marching band. New sounds were all around and they found them as exciting as the horn-combo style featured in jazz funerals since the turn of the Twentieth Century.
Soon, The Soul Rebels' contagious originals and updated takes on standards won them a loyal local audience. They began rocking some of New Orleans' most beloved live music venues. A chance gig opening for the Neville Brothers got them a real start—and an official name. It was youngest brother Cyril Neville who first called them "Soul Rebels," a good name for a band that strived to incite positive change in its treasured musical heritage.
Since those days, the band has settled on an eight-piece lineup, building a career around an eclectic live show that harnesses the power of horns and drums in the party-like atmosphere of a dance club. Their weekly show at Uptown New Orleans spot Le Bon Temps Roulé has been known to descend into a sweaty shout-along as the band mixes up songs from its five studio albums with hits by Jay-Z and OutKast. While touring the U.S., The Soul Rebels have collaborated or shared the stage with notable artists from many corners of the rock, pop and jazz worlds, including Metallica, Kanye West, Snoop Dogg, Cee Lo Green, Arcade Fire, The Roots, Bootsy Collins, Seal, Robert Plant & Jimmy Page, Counting Crows, Green Day, Drive By Truckers, James Brown, Roy Hargrove, Allen Toussaint, Galactic, Slick Rick, Chuck Brown, Terence Blanchard, The Gap Band, Better than Ezra and many more. Averaging around 250 shows per year, the Soul Rebels have brought the party to stages as far away as South Africa and Europe, playing some of the world's best-known music events, including, Bonnaroo, Electric Forest, Umbria Jazz Fest, Antibes Jazz Festival, Montreal Jazz festival, the Wanee Festival and, of course, the New Orleans Jazz and Heritage Festival.
Venue:
The Fox Theatre 1135 13th Street, Boulder, CO – 303.443.3399
Cervantes Other Side, 2635 Welton Street, Denver, CO 80205 – 303/297-1772
Doors:
Thursday: 8:30 PM
Friday: 8:00 PM
*Price:
Thu: ADV $13, DoS $15
Fri: ADV $12, DoS $15
Buy Thursday
Buy Friday
*All times and prices are gathered from other sources and I am not responsible for mistakes or inconsistencies. They are intended only as guidelines. Please, always call the venue if you desire the most accurate information possible.