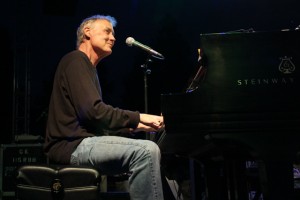 Photos by Karson Brown
The Scene:  A crowd peppered mainly with 30 something couples and high-spirited baby boomers settled in on the lawn of the Denver Botanic Gardens Thursday night by draping blankets and uncorking bottles of wine.  The well-dressed group seemed eager to enjoy the smooth sounds of Nicki Bluhm and the freewheeling Bruce Hornsby.
The heat of the day had subsided and a few gray clouds slowly rolled in at this urban, yet intimate, location. The gathering had energy and seemed ready to party, in that loafers and khaki shorts kind of way.
Nicki Bluhm and the Gramblers: A thin, lanky woman wearing skintight Wrangler jeans and cowboy boots kicked-off the cool August night with neo-folk songs that were the highlight of the evening. Her airy approach to the somewhat vintage sounds similar to that of Linda Ronstadt and Bonnie Raitt created a familiarity that seemed to fit the vibe of the laid-back lawn dwellers.
Nicki Bluhm and her band, The Gramblers, have a modern feel that could bust through to the masses tomorrow. Their eclectic mix of 1970's Country, Blues, Soul, Soft Rock, had a Pabst Blue Ribbon chill that any hipster would endorse or middle-aged Deadhead could dig.
Nicki's raspy voice, warm persona, and rattling tambourine got a lot of the crowd on their feet and started a toe-tapping good time. Nicki and gang showcased tunes from their 2008 debut album Toby's Song and their sophomore album Driftwood.  Also performing a duet with fellow band member and husband, Tim Bluhm (founder of The Mother Hips), Nicki created an enthusiastic refreshing soul inspired set.
Bruce Hornsby: The relaxed summertime crowd watched as the very tall Bruce Hornsby made his way through the sprawling sea of people and on to the stage. He didn't waste anytime getting to his set as he opened with "Mirror on the Wall" and a small but lively group of dedicated fans began to dance at the front of the stage.
Initially the sparked between Hornsby and the audience. It was a well-oiled machine with people dancing, smiling and middle-aged women trying to catch Bruce's eye while he played piano and grinned from ear to ear.  During the fourth song, the crowd sang along to Hornsby's version of "End of Innocence," a song he co-wrote with Don Henley. However, a long, slow-jam began to take form as the song came to a close, and a lull in energy also reared it's calm but ugly head.
Several songs with more fire followed including the hillbilly rap sound of "Prairie Dog Town," and "Big Stick," a song written for the 1996 movie Tin Cup, staring Kevin Costner. These songs and additional intertwined jam sessions helped to get some of the crowd back on their feet, but that initial blow to the excitement factor had already taken place. In between those songs however, way too much time was spent re-tuning some of the instruments, which seemed to frustrate and annoy Hornsby.
At times it appeared that the venue and stage might have been a little difficult for Hornsby to fully utilize and to interact with the audience. With fans in every direction and the centrally located stage cram packed with instruments, it seemed problematic for him to change instruments or even move across the stage for a different view.
A not so underground secret is that Bruce still takes requests from the crowd. This pleasant gesture to get the fans more involved may have prompted him to play the 1986 classic hit "The Way It Is." This version was a bit funkier in style but fairly true to it's original form and was well received.
Hornsby is known and revered by his dedicated fans for his impromptu song additions, changes, and piano jams. Although many of the faithful followers seemed to find the creative sessions exciting and amusing, others in the crowd seemed disconnected. By the time he got around to playing one of his most beloved and recognizable songs, "Mandolin Rain," the strictly enforced neighborhood noise ordinance forced the song to be cut short.
Perhaps the combo of the somewhat unusual venue setting and short set times, played a big part in the uncoupling of the audience and Hornsby at times. Regardless of the challenges, Hornsby's crisp, clean sound has continued to solidify his status as a master musician spanning decades and creating a cult-like following.
Energy: B
Musicianship: A+
Sound: A-
Stage presence: B
Set/light show: C+
Overall: B
Karson Brown is Colorado native, local concert photographer and travel photographer. An Art Institute of Colorado gradate, she has a strong background in photography and design. With a passion for nearly all genres of music, Karson has the vision and love for performances which is infused in her written word and photographs. Karson's connection and roots in Colorado keep her grounded and involved in local events and concerts.