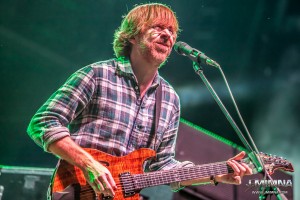 Photos by Jim Mimna & Tim Dwenger
The Scene: Energy was high as the time for Phish's first notes of their 2012 run at Dick's Sporting Goods Park approached.  Outside people queued up to get good spots on the massive floor and more than once I heard someone mention the infamous "S" show from 2011.  With a fairly lackluster show in Oklahoma City as the band's most recent display, everyone was wondering if the band could bring it this year in the same way they did last year.  Was Dick's going to go down in Phish lore as the bands favorite venue of the 3.0 era?
Well, that answer would come with a resounding "YES" early in the run and now we are all just left hoping the band will make the Dick's Labor Day run a yearly tradition here in Colorado.  With the stadium's great site lines, expansive floor, and 18,000 seats, there is a little something for everyone, and with a capacity listed at 26,000, tickets are not much of a problem (at least they weren't this year.)  Bathroom lines were never a problem, beer was plentiful, even the pizza wasn't too bad.  Overall, Dick's has proved itself to be a great venue for phans to descend on to get their fill of the Vermont quartet's musical shenanigans.
Phish: So, let's get this out of the way right off the bat, was Phish's Friday night show at Dick's the "best Phish show of the 3.0 era?"  I'm no expert, but I don't think it could have possibly been.  Sure it had it's moments, mostly due to the shenanigans of nodding to last year's "S" show by spelling out "FUCK YOUR FACE" with the setlist, but overall the show was pretty uneven musically.  It just didn't flow like the other two nights of the run that featured some of the most fluid sets I've heard out of this band in years.
Sure, the songs were mostly played well, but the fact that the setlist was dictated to them by having to choose songs that started with a certain letter put them behind the 8 ball from the beginning as they were often unable to play what fit the musical mood of the moment.  As a result of this corner they had painted themselves into, the first set featured three songs, "You Enjoy Myself," "Ocelot," and "Undermind" that were played two shows before in St. Louis and one, "Kill Devil Falls," that had been played at the previous show in Oklahoma City.  Admittedly, "YEM" featured one of the most playful moments of the show as the vocal jam centered about the them of the band members "liking Dick's," but it's just strange that they would focus on songs that were played so recently.  I get that these letters aren't well represented in the Phish catalog, but there are a couple of other tunes that could have been picked for these slots or they could have busted out some great covers to fill the slots and make the show that much more special and musically cohesive.
The first set highlights "Carini" and the jam out of "Undermind" were great musical moments, it's true, but I was hoping for something more powerful out of the set in the interim.  Fortunately, I got that on nights two and three with first set passages like the "Tweezer"->"Fluffhead" > "Roses Are Free" > "Funky Bitch" > "The Moma Dance" on Saturday and "AC/DC Bag" > "Down With Disease," " Bathtub Gin" and "Back On The Train" > "Rift" > "Free," "Ride Captain Ride" > "Maze" on Sunday.  Friday just didn't contain that kind of sustained first set energy and left me a little flat when all was said and done.
Of course the set-break chatter on Friday was all about the "FUCK YOU" that had been spelled out during the first set and people everywhere were speculating as to what the acronym of the second set would be.  While "ROMNEY" was tossed around by a few folks, Phish has never been an overtly political band and that would have been quite a statement to make.  Personally I would have loved to see mainstream media outlets, like Fox News, try to make sense out of it and explain it to their audience as Jon Stewart reveled in the absurdity of the whole thing.  But alas it was not to be as a monster, 20 minute, "Runaway Jim" yielded to "Farmhouse" and looks of confusion flashed across the faces of some and light bulbs went off above the heads of others.  "Farmhouse" descended into a spacey jam that led many to believe that "Also Sprach Zarathustra" aka "2001" was lurking in the "A" slot but Page took the reins and took the band into a fairly standard version of "Alaska," a missed opportunity for sure that might have turned the set into something really special.
As the second set progressed I began to feel more and more like we were witnessing something special if only because it felt to me like we were all privy to witnessing the four members of Phish collectively force themselves out of the box and into further into the world of extended freeform jamming that has slowly been returning to the mix this summer.  It was as if their music teacher had given them an assignment (in this case to spell out "FUCK YOUR FACE" with song titles over the course of two and half hours of music) for their next practice session and they decided to let us all watch them try to do it.
The musical climax of the set came in the form of one of the longest versions of the anthemic "Chalkdust Torture" on record (clocking in at over eighteen minutes) which would have fit in well during the second sets of either of the following shows alongside the twenty plus minute versions of "Light" or "Sand" which featured equally stunning jamming from the quartet.  Sadly, the preceding "Alaska," and the "Emotional Rescue" that followed, didn't allow the group to really settle into this mind meld for long.
While "Emotional Rescue" was one hell of a bust-out for the boys, I found myself cringing at times as it was performed, something I didn't even consider doing during Saturday's masterful covers of "Golden Age" and "No Quarter" or Sunday's "Ride Captain Ride" all of which left me slack-jawed and spellbound.  Yes, it was all part of a massive gag, but it would have been that much better if it had been a gag embedded in a fluid show that featured the massive peaks and tenderly beautiful valleys of Saturday and Sunday.
I'll admit that Friday's jam heavy show might have opened the door for the two nights of musical euphoria that followed, and for that I'm truly grateful, but as a show in and of itself it was good but too much of a novelty, with too many self-imposed restrictions, to be truly great.  I'm all for a good gag, but I'll take 09/01/2012 or 09/02/2012 over 08/31/2012 any day and be happy with my choice.
SETLISTS
Friday, 08/31/2012
Set 1: First Tube, Uncle Pen, Carini, Kill Devil Falls > You Enjoy Myself, Ocelot, Undermind
Set 2: Runaway Jim > Farmhouse > Alaska, Chalk Dust Torture > Emotional Rescue > Fuck Your Face
Encore: Grind, Meatstick
Saturday, 09/01/2012
Set 1: Run Like an Antelope, Backwards Down the Number Line > Tweezer ->Fluffhead > Roses Are Free > Funky Bitch > The Moma Dance > When the Circus Comes, Theme From the Bottom > Golgi Apparatus, Stealing Time From the Faulty Plan
Set 2: Golden Age > Prince Caspian > Light, Boogie On Reggae Woman > The Wedge, The Horse > Silent in the Morning > Mike's Song > No Quarter >Weekapaug Groove
Encore: Sleeping Monkey > Tweezer Reprise
Sunday, 09/02/2012
Set 1: Cars Trucks Buses, AC/DC Bag > Down with Disease, Bathtub Gin, Nellie Kane > Sample in a Jar, Back on the Train > Rift > Free, Ride Captain Ride > Maze,Halley's Comet > 46 Days > Possum
Set 2: Sand -> Ghost > Piper > Twenty Years Later > The Lizards, Harry Hood
Encore: Character Zero
Energy: A+
Musicianship: A+
Sound: A
Stage presence: A-
Set/light show: A
Overall: A
Music has always been a part of my life. It probably all started listening to old Grateful Dead, Peter Paul & Mary, and Simon & Garfunkel records that my parents had, but it wasn't long before they were taking me to concerts like Starship, Crosby, Stills & Nash, and Huey Lewis & The News. I got the bug to write about music after reviewing an Eric Clapton concert for a creative writing project in high school but didn't really take it up seriously until 2002. Since then I have published countless articles in The Marquee Magazine and done some work for Jambase.com, SPIN Magazine, and various other outlets. I started Listen Up Denver! as a way to share the music information that is constantly spilling out of my head with people who care. Please enjoy!