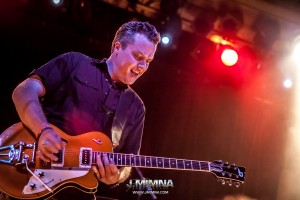 Photos by Jim Mimna 
The Scene:  It was déjà vu all over again as I walked into the Bluebird Theatre last Tuesday to see Jason Isbell and his band The 400 Unit perform.  Unlike the last time I saw this group play The Bluebird back in April of 2009, the venue has a much improved sound system.  But, unfortunately, the lights have not been improved in either form or function and remain dismal, dark, and generally red.
This time around I had some feelings of uncertainty about the show and while I seem to remember some similar feelings the last time I caught him in this room, it was for very different reasons this time around.  Back then I had a lot of questions about how Sirens of the Ditch, recorded in a studio, would translate to a stage.  After all, the new band was, well, new.  Once again I was asking questions, just this time it was not the unknown new band, but rather how the 400 Unit would function without the fifth man on axe.  Guitarist Browan Lollar left the band recently and he has not been replaced, so I questioned how the tracks off the latest album would sound in a live setting without him.
To further illustrate the similarities of these nights, the audience was about the same size and ther was an even mix of ladies and men, young and old, and first timers and veteran fans.  Only this time the fans were 400 Unit fans, as opposed to the majority being Drive-By Truckers fans in 2009.  Back then the audience wondered how Isbell would transition from the Drive-By Truckers to his own band, and how he would handle a stage of his own.  This time the audience was well aware of how he drove the car and was ready for the ride.  I was less sure of what to expect but, like the show three years earlier, I was about to get my answers.

Jason Isbell & The 400 Unit:  Since that night in 2009 Isbell has been a busy man, touring regularly and releasing 2 more albums, the self-titled Jason Isbell and The 400 Unit and Here We Rest.  All that writing effort and saddle time was evident when the band came out as a tight cohesive unit from the first lick of the first song "Try" and didn't back off until they finished the show.  Isbell ran through a nice mix of his new material and tunes he wrote with the Truckers throughout the set and played very few cover songs at all.
I am a skeptic by nature and, like I said, the missing fifth man had me doubtful of how all of his catalog, especially his songs written during his DBT stint, would translate.  I mean, how would "Never Gonna Change" sound without a second guitar player?  After all, wasn't that song penned for three guitar players turned to 11?  Well, they proved my doubts to be unfounded and downright wrong.  And, not just by doing an OK job; they played a screaming "Never Gonna Change > Hey Pocky Way > Never Gonna Change!"  The combo was rousing and passionate and unique enough to really impress me.  From that point on, the skeptic checked-out and the music junkie checked-in for a rock show.  The band was tuned-up tight like a stock car, knowing when to hold back and draft in the parts of songs that needed air, and then let Isbell stomp his volume pedal like the gas and the whole race car sped forward in a musical frenzy.  This band was firing on all cylinders.  They have the fire under the hood and a very able driver in Isbell with his foot to the floor.
Unfortunately they played a very short hour and a quarter set and left the stage much too early for me.  I was personally surprised and disappointed that they chose the quit so early after getting the audience so completely into the performance.  My feelings were confirmed by everyone around me as they looked at each other asking if that was really it.  Maybe your Grandfather's favorite band could pull off a 1 hour performance for a $2 ticket back in the day, but in today's competitive music industry, you have to give folks a value for their entertainment dollar.  At $25 per person for entry, you'd better give folks a reason to put that money down next time.
But I digress.  It wasn't long before the band came back out for a three song encore and this wasn't just any encore, this was an encore of epic proportions.  Isbell returned to the stage with an acoustic guitar and showcased his vocal skills and let us see the performer he may want to be known as.  He began by setting the mood well with a chilling rendition of "TVA" that had everyone in the place singing along.  He then out-did himself and sang the best "Danko/Manuel" I have ever heard.  For the record, "Danko/Manuel" was one of the specific songs I questioned with regard to the four-piece arrangement, so I was very impressed when he really let it all hang out and sang from deep down, where you feel it.  The emotion he conveyed as he sang was truly the fix live music fans are chasing and I love to relapse with this addiction.  Led by Jason's acoustic, the now quieter, almost folksy, 400 Unit filled in the sonic cracks with beauty and grace and I was taken back.  They finished with a cover of "Like A Hurricane" by Neil Young and it was a perfect end to a fantastic, albeit short, performance.  Amazing what a difference three years will do to a band!  Let all doubts be gone and the comparisons die, for me, at least.  Jason Isbell and the 400 Unit are the real deal.
Energy: A+
Musicianship: A+
Sound: A
Stage presence: A
Set/light show: C-
Overall: A
Capturing life in various forms is what I do. I consider myself an archivist by nature. It is not a career choice that I consciously made, but it is something that has called me. I strive to freeze a moment in time with every frame, a moment that can retell its story with each viewing, forever. I also have a deep passion for music and have been photographing and recording live music for years. Capturing the energy and magic of a live performance in a photograph is one of my passions. In addition, I enjoy photographing in a wide variety of settings, from wildlife scenes to family portraits and everything in between. I am a lover of the earthscapes that we see all around us every day, both natural and manmade, and aim to make unique images that do justice to their beauty. Where others see darkness, I see streaks of light through long exposures. I shoot a very wide variety of subject matter including individual/family portraits, event coverage, landscapes, live concert/performance, HDR, product and commercial photography, architectural, weddings, food, and editorial photo journalism. With artistic expression, I aspire to create visual art that speaks volumes.